You have to hear the Technics EAH-A800 wireless headphones to believe them
The first time I put on the Technics EAH-A800 headphones (from parent company Panasonic), I pressed the song "Hold Me" by singer and songwriter Lyrah. Instantly I was inside the keyboard with the deep, rich electronic music swirling all around. I had listened to the song a dozen times before, and I had never experienced this visceral feeling.
It wasn't just that indie song, though. All the songs I pressed play sounded good. These headphones offer good audio quality, but they also go above and beyond. The strength of the ANC is impressive and can help facilitate moments of instant focus. Plus, premium features abound, such as multipoint connections.
I don't say this lightly, but these headphones outperform the beloved Sony WH-1000XM4. The Technics EAH-A800 includes feature parity, but with better sound and equally, if not better, noise cancellation. If you're going to pay big bucks for consumer wireless headphones, these are the ones you should get.
TL; DR
Benefits:
The sound quality is captivating
ANC is strong and isolating
Many premium features included
The inconvenients:
Media buttons on the side can be hard to reach
Buy on Amazon.
EAH-A800 Technical Specifications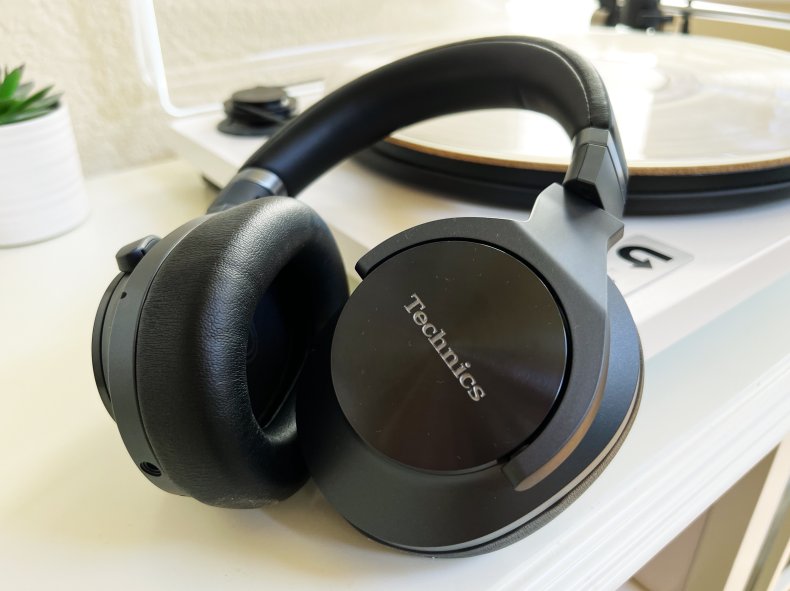 ANC is a key feature of premium wireless headphones. Beyond the subjective feeling that they block out a lot of noise, Technics claims that they use "dual hybrid feedback noise anticipation and cancellation with analog and digital processing" to achieve the levels they do.
In the past, I'd sit in a busy coffee shop to get a feel for how well ANC works for different headphones. It has been difficult in Covid times. Instead, I'll use various sounds played through a speaker to recreate different environments. Across Spotify and Apple Music, there's audio of city street noise, airplane cabins, lawn mowers and vacuum cleaners, to name a few.
It's not a perfect testing solution, but neither can I book a flight every time a new pair of headphones comes out. In my experience, these EAH-A800 headphones are superb at blocking noise. And, in the Technics Audio Connect mobile app, you can adjust the desired strength level to any specific percentage, ranging from 1 to 100.
If you don't want to block out all the noise, there's a transparent mode that lets in surrounding sounds as well as an attention mode that mostly lets voices through. Most of the transparent modes on the headphones make the sound slightly hollow, but the transparent mode here has almost no effect on sound quality. The transparency it allows is correct.
Not only does Technics advertise clear call quality, but inside the Audio Connect app there's a way to actually test it. You can choose to use four-mic Beamforming and Noise Suppression technology for calls or turn it off. There are a total of eight microphones on the earbuds and the call sound is impressive.
To my ears, the noise cancellation made the audio sound a little too compressed and digital. Either way, the call quality is good and there is an option to adjust your preferences.
The headphones offer 50 hours of battery life with ANC on and 60 hours without. The battery life is amazing. If you ever manage to run out of power, a quick 15-minute charge will get you 10 hours of playtime.
ANC, Transparency and most other settings can all be customized in one way or another within the Audio Connect app. The app itself is loaded with settings, but it still manages a relatively clean interface on iOS for easy use.
Sound EAH-A800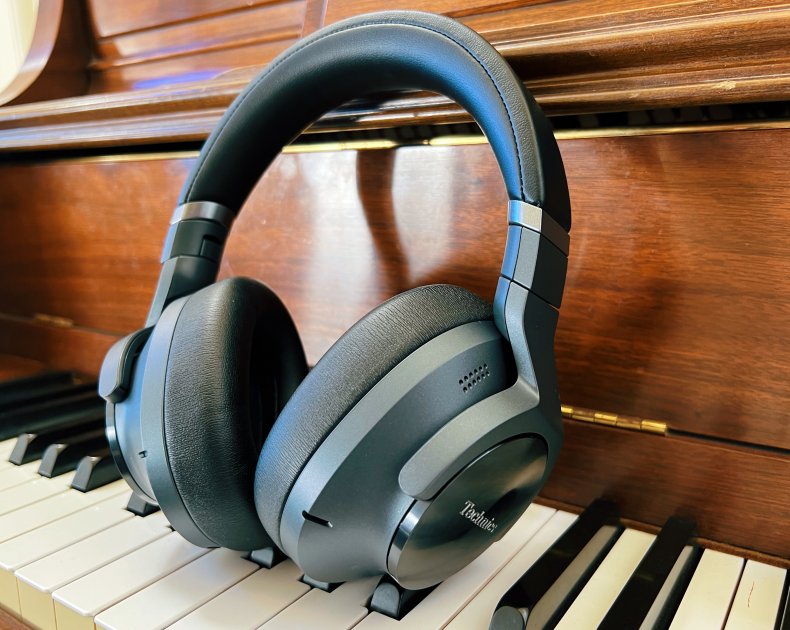 The right headphones are windows to the music you love—they deliver unimpeded clarity and impact that should make you want to listen to even more music. And these EAH-A800s make me want to keep listening.
Sounds are so vivid and present that they reveal new details. But above all, their richness is engulfing and puts you in the room with the artist so the melodies can resonate even deeper.
Most songs I listened to with the EAH-A800 headphones made me feel more connected. Some songs I listened to carefully for certain audio aspects, and some I left playing in the background to keep me company while I typed in solitude.
There were a few songs that stood out. Sun June's "Remed" is a laid-back track that has a folk flavor to it. Steady drums and an acoustic guitar at the start instantly draw you in. A distinct bass guitar during the bridge also sounds good.
The headphones sport a 40-millimeter tri-diaphragm driver. If you have a compatible device, these support the LDAC Hi-Res Wireless Audio format.
I've used the headphones mostly wireless with an iPhone, as that's probably the most common consumer use. I streamed most of the audio using Apple Music in 24-bit 48kHz lossless audio for high-fidelity sound. Headphones may advertise Hi-Res audio, but they are largely a consumer product.
Everything from the pop of Adele and the Weeknd to classic rock to the jazz of the Ben Webster Quintet sounded detailed and brilliant. Even compared directly to the AirPods Max, they are excellent and lighter.
Miscellaneous remarks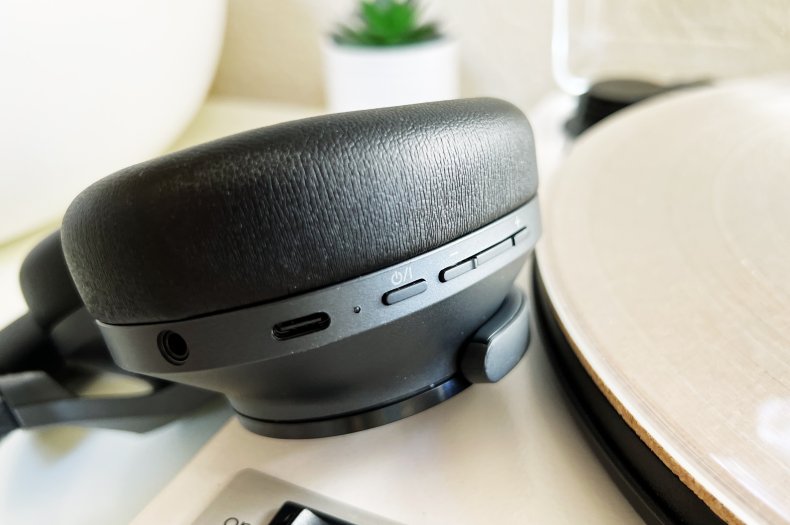 No product is so perfect that it cannot be criticized, at least a little. That being said, these headphones don't have much to complain about. The actual quibbles are very minor and minimal in contrast to the total experience.
Buttons are nice to have, but they're about as boring to use as it gets. You have to feel for them every time. You also need to feel them slowly because they are close together and don't have much distinction between them. There are touch controls for double and triple tapping on the earcup, and these can be customized, but they can only change the sound mode, not set to control play and pause or song skip .
The EAH-A800's carrying case is nice, but it's unfortunate that you have to fold up the headband to store them easily. I also think the design of the headphones is a bit plain and boring, but not ugly. Again, these are bottom-of-the-barrel complaints.
Should you buy the Technics EAH-A800?
They are pricey headphones, but I think they deliver a premium experience worth their cost. Not only was I very impressed with the way music sounds through them, but the ANC and other features make them perfect for working from home or in the office.
I love the sound of the Apple AirPods Max and all the functionality and convenience the Sony WH-1000XM4 has to offer. Still, these Technics EAH-A800s are now my go-to for anyone looking for premium wireless headphones.
Buy on Amazon for $349.
Newsweek may earn a commission from links on this page, but we only recommend products that we support. We participate in various affiliate marketing programs, which means we may earn commissions on editorially selected products purchased through our links to retailer sites.

gb7
Not all news on the site expresses the point of view of the site, but we transmit this news automatically and translate it through programmatic technology on the site and not from a human editor.