A waitress's quick-wittedness and empathy may have indirectly saved a young boy's life.
Timothy Lee Wilson II was found guilty by a six-person jury in Orange County, Florida after two hours of deliberation.
His crimes included two counts of false imprisonment of a child under 13, three counts of aggravated child abuse with a weapon, four counts of aggravated child abuse and one count of child neglect, according to an announcement made today by Ninth Judicial Circuit State's Attorney Monique H. Worrell.
Wilson, 36, is the stepfather of the victim he was found guilty of abusing, although his actions and behavior may never have come to light had it not been for a woman named Flaviane Carvalho.
Worrell's office reported that Carvalho, a waitress at the Mrs. Potato in Orlando, served Wilson's family of four around 11 p.m. on New Year's Day 2021.
The victim was reportedly "isolated" from his family and "deprived of food and drink".
FOX 35 reported that Wilson's stepson was the only individual at the table not to eat. When Carvalho asked him why he wasn't eating, Wilson reportedly said the boy of unknown age would eat at home later.
The waitress then fears the worst.
"I could see he had a big scratch between his eyebrows," Carvalho said at a press conference in 2021, according to FOX 35. "A few minutes later, I saw a bruise on the side of his eye. So I felt there was something really wrong."
Carvalho, who had an 18-year-old daughter at the time, decided to take action. She wrote a note that read "Do you need help? Ok" and held it while standing behind the boy's parents. He reportedly signaled he was in distress, leading Carvalho to call the police.
"I'm super worried and I don't know what to do," she reportedly said when calling 911. "Can you give me any advice?" What can I do ? The boy has bruises and he won't eat.
Worrell's office said subsequent investigations found the victim "was tortured, maliciously punished, and deprived of food and water for days at a stretch."
A search warrant reportedly revealed the victim was being held in a separate hotel room used as a warehouse, away from his stepfather, mother and younger brother. Duct tape covered the peephole in the victim's bedroom.
"He was forced to do military-style drills, hung upside down from a door by his neck and feet, and at one point handcuffed to a cart on Christmas Day," Worrell's office said. . "Officers recovered several items used as weapons – a bent metal pole, a wooden broom, a wheeled cart, handcuffs and ratchet straps used to tie up the victim."
Wilson was arrested on one count of third-degree child abuse and arrested a second time on January 6, 2021, on multiple counts of aggravated child abuse and child neglect.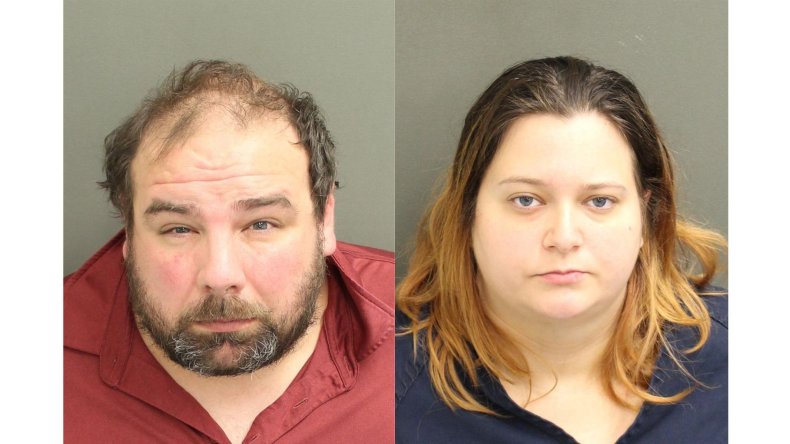 Wilson's wife and the victim's mother, Kristen Swann, reportedly admitted knowing about the abuse and never seeking medical attention. She was also arrested and charged with two counts of child neglect.
"We probably would have talked about a potential homicide investigation if [Carvalho] didn't intervene when she did," Orlando Police Chief Orlando Rolon said, according to WESH 2.
"Take a stand and speak out"
The Florida Network of Children's Advocacy Centers reported that in 2018, the network served more than 34,000 child victims of abuse or neglect.
This included a 60% female population and over a third of the victims aged 0-6. Affected children received 20,259 therapy services; 17,297 crisis intervention services; 11,120 medical assessments; and 10,675 forensic/specialist interviews.
On January 14, 2021, a GoFundMe was created to honor "hero" Carvalho due to his workplace receiving myriad calls from citizens wondering how they could express their gratitude.
Today, about a year and a half later, over $46,500 has been raised.
"The outcome of this story was only possible because of her act of kindness, compassion and how fearlessly she stood up for this child," the GoFundMe said. "The purpose of this GoFundMe is to reward Flaviane for taking a stand and speaking up. Kindness is not something that should necessarily be rewarded."
On January 2 this year, Carvalho wrote on the GoFundMe page that she "spent all day with this nice boy in my head" and wanted the story to inspire others to do acts of kindness in their own lives. .
The other day, she expressed her gratitude that the boy's stepson will probably never be able to abuse the boy again.
"Thank goodness the boy is doing very well and has been brought up with lots of love," she said.
Wilson will be sentenced on August 19.
Newsweek contacted Carvalho for comment.

gb7
Not all news on the site expresses the point of view of the site, but we transmit this news automatically and translate it through programmatic technology on the site and not from a human editor.