US astronaut ends record-breaking spaceflight and lands in Russian capsule
A NASA astronaut caught a Russian return to Earth on Wednesday after an American record 355 days on the International Space Station, returning with two cosmonauts to a war-torn world.
Mark Vande Hei landed in a Soyuz capsule in Kazakhstan alongside Pyotr Dubrov of the Russian Space Agency, who also spent the last year in space, and Anton Shkaplerov. The wind tipped the capsule on its side after landing, and the trio emerged one by one into the late afternoon sun.
Vande Hei, the last out, smiled and waved as he was carried on a lounge chair in the open Kazakh steppes.
"Beautiful here," Vande Hei said, putting on a face mask and cap.
Despite escalating tensions between the United States and Russia over Vladimir Putin's war with Ukraine, Vande Hei's return followed standard procedures. A small team of doctors and other NASA personnel were on hand for the landing and planned to return to Houston immediately with the 55-year-old astronaut.
Even before Russia's February 24 invasion of Ukraine, Vande Hei said he avoided the subject with his two Russian teammates. Although we got along "fantastically … I'm not sure we really want to go," he said.
It was the first taste of gravity for Vande Hei and Dubrov since their Soyuz launch on April 9 last year. Shkaplerov joined them at the orbital laboratory in October, escorting a Russian film crew for a brief stay. To accommodate this visit, Vande Hei and Dubrov doubled the length of their stay.
Before leaving the space station, Shkaplerov embraced his fellow astronauts as "my space brothers and my space sister".
"People have problems on Earth. In orbit … we are one crew," Shkaplerov said during a NASA live TV broadcast on Tuesday. The space station is a symbol of "friendship and cooperation and…the future of space exploration".
War tensions have boiled over in other areas of space with the suspension of European satellite launches on Russian rockets and the Europe-Russia Mars rover stuck on Earth for another two years.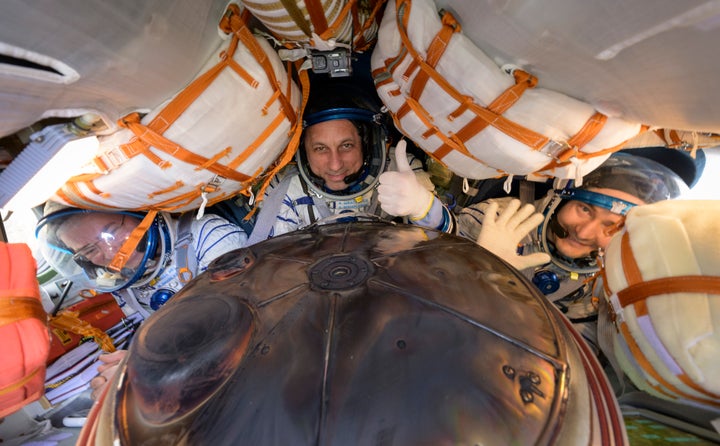 Vande Hei surpassed NASA's previous record for the longest space flight by 15 days. Dubrov entered the Russian top five, well short of the 437-day, 17-hour marathon run by a medical cosmonaut aboard the 1990s Mir space station that remains the world record.
"Breaking records means we're making progress," said former NASA space endurance champion, retired astronaut Scott Kelly, whose 340-day mission ended in 2016.
Like Kelly, Vande Hei underwent medical tests during his long stay to continue NASA's quest to get astronauts back to the Moon and Mars. He said the daily meditation helped him cope during the mission, twice as long as when he was first stationed four years earlier.
"I've had a 24/7 indoor job for almost a year, so I can't wait to be outside no matter the weather," Vande Hei said in a recent series of NASA videos. As for food, he can't wait to make himself a cup of coffee for himself and his wife Julie, and feast on guacamole and chips.
Remaining on board: Three Russians who arrived two weeks ago and three Americans and a German, who have been on board since November. Their replacements are expected in three weeks via SpaceX. Next week, SpaceX will take three wealthy businessmen and their ex-escort astronauts to the station for a week-long visit organized by the private Axiom Space.
Elon Musk's SpaceX began ferrying NASA astronauts to the station in 2020, nine years after the shuttle program ended. During that interval, Russia offered the only taxi service, with NASA shelling out tens of millions of dollars per Soyuz seat. Vande Hei's ride was part of a barter exchange with Houston-based Axiom.
The Associated Press Health and Science Department is supported by the Howard Hughes Medical Institute Department of Science Education. The AP is solely responsible for all content.



huffpost
Not all news on the site expresses the point of view of the site, but we transmit this news automatically and translate it through programmatic technology on the site and not from a human editor.