Ukrainian defense minister to be removed from office, says Zelenskiy ally | Ukraine
Ukraine's defense minister, pressured by a corruption scandal, is to be reassigned to another government post as Russian forces close in on Bakhmut amid heavy fighting, a close ally of President Volodymyr Zelenskiy has announced.
The position of Oleksii Reznikov, one of Ukraine's best-known internationally figures, has come under threat after it emerged that the Defense Ministry had paid two or three times the price of food at the supermarket to supply frontline troops.
On Sunday night, David Arakhamia, head of Zelenskiy's Servants of the People parliamentary bloc, said the defense ministry would be headed by Kyrylo Budanov, Ukraine's military intelligence chief.
Reznikov, he added, would become strategic industries minister, tasked with boosting military-industrial cooperation, after a day of speculation over the defense minister's future in Kyiv.
"The war dictates changes in personnel policy," Arakhamia said on his Telegram channel. "Times and circumstances call for strengthening and regrouping. This is what is happening now and what will happen in the future"
Following Arakhamia's statement, there was no immediate comment from Reznikov, but earlier he had given a press conference, in which he suggested his tenure as defense minister might not last. much longer.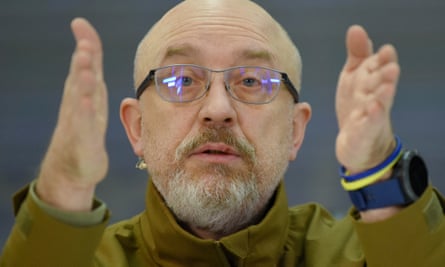 'No one sits in the chair all their life,' Reznikov had said earlier on Sunday amid speculation he would be forced to resign or be reshuffled, and stressed that his position as defense minister 'rested with the president. Volodymyr Zelenskiy of Ukraine in accordance with the Constitution".
The Minister also highlighted the weapons that Ukraine has gradually obtained from the west over the past year, from 155mm artillery to tanks, and argued that "we can therefore say today that we are de facto a NATO country".
Last week, the Ukrainian minister met with French President Emmanuel Macron in Paris, which seemed to underline his seniority in the Kyiv government.
But Reznikov has faced a series of questions about corruption in the ministry from Ukrainian journalists, at a time when Zelenskiy has launched a new anti-corruption campaign to show that the country can be ready for membership. the EU. Efforts to tackle corruption within his ministry needed to be "fully recharged", he admitted.
The defense minister said he believed Ukraine would eventually get F-16s or other Western fighter jets, but warned the decision would be slow. "Procrastination with aircraft platforms," Reznikov said, "will cost us more Ukrainian lives and blood" and will end up costing the West more in post-war reconstruction.
A future Russian offensive, the minister predicted, would come from "two directions of their priority, to try to break through our line of defense to the east and to the south" with the aim of capturing all of eastern Donbass and maintaining a large land bridge between pre-war Russia and Crimea, occupied since 2014.
The major attack would likely be timed to coincide with the first anniversary of the war, Reznikov said, adding that while "not all Western weapons will arrive in time", he believed Ukraine would be able to hold off a new assault.
Russia has gradually intensified its attacks on the eastern town of Bakhmut, where the attack is being carried out by the private military group Wagner, although the Ukrainians have maintained that Moscow continues to suffer heavy losses, mainly prisoners, allowed out of the imprisoned and forced into battle.
Russia, Reznikov said, was losing "500 killed and wounded every day in Bakhmut" – a figure that is not possible to verify – while Ukraine's losses were "strictly lower" in the heavy winter fighting. which gradually saw forces from Moscow come closer to enveloping the largely deserted city.
The casualty count is likely high, but reflects the nature of urban warfare and a contest for a city that has dragged on for several months, but is increasingly entering its endgame.
The UK Ministry of Defense said Bakhmut was 'increasingly isolated', in a morning intelligence assessment which noted that Russia now had the two main roads leading to the town under threat of artillery fire direct, which made it more difficult to supply the defense forces in the city.
Yevgeny Prigozhin, Wagner's chief, said Ukrainian forces continued to challenge the Russian advance, in a statement describing Bakhmut by his old name, which dates back to the Soviet era.
"In the northern districts of Artemovsk, fierce battles are going on for every street, every house, every stairwell," Prigozhin said. "Ukrainian Armed Forces are fighting to the end," he added.
Zelenskiy himself acknowledged the pressure Ukrainian defenders were under in the east. "It is very difficult in the Donetsk region – there are fierce battles. But no matter how difficult it is and no matter how much pressure there is, we have to resist it," he said. he declares.
Any decision to stage a tactical retreat from Bakhmut, Reznikov said, would be made by Ukraine's military leaders, led by General Valerii Zaluzhnyi, arguing that it was not a matter that could be decided by politicians.
Five civilians were killed by Russian shelling, regional officials said, including four in the eastern province of Donetsk, including three in Bakhmut. Five were injured in Kharkiv, when missiles hit a residential building and a university block.

Fr
Not all news on the site expresses the point of view of the site, but we transmit this news automatically and translate it through programmatic technology on the site and not from a human editor.