The gains made by Ukrainian troops against Russian forces along two parts of the front line have been shown in the latest maps released by the Institute for the Study of War (ISW).
The US think tank's update on Wednesday echoed statements by the Ukrainian armed forces that Kiev had advanced into western Zaporizhzhia oblast in the south and near Bakhmut in Donetsk oblast, further north.
Citing Ukraine's General Staff, the think tank wrote Wednesday that kyiv's troops had achieved unspecified partial successes near Robotyne, the town of Zaporizhzhia reconquered last month by Ukraine. News week has not yet been able to independently verify these alleged gains.
An ISW ​​map shows how geotagged images from Wednesday show Ukrainian forces advancing south of Robotyne. This came a day after gains west of the Verbove settlement, which is expected to be next in Ukraine's crosshairs.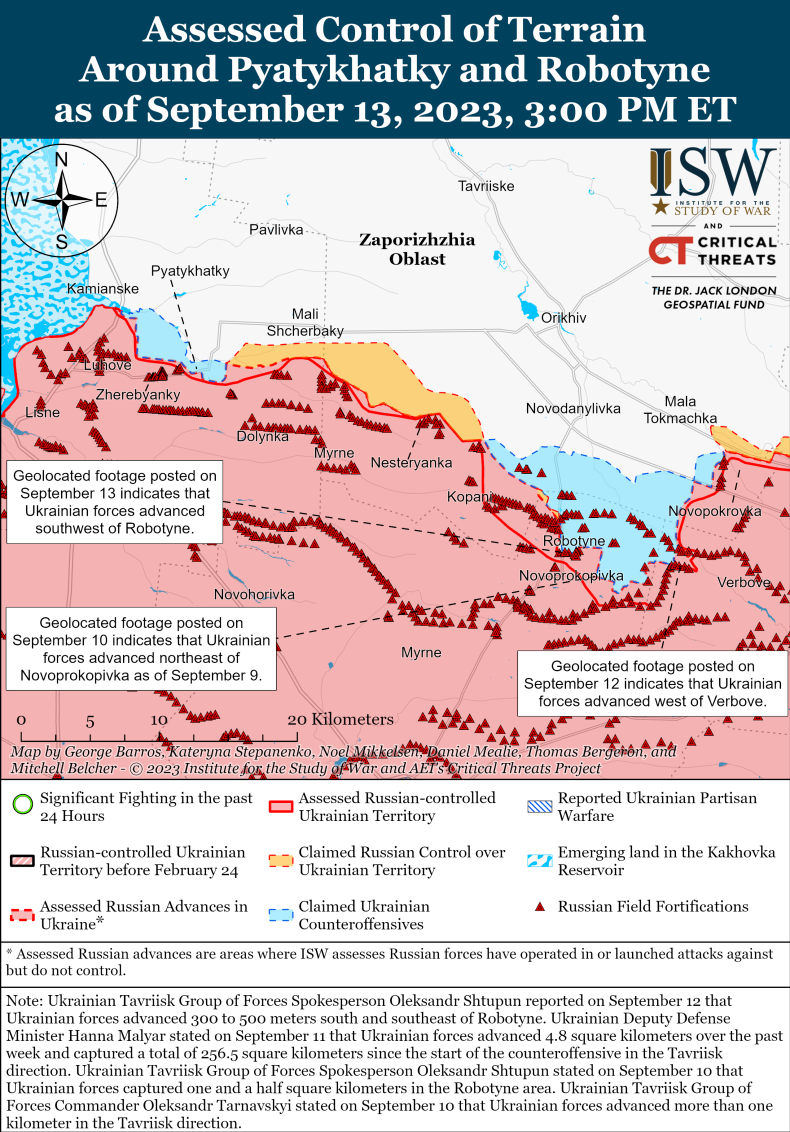 Another ISW map depicting Donetsk Oblast showed how Russian forces now had less control over Andriivka and how Ukrainian forces had advanced on September 10 toward Kurdyumivka, south of Klishchiivka.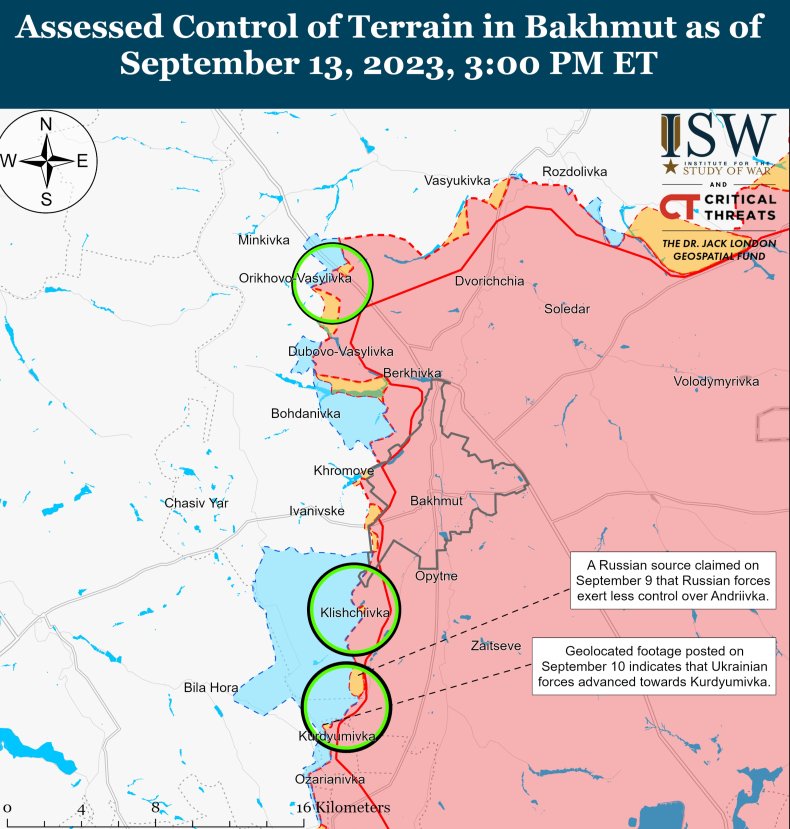 Russian military bloggers commented on these alleged gains on Telegram. They said Ukrainian troops had almost taken control of Klishchiivka and only a few hundred Russian troops remained there.
Among the military bloggers was Roman Saponkov's Telegram story, which posted that Russian units had left Klishchiivka, and possibly Andriivka, although this was not confirmed.
Meanwhile, Roman Alekhine reported that there were no more Russian forces in Klishchiivka, although they had held it for a long time, and that Ukrainian troops were directing their efforts towards Andriivka.
"They burned a lot of military equipment and killed a lot of enemy infantry. Of course, we also have enough losses, but much less than the enemy," the message read. The channel also highlighted how Russian troops were fighting amid personnel shortages, shell starvation and a lack of necessary modern equipment.
This comes as Kiev media reported that the Security Service of Ukraine (SBU) and the Ukrainian Navy carried out a strike on Yevpatoria in occupied Crimea on Wednesday night, allegedly destroying a modern S-400 Triumf air defense system , or Triumph, worth $1.2 billion. .
Media reports say that in the first phase of the attack, drones operated by the SBU hit the system's radars and antennas, and then two Neptune missiles launched by the Navy hit the S-400 launchers.
Residents of Evpatoria reported powerful explosions, especially in areas where Russian military units were stationed, according to The Kyiv Independent, an English-language Ukrainian online newspaper. Moscow said its air defenses shot down 11 drones over the occupied peninsula. News week has not yet been able to verify these and other claims regarding the strikes.
Furthermore, the Ukrainian Air Force announced Thursday that it had shot down 17 of the 22 Shahed kamikaze drones launched by Russia during the night towards the oblasts of Mykolaiv, Dnipropetrovsk, Zaporizhzhia and Sumy.
News week contacted the Russian Defense Ministry for comment via email.
newsweek-bbc