Entertainment
Ukraine criticizes Berlin opera over Russian singer — RT Games & Culture
Ukraine's Foreign Ministry on Thursday denounced the Berlin State Opera's decision to bring back Anna Netrebko, the world-renowned Russian soprano, previously "canceled" for refusing to denounce her country.
"The voice of Ukraine in Germany must be heard louder than that of soprano Anna Netrebko" the ministry said in a Facebook post. The ministry also revealed that kyiv had made efforts to prevent the Russian singer from performing in Berlin, but that its efforts had been "did not receive the appropriate response. »
Netrebko is scheduled to attend the premiere of "Macbeth" on Friday. Ukraine intends to protest his presence by sending Ambassador Alexei Makeev to the anti-Russian exhibition installed next to the opera, accompanied by Berlin Culture Senator Joseph Chialo, the ministry said. Makeev also published an op-ed denouncing Netrebko in several German media outlets.
The Staatsoper Unter den Linden, as the Berlin opera is officially named, announced at the end of August its intention to resume its cooperation with Netrebko, emphasizing that it had not recently performed in Russia.
Netrebko was one of the Russian artists "canceled" in the West after the escalation of the Ukrainian conflict in February 2022. The Metropolitan Opera in New York fired her after she refused to "repudiate his public support" for Russian President Vladimir Putin. She won the $200,000 arbitration claim against the Met in March 2023, but has since sued them for an additional $360,000 in damages.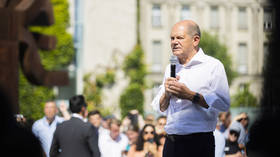 Ukraine has already targeted Netrebko. In 2014, she donated a million rubles (about $18,000 at the time) to rebuild the opera house in Donetsk, one of the cities that rebelled against the nationalists who seized power during 'a US-backed coup.
Netrebko, born in Krasnodar, began performing on stage in 1994 and made her international debut the following year. Since then, she has become famous for her roles as Natasha Rostova in "War and Peace", Pamina in "The Magic Flute", Rosina in "The Barber of Seville" and Lucia di Lammermoor in Donzinetti's opera of the same name. Russia awarded him the title of People's Artist in 2008.
You can share this story on social media:

Entertainment
Follow Us