Turkey is heading for a second round of the presidential election. Here's everything you need to know


CNN
—

Turkey's longtime leader Recep Tayyip Erdogan faces off against opposition candidate Kemal Kilicdaroglu in the second round of Sunday's presidential election.
The build-up to the first round suggested a narrow race, with Erdogan facing unprecedented pressure after 20 years in power.
Instead, Erdogan defied expectations and narrowly missed outright victory.
The vote came nearly four months after a February 6 earthquake killed more than 50,000 people and displaced more than 5.9 million in southern Turkey and northern Syria. It also happened in the midst of a severe economic crisis and what analysts say is democratic erosion under Erdogan's government.
Here's what you need to know about the second round:
Turkey holds elections every five years. Presidential candidates can be nominated by parties which exceeded the 5% threshold of voters in the last legislative elections, or those which collected at least 100,000 signatures in favor of their nomination.
The candidate who obtains more than 50% of the votes in the first round is elected president, but if no candidate obtains the majority of the votes, the election goes to a second round between the two candidates who obtain the highest number of votes in the first round.
Turnout in the May 14 first round was nearly 90% according to the Supreme Election Council (YSK), but no candidate secured an outright majority, pushing the election to a second round .
Erdogan got 49.52% of the vote in the first round, giving him a five-point lead over Kilicdaroglu. His bloc won a comfortable majority in the legislature in a parallel parliamentary vote.
The second round will take place on Sunday. Polls open at 8 a.m. local time (1 a.m. ET) and close at 5 p.m. (10 a.m. ET). Results are expected after 9 p.m. (2 p.m. ET) local time.
The two candidates with the most votes, Erdogan and Kilicdaroglu, are in the running.
Turkey's longest-serving leader since the establishment of the modern Turkish republic, Erdogan has been in power for two decades, first as the country's prime minister and then as president.
The 69-year-old, who began his reign with widespread religious freedoms and an economic boom, has over the years consolidated his power and watched Turkey's $800 billion economy fall into a disastrous collapse amid unorthodox fiscal policies.
Right-wing Ancestral Alliance candidate Sinan Ogan Sinan Ogan, who emerged with 5.17% of the vote in the first round, said on Monday he backed Erdogan in the second round and urged his voters to support him.
Ogan had conditioned his endorsement of either candidate on tough policies toward refugees and certain Kurdish groups he perceives as terrorists.
A lawmaker representing the CHP since 2002 – the same year that saw Erdogan's AK party rise to power – Kilicdaroglu, 74, rose through the political ranks to become his party's seventh president in 2010.
Born in the Kurdish-majority eastern province of Tunceli, the party leader ran in Turkey's 2011 general election but lost, coming second behind Erdogan and his AK party.
Kilicdaroglu represents the party formed 100 years ago by Mustafa Kemal Atatürk, the founding father of modern Turkey and a hardline secularist. It contrasts sharply with Erdogan's Islamist-origin party and its conservative base.
Despite his secular leanings, however, the opposition candidate and his alliance are committed to representing all factions of Turkish society, which analysts say has been demonstrated in his diverse coalition.
Since the vote, his speeches have taken what analysts have called a "shift of gears", with Kilicdaroglu promising to send millions of migrant hosts back to Turkey.
One of the largest economies in the world and with a population of 85 million, Turkey finds itself at the heart of an increasingly polarized world order.
A member of NATO which has the second largest army in the alliance, Turkey has strengthened its ties with Russia in recent years. Erdogan's growing friendship with Russian President Vladimir Putin has raised eyebrows in the West, especially amid Moscow's continued assault on Ukraine.
In defiance of the United States, Turkey even bought weapons from Russia in 2019, and last year caused a headache for NATO expansion plans by blocking Finland's membership and from Sweden.
In an exclusive interview with CNN's Becky Anderson, Erdogan said Turkey has a "special" and growing relationship with Russian President Vladimir Putin.
"We are not at a point where we would impose sanctions on Russia like the West did. We are not bound by the sanctions of the West," Erdogan said. "We are a state strong and we have a positive relationship with Russia."
"Russia and Turkey need each other in all possible areas," he added.
Kilicdaroglu said he would not seek to emulate Erdogan's relationship with Putin, but rather recalibrate Ankara's relationship with Moscow to be "state-led".
But even if Erdogan is ousted in the polls, a foreign policy turnaround for Turkey is not a given, analysts said. While figures close to the opposition have indicated that a victory would reorient Turkey towards the West, others say that fundamental foreign policy issues are likely to remain unchanged.
Despite their disagreements, Turkey has been helpful to its Western allies under Erdogan. Last year, Ankara helped mediate a landmark grain export deal between Ukraine and Russia, and even provided Ukraine with drones that have played a role in countering attacks Russians. And while Sweden is still waiting for NATO membership, Finland has been allowed in.
The state of the economy and the damage caused by the earthquake top the list of voters' concerns. Even before the February disaster, Turkey was grappling with rising prices and a currency crisis that in October saw inflation hit 85%.
This has impacted the purchasing power of the public and is "basically why Erdogan's popularity has eroded", said Sinan Ulgen, a former Turkish diplomat and chairman of Istanbul-based think tank EDAM. . "This is going to be the main handicap for Erdogan," he said.
Voters are also voting based on who they see as most capable of dealing with the fallout from the earthquake, as well as protecting the country from future disasters, analysts said, adding that Erdogan's popularity had not had the expected political impact.
"There is a debate about which election platform provides the right solution to address these vulnerabilities and build Turkey's resilience to these national disasters," Ulgen said.
Besides the economy and the government's handling of Turkey's frequent natural disasters, voters are likely concerned about Erdogan's hijacking of democracy – something the opposition has campaigned to reverse.
In his interview with CNN, Erdogan defended his economic policies and denied suppressing freedoms.
Despite the strongest opposition to his rule to date, Erdogan's future does not look as bleak as some predicted earlier this year.
The president is backed by a substantial religious sector, which appears to have been barely shaken by the faltering economy or the government's early chaotic response to the earthquake.
Erdogan's critics say Erdogan has further galvanized his support base by hurling unsubstantiated allegations at the opposition camp. He accused Kilicdaroglu of collusion with Kurdish terror groups and repeatedly called the opposition leader – a member of the liberal Muslim Alevi minority – not a good enough Muslim.
"This 'no good Muslim and backed by terrorists' strategy appealed to right-wing voters who were supposed to choose Kilicdaroglu," said Soner Cagaptay, senior fellow at the Washington Institute for Near East Policy.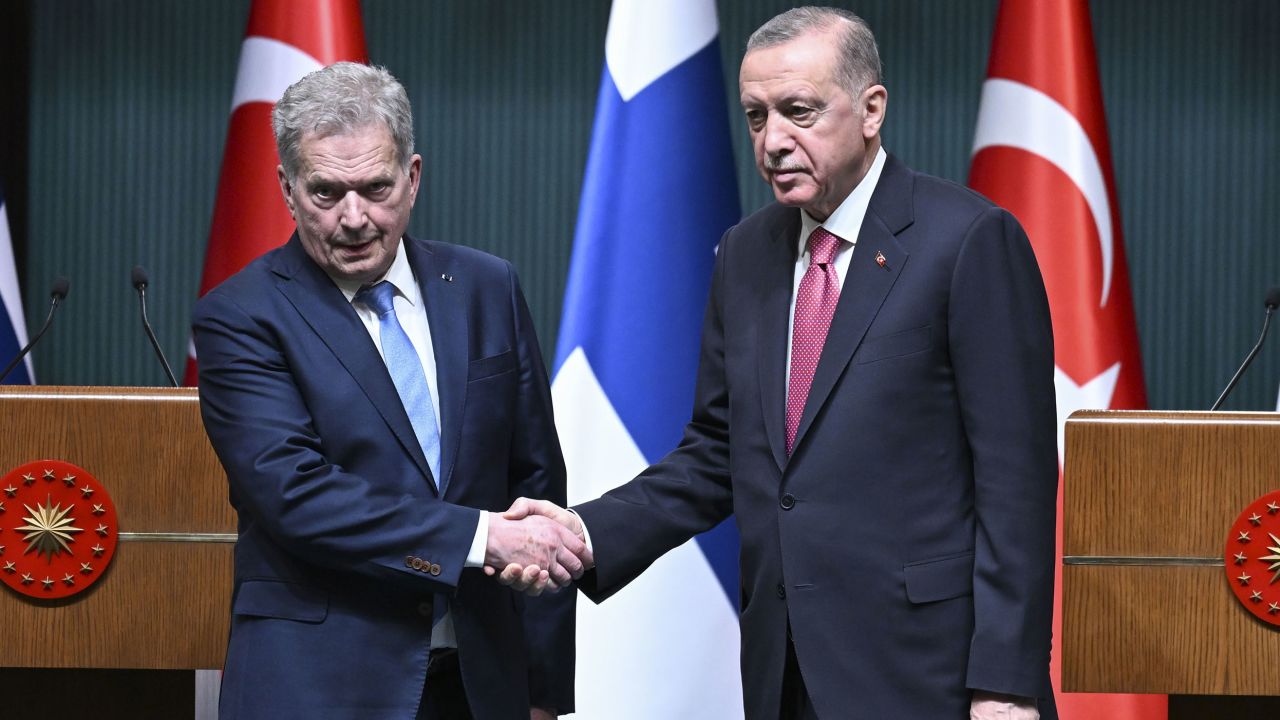 Cagaptay argues that while Erdogan's message did not resonate in Turkey's major cities and on the relatively affluent southern coast, all of which voted overwhelmingly for the opposition, he has garnered the necessary support from the regions. poorest in the country, especially in the central regions and on the Black Sea coast. .
"There, support for Kilicdaroglu was suppressed because right-wing voters whose own parties supported Kilicdaroglu did not choose him," he said.
Erdogan's message has also been amplified by his broad influence over Turkish media, critics have argued.
However, Sunday's run-off is a very first presidential run-off in Turkey. In 2019, Erdogan's ruling party lost major cities in municipal elections, including his own hometown, Istanbul. On May 14, Istanbul's majority vote went to the opposition.
It remains to be seen what Sunday's elections hold, but if Erdogan wins by a landslide, Cagaptay said, "he will be vindicated by unorthodox economic policies, the absence of rule of law and the end of the social autonomy".

cnn
Not all news on the site expresses the point of view of the site, but we transmit this news automatically and translate it through programmatic technology on the site and not from a human editor.