Tire Nichols: Memphis City Attorney says 7 other officers face disciplinary action


CNN
—

Seven other Memphis police officers are being disciplined in connection with the death of Tire Nichols, city attorney Jennifer Sink told CNN's Nick Valencia on Tuesday.
Officers will receive an internal "statement of charges," a document notifying them of policy violations, which will then be followed by a hearing and written decision, Sink said. She said the final round of the statement of charges will arrive this week so the agency can hold administrative hearings next week.
The action is internal and not criminal. Shelby County District Attorney's Office spokeswoman Erica Williams said there were no new updates on the criminal charges.
Already, six officers have been fired for their role in the incident, including five who have been criminally charged with second-degree murder following the death of Nichols, who was seen on video being badly beaten.
The news came during a Memphis City Council meeting on Tuesday, where members interviewed city police and fire chiefs and passed several public safety proposals and reforms. It was the council's first public hearing since the city released the video of the police beating Nichols.
Also on Tuesday, Memphis police documents became public that Demetrius Haley, one of the officers charged in Nichols' death, admitted to investigators that he took cellphone photos of a beaten Nichols and sent a photo to several people.
"On your personal cell phone, you took two photos as you stood in front of the obviously injured subject after he was handcuffed," the document reads, a decertification letter that Memphis police sent to the Commission of Tennessee Law Enforcement Standards and Training, published online by CNN affiliate WMC.
"(Y)ou admitted to sharing the photo in a text message with five (5) people; a civilian employee, two MPD officers and an acquaintance," the letter read. "During the administrative investigation, a sixth person was identified as the recipient of the same photograph."
The New York Times first reported the details of the letter.
CNN reached out to that agency to request the document, as well as the Memphis Police Department for comment.
Haley's attorney, Michael Stengel, told CNN he could not comment. "I haven't seen the decertification letter," Stengel said.
"January has touched us all deeply and continues to do so, serving as a clarion call to action," Councilor Rhonda Logan said. "Today, our focus will be to peel back the layers of public safety in our city and collaborate on legislation that will move us forward in an impactful and smart way."
The council's public safety and homeland security committee was expected to accept a total of 11 proposals, although they did not review them all during the morning session. The proposals included an order requiring police to use marked cars during traffic checks; a resolution in support of the George Floyd Justice in Policing Act; and an order establishing a procedure for independent review of police training, according to an online diary.
Memphis Police Chief Cerelyn "CJ" Davis and Fire Chief Gina Sweat spoke at the hearing and outlined their plans for changing their departments in the future. Officials also fielded questions from council members frustrated with the answers.
A month ago, Nichols, a 29-year-old black man, was beaten by Memphis police officers with the SCORPION Specialized Unit following a traffic stop near his family's home. He was then taken to hospital and died three days later.
The city released body camera and surveillance footage in late January that showed officers repeatedly punching, kicking and using a baton on Nichols while his hands were restrained. They then left him without medical attention for more than 20 minutes, the video shows.
The video contradicted what officers said in the initial police report and reignited the national debate about justice in policing and reform.
Five officers involved in the beatings, all black, have been fired and charged with second-degree murder. In addition, a sixth officer was fired and a seventh was placed on leave, police said. Additionally, the fire department fired two paramedics and a lieutenant for failing to provide emergency care.
The specialized SCORPION unit was also disbanded, less than two years after its establishment.
Sweat, the fire chief, told the council that training issues and the inability of paramedics to take personal responsibility for a call were to blame for his department's handling of Nichols.
The dispatch call involving Nichols came as a pepper spray report, Sweat said. She described it as a 'fairly common call' – there have been more than 140 pepper spray calls in the past six months – and the paramedics and lieutenant on scene treated it as such.
"They didn't have the video to watch to find out what happened before they got there, so they were reacting to what they saw and what they were told at the scene," said Sweatshirt. "Obviously they haven't performed to the level that we expect or that the citizens of Memphis deserve."
According to Sweat, she saw the video of Nichols' beating when it was made public, but an emergency medical services chief had reviewed it days before. Before the broadcast of the video on Friday, officials had already scheduled an administrative hearing with the employees concerned for Monday, said the chief.
"They did not adhere to the guidelines and policies already set out. And that's why they are no longer with us," the fire chief said.
Councilman Frank Colvett Jr. said the fire department's timeline for when he saw the video was an issue.
"As the director of the fire department, there is a problem. I think it is now very clear to you that we have to find solutions. And I understand that the procedures were not followed, and I understand that we are considering it. But it must be more than that. OK, Director, this has to be what we see and this is how we're going to fix it," Colvett said.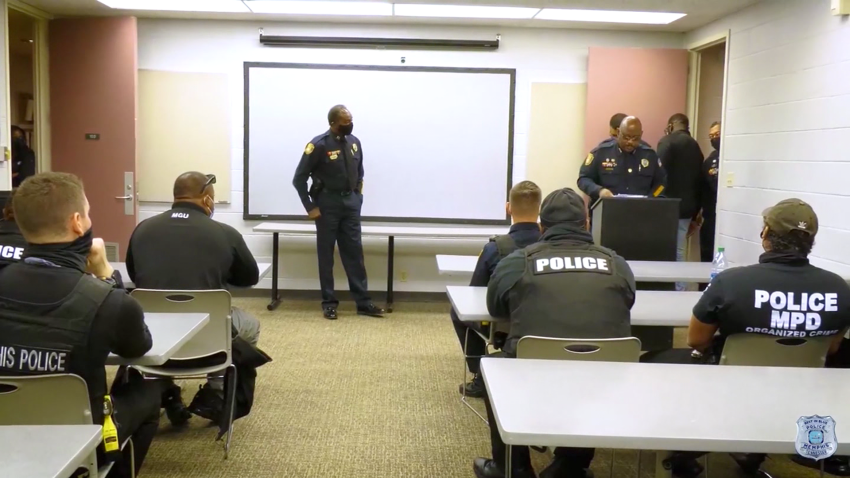 Why elite police units like SCORPION have been controversial for decades
In contrast, Davis, the police chief, told the council that training was not an issue for officers in the case. Instead, she blamed "egos" and a "wolf pack mentality" for the fatal incident.
"Culture is not something that changes overnight. You know, there's a saying in law enforcement that "culture eats politics for lunch." We don't just want to have good policies, because policies can be circumvented," she said.
"We want to make sure that we have the right people in place to make sure that our culture evolves, it evolves towards the philosophy that we're talking about: reforming and reimagining what policing looks like in our community," he said. she declared. . "So having the right people in the right place at the right time is extremely important."
Davis also told the council that there were "about 10" officers at the scene of the beating, although several did not appear in the video. She said there were at least 30 members of the now disbanded SCORPION unit who have since been reassigned to other units.
Memphis City Council President Martavius ​​Jones criticized Davis for not holding a press conference or being in the public eye in the days leading up to the video's release.
"One of the criticisms I have for you and the mayor was that you were all 'Where's Waldo,'" Jones told Davis during the hearing. "The public hasn't heard of you. The audience hasn't seen you.
Davis said she was "open, willing and available" to have these forums, but said she was limited in what she could say due to the ongoing investigation.
"The only way I could get information was to have a clear line to say what I could say without compromising the investigation," Davis said.
Correction: An earlier version of this story incorrectly reported City Attorney Jennifer Sink's first name.

cnn
Not all news on the site expresses the point of view of the site, but we transmit this news automatically and translate it through programmatic technology on the site and not from a human editor.