Tire Nichols' last words heard on newly released body camera footage: 'I'm just trying to get home'
The Memphis Police Department released body camera footage Friday night showing Tire Nichols' final moments after a Jan. 7 traffic stop before he was hospitalized and died three days later.
Nichols, a 29-year-old black father and photographer, repeatedly called his mother and told five officers who beat him badly – former Ofcs. Desmond Mills, Justin Smith, Emmitt Martin, Tadarrius Bean and Demetrius Haley – that he just wanted to get home safely, new body camera footage shows.
"I'm just trying to get home," Nichols can be heard telling officers in the footage, which was released Jan. 27, nearly three weeks after the incident.
TENNESSEE SHERIFF OPENS NEW INVESTIGATION INTO TWO DEPUTIES AFTER RELEASE OF TIRE NICHOLS BODYCAM VIDEO
The traffic stoppage began shortly after 8 p.m. on the night of January 7, as newly released body camera video shows officers approaching Nichols' vehicle and ordering him out, using rudeness.
"Get out slowly," the officers shouted, as Nichols appeared to remain in the vehicle. The officer's body camera does not show whether Nichols removes his seatbelt or otherwise complies with the request.
"Get your a— out of the car," an officer shouts before opening the driver's door, grabbing Nichols, and pulling him out of the vehicle.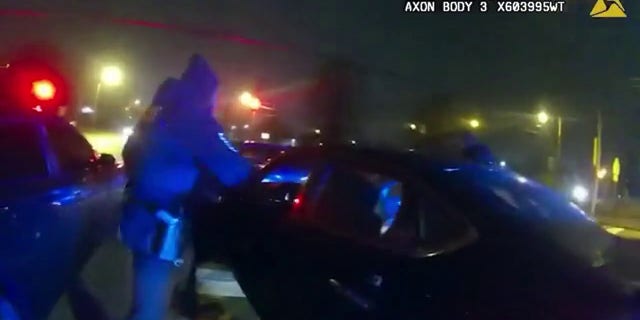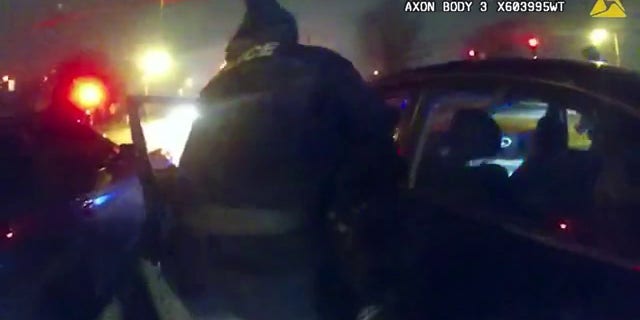 "Stop, I haven't done anything," said Nichols, who initially appears to be resisting the officers before following their instructions. "Okay, okay, okay, okay, okay, okay," he repeats, following the officers escorting him to the back of the vehicle.
At this time, around 8:24 p.m., several officers can be seen forcibly grabbing Nichols to comply with their demands.
"Hey, you don't do that, okay," Nichols can be heard saying, drawing attention to the ferocity of their detention.
QUICK REACTION AFTER POLICE IMAGES OF TIRE NICHOLS RELEASED; 'THESE MEN WERE STREET FIGHTING,' SAYS FORMER COP
The interaction quickly escalates as Nichols continued to point out that he thought they were acting non-compliant.
"Get on the ground," the officers shout.
"I'm on the ground," Nichols replies.
"Turn around," they order again.
"Yes, sir," he replies.
"Turn around, I'm going to taser you," a single officer can be heard saying, the taser pointed at Nichols.
Warning: the content of the video below is of a graphic nature.
"Stop," Nichols replies calmly, looking directly at the officer.
"Dude, put your arm behind your back before I break…", interjects an officer.
"Okay, stop, I am," Nichols can be heard saying.
He added: "You guys are really doing a lot right now. I'm just trying to get home."
The officer yelled back, "Dude, if you don't lay down—"
"I'm on the ground," snapped Nichols, who at the time had at least three officers pinning him down.
"Stop, I'm not doing anything," Nichols can be heard pleading as the officers continued to grapple with him, according to the video.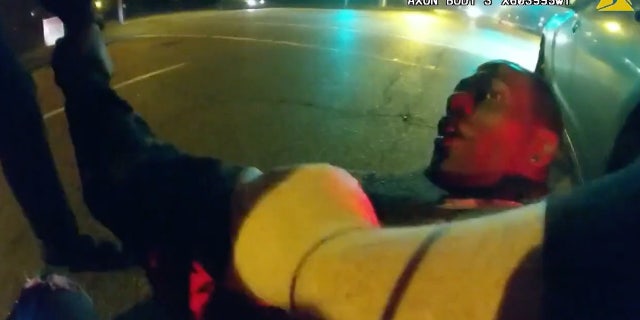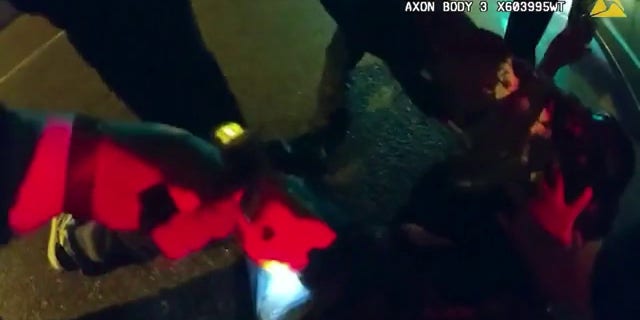 Nichols gets up and an officer tases him.
He then takes off his jacket or shirt, disconnects the taser prongs, and runs down the street, away from the officers.
Other body camera footage, captured around 8:33 p.m., shows two more officers attacking Nichols at another intersection.
Officers again grapple with the 29-year-old, who can be heard repeatedly calling his mother.
The video appears to show Nichols continuing to resist being handcuffed.
TIRE NICHOLS VIDEO: MEMPHIS AUTHORITIES RELEASE IMAGES OF DEADLY TRAFFIC STOP
The Memphis police officer later beat Nichols with a baton, pepper sprayed him, and punched and kicked him several times.
"Watch out, I'm going to hit you," an officer can be heard yelling at Nichols.
"Give us your hands!" shout the police, punching him in the face.
Nichols is then seen handcuffed, in a daze, sitting and leaning against the police car.
He was hospitalized that night and succumbed to his injuries three days later, on January 10, authorities said.
Fox News' Adam Sabes contributed to this report.

foxnews
Not all news on the site expresses the point of view of the site, but we transmit this news automatically and translate it through programmatic technology on the site and not from a human editor.