'Three's Company' star Suzanne Somers 'would be honored' to have Jennifer Aniston play Chrissy Snow
Suzanne Somers wants a friend to come knocking on her door.
The actress, who played Chrissy Snow on the '70s sitcom "Three's Company," told Fox News Digital she would "be honored" if Jennifer Aniston accepted the role in a potential reboot.
"How flattering to have Jennifer Aniston playing Chrissy Snow," the 76-year-old said. "Jen is an amazing actress, she never misses a moment. I would be honored. And let's talk about it sweetie. Wow!"
Aniston, along with Drew Barrymore and Adam Sandler, all recently sat down for Barrymore's talk show where they brainstormed a potential project. During the star-studded appearance, Aniston and Barrymore told Sandler that the three of them should do the classic sitcom again.
The two actresses said they would be ready to face Snow or Janet Wood, played by Joyce DeWitt. Aniston then admitted that she couldn't stand the short hair that DeWitt's character wore.
"I love Janet," Barrymore, 48, said. "She's a real no frills girl…I'm a lot more Janet. You're a lot more Chrissy."
JENNIFER ANISTON SAYS ADAM SANDLER CHALLENGES HER RELATIONSHIP DECISIONS: 'WHAT'S WRONG WITH YOU?'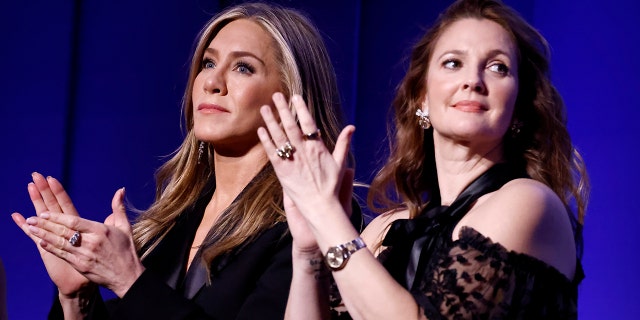 Somers said she can't wait for a revival to happen. The show aired from 1976 to 1984. In 2022, the star revealed on the "Behind the Velvet Rope" podcast that she had debuted a reboot that would star John Ritter's eldest son, Jason Ritter, as the than his son with the patriarch appearing as a hologram. Ritter died in 2003 at the age of 54.
And while Barrymore, Aniston and Sandler may have been joking, she's not.
"It's a monumental idea that should happen," Somers said. "There are tens of millions of fans around the world who crave more from this trio."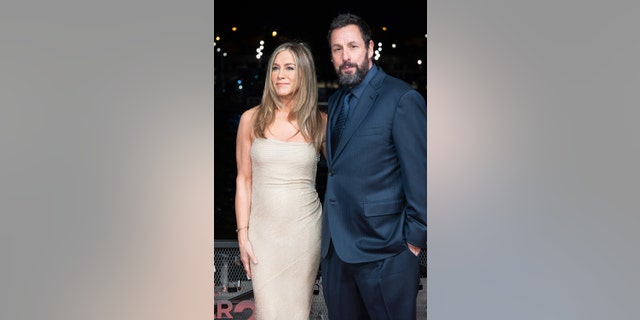 "I remember at the Vanity Fair Oscar party, I met Adam Sandler and said, 'What you do and what I do has the same comedic rhythm – we should work together someday.' ", she recalls. "It's interesting how this idea came up on Drew Barrymore's show all these years later."
Looking back on her character, Somers said the bubbly blonde always had a special place in her heart.
"I loved playing Chrissy Snow," Somers said. "She lived inside me. She had her own way of walking. She had her own posture. Her eyes matched her ponytails. It was all love and honesty and people got to know her in ways you don't understand. not normally in a made-up character."
CLICK HERE TO SUBSCRIBE TO THE ENTERTAINMENT NEWSLETTER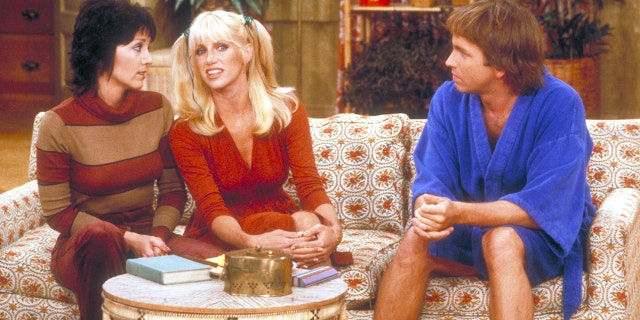 "They knew what she would and wouldn't do, she wouldn't steal your boyfriend and she would never lie," she noted. "Chrissy Snow had a circuitous path to logic. She always arrived at the right answer, but getting there was always a deviation from a straight line."
In 2017, Somers reflected on his 1980 layoff after asking for a raise.
The Hollywood Reporter revealed that at the time of Season 5 negotiations, Somers was looking to earn $150,000 per episode instead of $30,000, which was equal to what Ritter was receiving. Instead, ABC only offered a $5,000 raise.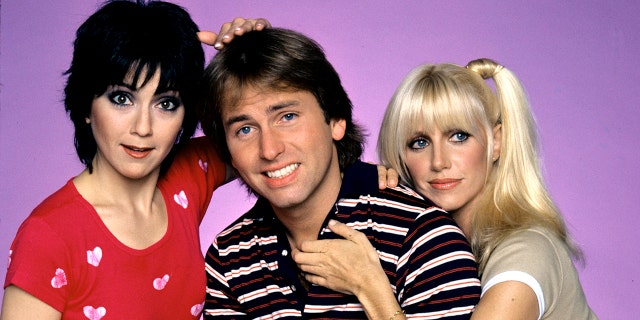 Her manager/husband Alan Hamel tried to negotiate with ABC, but Somers insisted the network was looking to make an example of her. Not only did they, but the star claimed no one came to her defense, including her co-stars.
"I'm over there playing America's Dumbest Woman on TV, so it didn't sync that I was the one going, 'Hey, excuse me. Could we talk about parity here and equity and all that? '" Somers told Fox News Digital.
"I can't imagine a woman with a top 10 hit TV show with the kind of demographics that I have, wouldn't see the value in that and not give that woman a commensurate salary," she said. "Maybe it goes on, but I can't imagine it. I think I was the sacrificial lamb."
SUZANNE SOMERS SAYS THIGHMASTER SAVED HER AFTER GOT FIRED: 'I'M STILL STILL'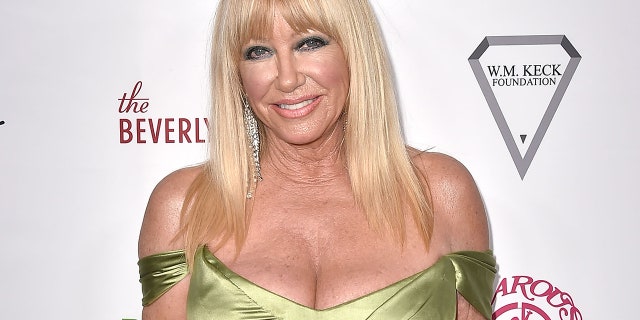 Somers then secured a residency in Las Vegas and launched the ThighMaster, which she sold for over 10 million. She also starred in another sitcom, "Step By Step," from 1991 to 1998. Still, she never forgot her most famous role.
"It was one of those magical things that happened once in a while, and I felt it when I was her," Somers said of becoming Snow. "I made a woman out of her. She had a moral code of what she wouldn't do. She would never lie. She would never take anyone's husband or boyfriend, and she had the qualities that made people feel safe. And she didn't know what she looked like."
"He was a fun character to play," she said. "They were stupid to fire me. But whatever. It worked for me, and I'm the only one still working on the show, with no signs of stopping, so that's great."

foxnews entertainment
Not all news on the site expresses the point of view of the site, but we transmit this news automatically and translate it through programmatic technology on the site and not from a human editor.