Barack Obama is known for his poetry on international relations, domestic politics and political philosophy. He takes the same approach when it comes to parenthood.
The former president has two daughters, Malia and Sasha, with his wife, Michelle Obama. During his decades in the limelight, Obama spoke of his experience raising children, how they inspire him during his embarrassing times with his father.
In honor of his birthday, we've put together 20 quotes about Obama's fatherhood.
On the role of fathers
"For many of us, our fathers are showing us by example that they are setting the kind of people they want us to become. Whether they are biological, adoptive or adoptive, they teach us through the encouragement they give, the questions they answer, the limits they set for themselves and the strength they show in the face of difficulties and trials.
On what it takes to be a dad
"What I realized is that life doesn't matter much unless you are willing to do your little part to leave our children – all of our children – a better world. Any fool can have a child. That doesn't make you a father. It is the courage to raise a child that makes you a father.
On what makes him proud as a parent
"For Malia, Sasha and their friends, discrimination in any form against anyone doesn't make sense. As president and as a father, that makes me proud. "
About her daughter's basketball team training
"Watching 9 or 10 year old girls playing basketball and just fierce, just intense about it, is great. And last year I was coaching … And you know what's amazing is how much more stressful coaching and watching these girls was than when I was playing. You just want them to earn so much. And when they run a room and it works, you're just ecstatic. And some heartbreaking losses and you just feel terrible. But they are wonderful.
On what children need
"Above all, children need our unconditional love, whether they succeed or make mistakes; when life is easy and when life is hard.
How her children inspire her
"I am inspired by the love people have for their children. And I'm inspired by my own children, how much they fill my heart. They make me want to work to make the world a little better. And they make me want to be a better man.
About Malia and Sasha
"They handled it so well. They are wonderful girls. They are smart and funny. But above all, they are nice. They don't have an attitude.
Be a current parent
"It's a wonderful thing if you're married and live in a house with your kids, but don't just sit at home and watch 'SportsCenter' all weekend. This is why so many children grow up watching television. As fathers and parents, we need to spend more time with them, help them with their homework, and occasionally replace the video game or remote control with a book.
On the embarrassment of his daughters
"Thanksgiving is as much a family celebration as it is a national one. So over the past seven years, I've established another tradition: embarrassing my daughters with a string of daddy jokes about turkeys. "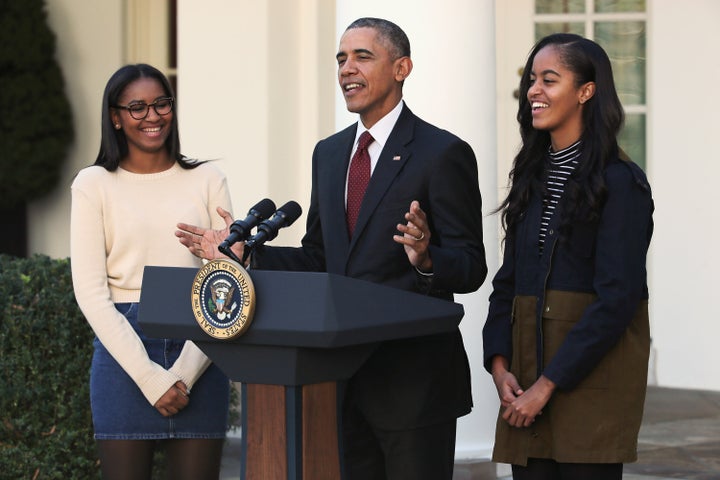 On the graduation from Malia high school
"My daughter who is leaving me is breaking my heart. If there are relatives here, I hope you can give me some advice on how not to cry too much during the ceremony and embarrass her.
On the little things
"At the end of the day, that's what parenting is: those precious moments with our children that fill us with pride and enthusiasm for their future, the chances we have to lead by example or give advice, the opportunities to just be there and show them we love them.
At a family dinner at the White House
"What I didn't foresee was the fact that I could spend a lot more time with my children once I become president. Because now I live above the store. I have a 30 second commute so I put a rule in place: I have dinner with my team at 6.30am every night unless I'm traveling … and I'm going to be sitting there and I'm 'I'm going to be fully engrossed in stories about the boring boys and the weird professor and the drama in the cafeteria, reading Harry Potter and tucking them in and listening to the music they are listening to now.
On parental obligation
"Every father has a fundamental obligation to do good to his children. "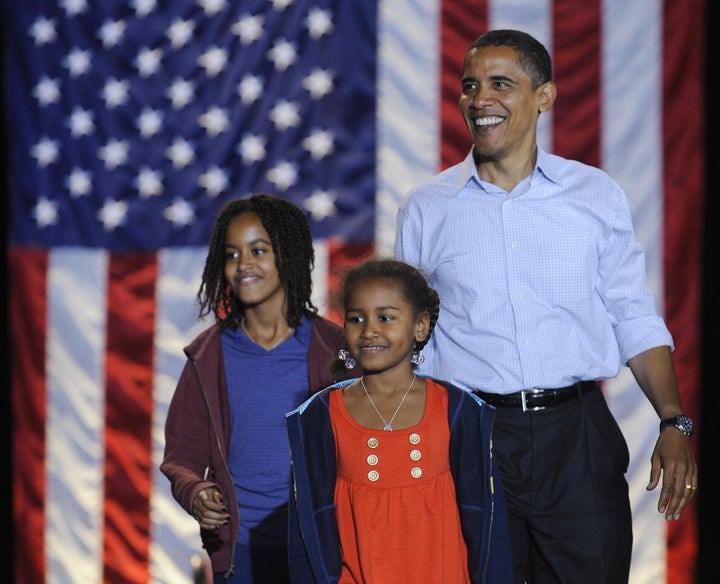 Become a parent
"We had this great period of about three years where she was doing her thing in her career and I was doing mine. Then we started trying to have children. Took a long time. Michelle had a few miscarriages and we had to work on it. When Malia was finally born, we were more than ready to be parents, right? Because there had been that six-year period in which we had probably tried for about half of it, so there was no surprise.
On the best metaphor for children
"Michelle understood much earlier than I did that children are like plants. They need sun, earth, water, but some of them are oaks, others pines, still others willows, and still others bamboo. These seeds of who they are and the pace and the way they are going to unfold are uniquely theirs. I think I had an idea with Malia and Sasha, there was sort of a way of doing things – and what Michelle understood earlier than I did, but I also ended up learning is that everyone is just magical in its own way. A branch will germinate when it germinates. A flower will burst when it bursts. You just ride with that unfolding, unfolding of who they are, being comfortable discovering them instead of feeling like it's a project.
On the hard times
"As fathers, we need to be involved in our children's lives not just when it's convenient or easy, and not just when they're doing well, but when it's hard and ungrateful, and they're struggling. That's when they need us the most.
On the power of parenthood
"The love of being a father was not something I had to work on. It was physical, it was emotional, spiritual, you know. The attachment to my children that I felt fully and completely. I was like, 'Okay. If the baseline is unconditional love, I've got it.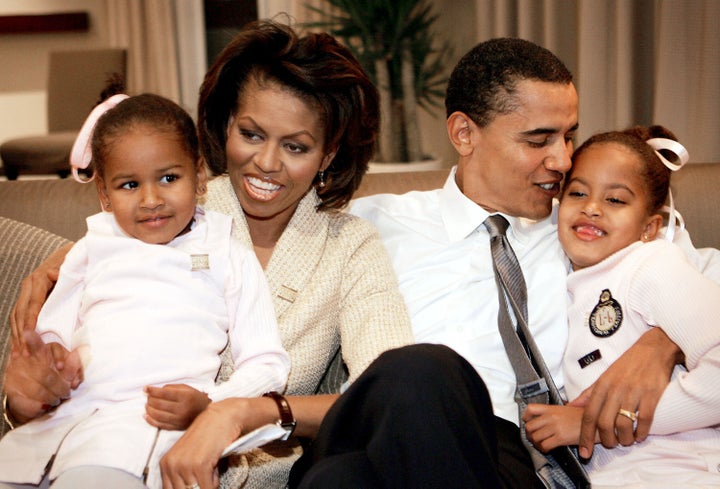 On modeling empathy
"[P]ass along the value of empathy for our children. Not sympathy, but empathy – the ability to put yourself in someone else's shoes; to look at the world through their eyes. Sometimes it is so easy to get carried away by "us" that we forget our obligations to each other. There is a culture in our society that says remembering these obligations is kind of sweet – that we can't show weakness, and therefore we can't show kindness. But our young boys and girls see it. They see when you ignore or abuse your wife. They see when you are inconsiderate at home; or when you are far away; or when you only think about yourself. And so it's not surprising when we see this behavior in our schools or on our streets. This is why we transmit the values ​​of empathy and caring to our children by living them. We have to show our children that you are not strong by putting others down – you are strong by lifting them up. It is our responsibility as fathers.
Raising children who love to learn
"Michelle and I know that our first job, our first responsibility, is to instill a sense of learning, a sense of love to learn in our children. And so there are no shortcuts there; we have to do this work. And we can't just blame teachers and schools if we don't instill this commitment, this dedication to learning, in our children.
On what his daughters mean to him