In Jamestown, Michigan, the local public library has about six months before funding runs out and it could be forced to close.
Last week, residents voted against passing a mileage, which raises property taxes, to fund the Patmos public library. What could cause a city to turn against its own library? Homophobic and hateful rhetoric – in particular, the misconception that children's books with LGBTQ characters covertly deal with pornography or are used to abuse children, which has exploded in the conservative worldview over the past year.
"A 50% increase in the mileage to treat our children? Vote no at the library," read a sign seen around the city before voters headed to the polls.
Debbie Mikula, executive director of the Michigan Library Association, said she believed the mileage didn't go because the library had books on LGBTQ themes. "This is a complete campaign against the library," she said.
Two library directors on Patmos left this spring. One said it was because of online harassment and child abuse accusations.
The library board has less than two weeks to put the mileage back on the ballot for a vote in November. If they don't, it's likely the library will have to close permanently.
The people of Jamestown are "very, very conservative," Mikula said, "and they're holding the library hostage."
Conservative disdain for most government institutions – like schools or public health agencies – is not a new phenomenon. Consider the way the right treated government officials who attempted to mitigate the impact of the coronavirus pandemic. But now, perhaps emboldened by openly far-right politicians, they have set their sights on our public libraries.
"I've seen Republicans try to take over school boards all my life, but this is totally different," said Alison Macrina, director of the nonprofit Library Freedom Project, of the shift to public libraries.
Just as parents in the 80s and 90s feared their children would be drawn into a satanic cult, suburban mothers now toss and turn at night over the horrors of books that might portray anything but Christian morality. conservative.
"Over the past few years, public libraries have taken a stronger stance on racial justice and queer rights and representation," Macrina said. "It's reactive to that, definitely."
And this is a reaction observed in the United States
A public library in Vinton, Iowa – a small town of about 5,000 people – temporarily closed in July after most staff quit over threats against its LGBTQ members. Townspeople complained that there were not enough books on former President Donald Trump, that LGBTQ books were on display and that members of the LGBTQ community were working there, according to the starting line of Iowa. The library reopened with all-volunteer staff.
In Llano County, Texas, the county commission shut down the public library system for a few days in December to review the books made available to children and delete any element deemed questionable. They specifically targeted the 850 pounds that GOP state Rep. Matt Kruse had personally deemed inappropriate for children earlier that year. He said his list of books included those that "might cause students to experience discomfort, guilt, anguish, or any other form of psychological distress because of their race or gender."
Suzette Baker, a county librarian, reportedly refused to accompany him. She told local reporters in March that she was fired from her job for failing to remove books, including a memoir by Jazz Jennings, a transgender teenager. "It's her biography of her life as a transgender teenager, and obviously this group thought it was too much for their children to read," Baker said. "Nobody forces their children to read anything."
Now, residents are suing the county, claiming the book bans are censorship and violate their First and 14th Amendment rights.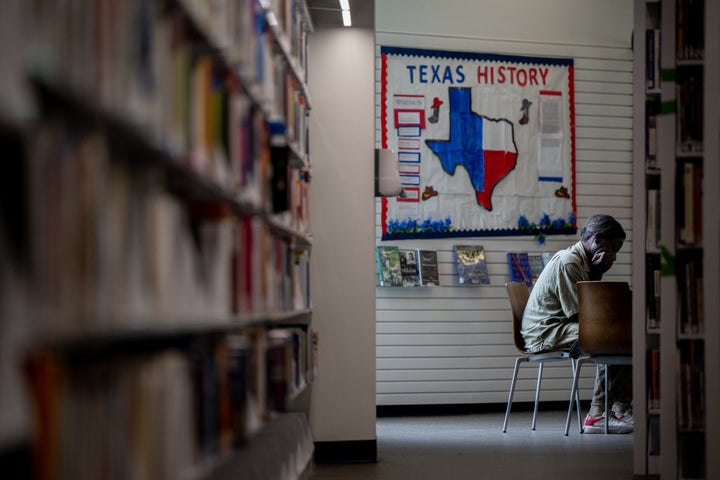 Free speech advocates have noted that the targeting of public libraries is not limited to one or two states.
"It can't be a coincidence that multiple people across the country are getting the same message," Jonathan Friedman, director of free expression and education programs at PEN America, told HuffPost. "They're taking some of that 'stolen election' energy and directing it to public schools and public libraries."
But there isn't really a singular group leading the charge — instead, different groups, including Moms for Liberty or Catholic Vote, are pushing the same narratives.
"The nature of their organization is that ideas bounce from group to group on Facebook," Macrina said.
Moms For Liberty is a right-wing group with an unassuming name that two former school board members started in Florida in 2021 to fight for "parental rights," including battles against mask mandates and "critical poverty theory." breed". The group now claims to have 160 chapters in 33 states.
As Reported media casesMoms For Liberty teams up with conservative groups to flood public libraries with children's books they or they endorse, such as an anti-trans children's book or a book that portrays Rush Limbaugh as a hero — regardless of how parents of LGBTQ or Black children may feel.
For Pride Month, the conservative political advocacy group Catholic Vote has launched a campaign called "Hide the Pride". In June, the group encouraged parents to go to their public libraries and check out any LGBTQ or other books that conservatives dislike — to stop other people from reading them. "Do you see rainbow-trans-BLM flags everywhere? Including in your taxpayer-funded public spaces? We do. And we're meeting the challenge head on," read an online flyer with instructions on how to "recover" the library.
The group encouraged people to go to their libraries in groups and record themselves reading the books, then posted photos of people doing just that online. The group argued that its campaign was fair because parents were not consulted before these books were put in their libraries.
The obvious solution for these parents is simply not to allow their own children to read about LGBTQ issues or racial justice. But that's not really why they're targeting libraries.
"They're not interested in compromising," Friedman said. "Their goal is to shut them down and stop them altogether."
There is a long tradition of book bans in the United States. In the 1980s, the Moral Majority, the group founded by Jerry Falwell, led the charge to ban books. Thanks to the election of Ronald Reagan, the influence of evangelical Christians grew in public life – and they opposed any books that did not reflect their beliefs.
But as the movements echo, the new effort to ban the books has definitely changed.
Right-wing culture warriors also have the support of elected officials. Early in their crusade, book ban laws began to appear in state legislatures.
"I've never seen this kind of effort to change the laws," Macrina said. "You see this down to the really micro level now."
Even Trump and Florida Governor Ron DeSantis (right) have spoken about book bans in their speeches, making book censorship red meat for Republican voters.
"The reactionaries now present themselves as Christian nationalists. They vehemently denied they were," Macrina said. Rep. Marjorie Taylor Greene (R-Ga.), a popular right-wing figure, is now sell t-shirts identifying themselves as such.
These groups not only want to rid public libraries of books they don't like, but to reshape public life as we know it. That's why they pretend to be censored and promote freedom, but only care about conservative views.
"It comes from a sort of Trumpian playbook," Friedman said. "All public institutions are enemies of the state.
And it's only a matter of time before they turn to another institution.



huffpost
Not all news on the site expresses the point of view of the site, but we transmit this news automatically and translate it through programmatic technology on the site and not from a human editor.