Health
Thanksgiving Infectious Disease Forecast Looks Risky
As Americans prepare for the Thanksgiving holiday this week, respiratory viruses are surging, creating dangerous infectious conditions for mass travel and multigenerational family gatherings.
Influenza is on the rise across much of the country, with six Southern states and the District of Columbia already experiencing high levels of influenza-like illness (ILI) activity. Louisiana has reached "very high" ILI activity, the Centers for Disease Control and Prevention reported in the latest flu surveillance update. The percentage of positive flu tests is also increasing nationally, with only one region, the Mid-Atlantic, showing a steady week-over-week positivity rate. However, the CDC noted that its overall rate is trending upward.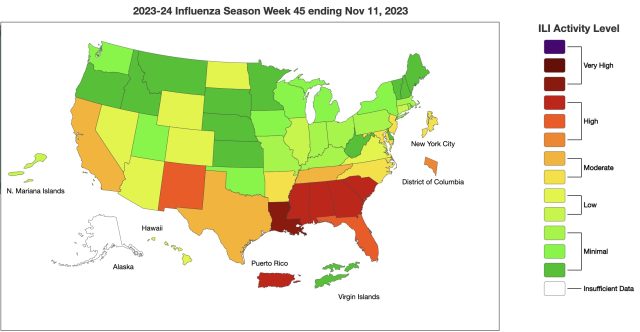 This year, the flu season starts again early; Current levels of influenza activity are approximately four to six weeks ahead of typical levels. And with activity already high in many states, there's a good chance we'll see extremely high levels again in some places, moving from red to the dreaded dark purple on the CDC scale, as we've seen Last year.
But this year's season isn't as early as last year's remarkable season, which began in early October. This could indicate that the flu is returning to its pre-pandemic cycle.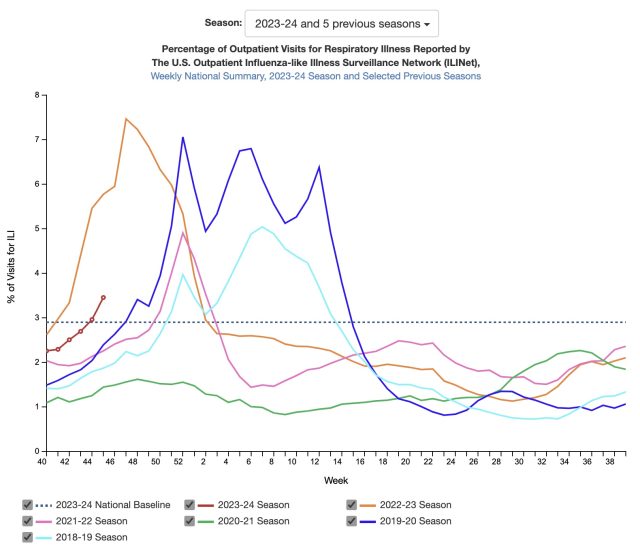 As for the pandemic virus, which continues to circulate, the United States remains in a relative lull. But the latest data from the CDC shows COVID activity accelerating in two regions: Region 5 (Illinois, Indiana, Michigan, Minnesota, Ohio and Wisconsin) and Region 7 (Iowa, Kansas, Missouri and Nebraska). Both regions are experiencing a sharp increase in the number of emergency room patients with a COVID-19 diagnosis. The other eight regions of the country are experiencing stagnation or a slight decline in figures.
Percentage of Region 5 emergency department visits with a COVID-19 diagnosis.

Percentage of Region 7 emergency department visits with a COVID-19 diagnosis.
Overall, the country is seeing slight increases in COVID-19 indicators compared to the previous week: test positivity (percentage increase of 0.1%), emergency room visits (7.1%), hospitalizations ( 8.6%) and death (9.1%). .
Meanwhile, the remaining respiratory viral threat, RSV, is reaching high transmission levels nationwide. Southern states have the highest activity levels, but transmission is increasing in all regions.
For those planning to travel or attend gatherings for the holidays, health officials recommend taking standard precautions to avoid spreading or catching viruses, including being up to date on their vaccinations. seasonal flu and against COVID-19. For older people, there is also an RSV vaccine.
In an interview Monday, CDC Director Mandy Cohen summed up the situation this way: "Wash your hands. Stay home if you're sick. Masks work, so wear a mask if you're around a lot of people other people. And don't do it." Don't forget ventilation: open a window," she said.
Finally, on Monday, the CDC announced that every American household can order four additional free at-home COVID-19 tests ( here ).
Gn Health
Follow Us