South Africa v England: third men's one-day international – live | England vs South Africa 2022
Key events
18th over: England 57-3 (Malan 15, Buttler 29) I think Markram might be the marked man – Buttler lights up the touch paper on an over-thrown ball and throws it over 90 yards over the rope.
17th over: England 49-3 (Malan 14, Buttler 23) A real limit, as Buttler watches one fired at his pads and releases it for four. Magala chews her gum to her mark. And a tasty shot to finish, trained, in style, for a couple more. The current run rate is 2.88 and above.
16th over: England 40-3 (Malan 14, Buttler 15) The miserly Parnell continues, and the drinks have neither provided England with an extra touch nor made the pitch more enjoyable.
15th over: England 40-3 (Malan 14, Buttler 14) Finally some good crowd shots at what is apparently a sold out Kimberley pitch. Lots of Barmy Army football flags, lots of umbrellas shielding the pasty Northern Hemisphere winter skin from the midday sun. Ngidi rolls through another smart over, in a divine pair of mint Velcro cricket boots. DRINKS !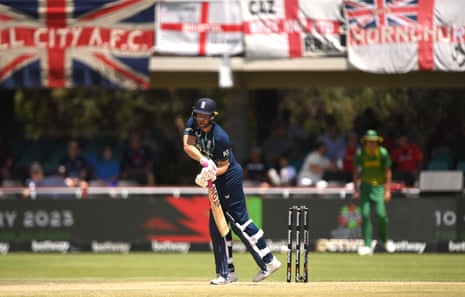 14th over: England 37-3 (Malan 12, Buttler 13) An exceptional deep square-leg lineout from Miller almost does for Buttler who charges for the second and scrambles his bat as Klaasen pulls the bails. The third referee slows down the footage enough to grasp that the panting Buttler has just made his crease.
13th over: England 32-3 (Malan 12, Buttler 8) Ngidi switches sides, running towards the magnificent trees this time. Four singles fell fairly easily, nothing risky.
Ah, there you are, Simon Hughes was quick enough to take a screenshot:
12th over: England 28-3 (Malan 10, Buttler 6) It's very quiet, a few singles from Parnell. Stone by stone, brick by brick.
Sky have just compiled a list of England's top ODI race scorers and I'm blown away that Eoin Morgan is at the top. Is it just me?
11th over: England 26-3 (Malan 9, Buttler 5) Jansen continues into his sixth round, his long legs sliding on the turf. After 13 unscored balls, Buttler finally sweeps one through the covers and over the rope. Mark Nicholas tells KP he has the exact same strike rate as Joe Root.
10th over: England 20-3 (Malan 8, Buttler 0) Bavuma makes the first change with Parnell replacing the dangerous Ngidi. Malan can't do anything substantial with the top, floats uncomfortably at his fifth and picks up a single at the end. It's the end of the power play, England's position is sub-optimal.
9th over: England 19-3 (Malan 7, Buttler 0) Still just a boundary this morning, after a tidy drive from Malan was picked up just inside the rope.
8th over: England 16-3 (Malan 4, Buttler 0) Ngidi continues to make things tricky for England, quick and bouncy, from a wicket that commentators call 'sticky' – and is certainly not kind to a batting team with things on their minds. Root and Bairstow will be waiting to return to this team in the English summer.
"A veritable carnival of farm animals in English programming," writes Colum Fordham, "with rabbits and the less spotted Golden Duckett."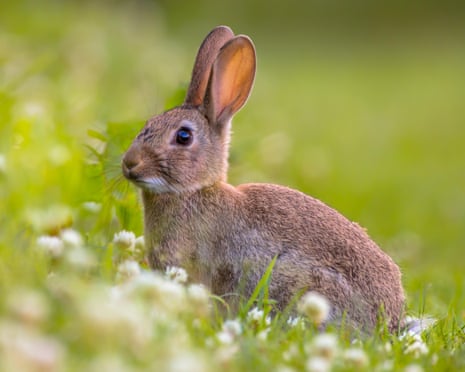 7th over: England 15-3 (Malan 3, Buttler 0) Impeccably clean and precise by Jansen, who I imagine folds his clothes impeccably and puts them in these vacuum-sealed bags for storage.
6th over: England 14-3 (Malan 2, Buttler 0) Dog's breakfast from an early England. Still, good to have a challenge. Ngidi now has three for seven in his back pocket and he looks very happy too.
TICKET OFFICE! Brook v Klaasen v Ngidi 6 (England 14-3)
King, Queen, Jack! Brook joins Roy and Duckett in the shady clearing of the dugout after a nasty iron punt, which goes nowhere but at the grateful Klaasen. Three for seven for the very impressive Ngidi.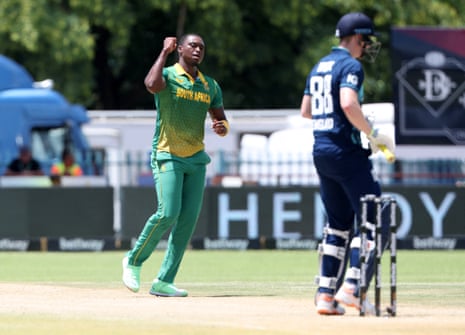 5th over: England 12-2 (Malan 2, Brook 4) Not much leeway either from Jansen navigating the stumps. Malan cuts nothing on his eleventh ball with a drive, and England are very grateful for another wide from Jansen.
"When you said 'rabbits' this morning," writes Andrew Cosgrove, "are you referring to the higher order of England?"
Bo-boom.
4th over: England 9-2 (Malan 0, Brook 4) Brook shoulders arms at the hat-trick ball then wobbles somewhat to the next one who zooms into the pads. But normal service resumes as he looks up at the latest, too thrown and shiny, and skins it through the covers for four.
TICKET OFFICE! Duckett v Klassen v Ngidi 0 (England 5-2)
Ngidi on a hat-trick after Duckett batted horizontally but halfheartedly and the top edges to Klaasen behind the stumps. Hmmm, not the ideal start.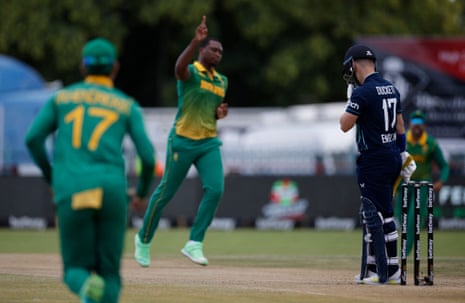 3rd over: England 5-1 (Duckett 0, Malan 0) A few leg byes, a wobbly wide and a decent lbw shout against Duckett. Jansen induces an inside edge with his last ball.
2nd over: England 2-1 (Duckett 0, Malan 0): Ngidi throws a few catches before launching from the Samarai Road End. He squeals in front of Jason Roy as he charges into a drive. Roy then has a fly on the next one as well and fails to make contact. The third time seems somewhat inevitable.
Hello, Tanya. John Starbucks!
Did you say 'Rabbits' today? It's not supposed to work unless you say "Hares" the night before.
"Anyway, I'm prepared with coffee for today's game which, although the series itself is over, will hopefully allow England to break the game streak. losers. What can you recommend them to do, other than 'play better cricket'?"
I said "rabbits" but I did not know the "hares".
TICKET OFFICE! Roy v Bavuma v Ngidi (England 2-1)
Jason Roy gives himself what looks like a rude reprimand after taking a safe stride and chipping Ngidi to cover. He had been beaten by the previous two bullets.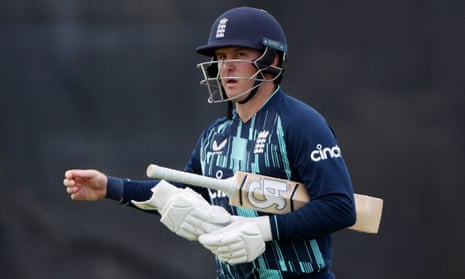 1st over: England 1-0 (Roy 1, Malan 0) Jansen with the new ball, blue sky, fluffy little clouds, two slides, mustached bowler, batter, five points.
Here is a fabulous piece (thanks to Rob for pointing this out) on how England's best ODI side have played together since the greatest game ever.
A Nasse masterclassr on Harry Brook. "Look at his knees, he's a lot lower in his stance for a spinner than a fast bowler." Athers and Nasser offer dollops of praise, but Athers suggests he might find it easier on the flat terrain of the subcontinent than on more bouncy terrain – his record in the Big Bash isn't quite as good as in the PSL.
Tom Curran takes a step back from red ball cricket
Surrey have announced that Sam Curran's Older brother Tom is to take an indefinite hiatus from red ball cricket to prioritize his mental and physical health after a series of injuries.
"The past two years have not been easy for me. I had plenty of time and it wasn't a decision I took lightly," Curran said.
"Some choices in life I don't think you'll ever be 100% sure about and this is definitely one of them. But where I am at this exact moment, I feel like that it is the right decision for my body and for my mental health.
"I certainly wouldn't rule out playing red ball cricket again in the future, and I feel like I have unfinished business in this format for Surrey and England. But until I can feeling 100% committed and confident in my body to play day in and day out for Surrey in the County Championship, I think dedicating all of my time and focus to our Vitality Blast campaign this year is the right thing to do.
"I know this is not ideal news for everyone in Surrey and our fans. But I wanted to thank Alec Stewart from the bottom of my heart for his support and understanding of my decision. Surrey have given me their all and c This is my home. I love it very much and I hope everyone will see and understand my decision as they did.
He made his first class first century against Northants last summer.
Teams: South Africa – three changes!
South Africa XI: Reeza Hendricks, Temba Bavuma (c), Rassie van der Dussen, Aiden Markram, Heinrich Klaasen (wk), David Miller, Marco Jansen, Wayne Parnell, Sisanda Magala, Lungi Ngidi, Tabraiz Shamsi.
No De Kock. after his hand injury in the last match, Maharaj and Nortje are also out. Hendricks, Shamsi and Magala return..
Teams: England – Jofra returns!
England XI: Jason Roy, Dawid Malan, Ben Duckett, Harry Brook, Jos Buttler (c, wk), Moeen Ali, Chris Woakes, S Curran, Adil Rashid, Jofra Archer, Reece Topley.
Olly Stone sits on the bench.
South Africa win the toss and will play bowl
Better luck with the coin for Bavuma! It's warm and sunny there.
Hello, goodbye January and a very happy February 1st to all of you. This mini-series between South Africa finds itself in the shoulder pads and glitter of the diamond-mining city of Kimberley. South Africa hold a surprise 2-0 lead after following up their maiden victory with a chase in Bloemfontein on Sunday inspired by a hundred Temba Bavuma.
Another victory today would put South Africa eighth in the World Cup Super League table, meaning they would escape the ignominy of the World Cup qualifiers in Zimbabwe. England, currently fourth, are in a mid-winter slump – five straight defeats, their worst ODI streak since 2014 in December against Australia, plus all co-honored players absent on Test duties – but Jos Buttler will want to garnish those two solitary wins England have won since he took over properly after the blistering trip to the Netherlands.
It should be fun – and recovered Phil Salt and rested Jofra Archer are in the mix to play. It all starts at 11am GMT, hope you can make it.



Fr
Not all news on the site expresses the point of view of the site, but we transmit this news automatically and translate it through programmatic technology on the site and not from a human editor.