Sophia Duleep Singh: Indian suffragist princess commemorated with blue plaque | UK News
A suffragist Indian princess has been honored with a blue plaque by English Heritage.
The plaque dedicated to Princess Sophia Duleep Singh, who was the goddaughter of Queen Victoria and the daughter of the last ruler of the Sikh Empire, has been unveiled at her former home at Faraday House, Hampton Court, southwest London .
The Princess was a member of the Women's Social and Political Union (WSPU) – the militant group led by Emmeline Pankhurst – and used her status and wealth as a member of the Punjabi royal family to support the cause of equality genders.
Director Gurinder Chadha, actress Meera Syal, Professor Helen Pankhurst and Lord Singh were among the guests who attended the ceremony.
Anita Anand, author of Sophia: Princess, Suffragette, Revolutionary, said: "We owe Sophia such a debt of gratitude because without her courage and the courage of women like her, you cannot take it for granted that we would have the right to vote in this country.
"She was one of those bloodthirsty women who never do what they're supposed to do.
"Women's history falls through the cracks and women of color fall through them," Ms Anand added.
"Her fortitude is something that should not be forgotten, and it is fitting that we see her on a plaque so that young girls, when they pass by, can ask, 'Who was she? ""
Born in 1876, Sophia and her sisters Bamba and Catherine grew up in Folkestone and Brighton with their guardian Arthur Craigie Oliphant and his family.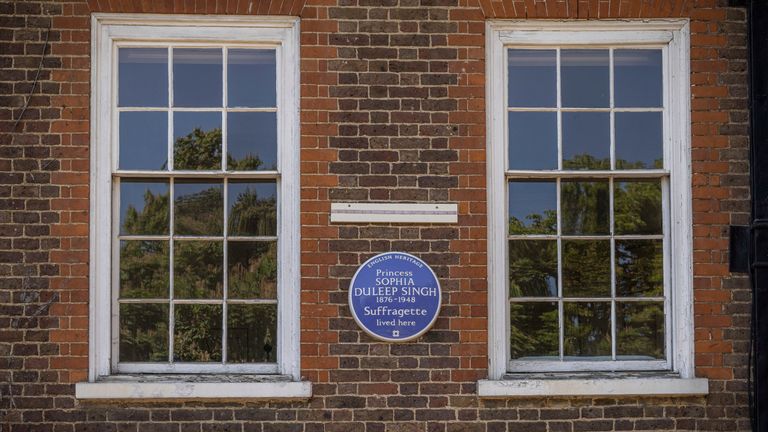 Sophia's early childhood was turbulent with her father, Maharaja Duleep Singh, abandoning his young family to live in Paris and her mother, Bamba Muller, suffering from alcoholism.
Queen Victoria then granted Faraday House to the sisters in 1896 where they lived as adults.
From 1909, Sophia was active in the Richmond and Kingston-upon-Thames district branches of the WSPU.
She sold copies of The Suffragette newspaper on its location outside Hampton Court Palace, and once launched a suffragette poster reading "Give women the vote!" to Prime Minister Herbert Asquith's car at the official opening of Parliament in 1911.
Learn more:
The Suffragettes – the women who risked everything to get the vote
Sophia was also a member of the Women's Tax Reform League (WTRL), a movement that refused to pay various taxes, insurance and license fees under the motto "No Vote, No Tax".
The princess has been repeatedly summoned to court and fined for refraining from personal licensing on jewelry, dogs and a horse-drawn carriage.
Sophia also attended "Black Friday" on November 18, 1910, when over 300 suffragettes marched from Caxton Hall to Parliament Square and demanded to see the Prime Minister.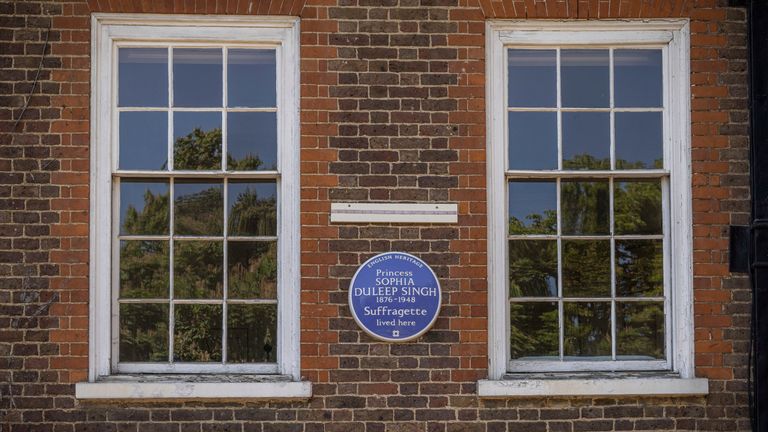 The protest turned violent when the prime minister refused to see the suffragettes and police assaulted the women who refused to leave.
Five years later, she was one of 10,000 women who took part in the Women's War Labor Procession led by Ms Pankhurst.
Sophia also supported the Indian Women's Education Association in London and volunteered in both world wars – caring for Indian soldiers in World War I and housing evacuees in World War II.

Sky news
Not all news on the site expresses the point of view of the site, but we transmit this news automatically and translate it through programmatic technology on the site and not from a human editor.