For the Kremlin, it will be a reminder: in the enterprise of demolition of the opposition that it has undertaken, the Russian authorities will have to reckon with the streets. On Saturday 23 January, tens of thousands of people took to the streets of Russian cities to demand the release of the opponent Alexeï Navalny, arrested on January 17 on his return from Germany, five months after his poisoning in Siberia.
From Vladivostok to Kaliningrad, rallies, systematically banned, took place in 114 cities, far more than what had been expected by those close to the opponent. Each time, they brought together several thousand people, with particularly important mobilizations in Irkutsk, Novosibirsk, Perm or Yekaterinburg. In Yakutsk, a few hundred people gathered in a temperature of – 53 degrees.
In Moscow, the demonstration was far from resembling the human tide hoped for by the opposition, but it will go down as the most important unauthorized rally in the last twenty years. The France-Presse agency estimated the crowd in the capital at 20,000 people (and as many in St. Petersburg), Reuters at 40,000. The police gave a figure of 4,000. Le Compteur blanc, an independent NGO specializing in counting demonstrators, for his part gave an estimate between 18,000 and 35,000.
These differences are explained by the chaotic form that the demonstration took. The compact crowd of Pushkin Square, wedged between the cordon of security forces, quickly overflowed into the adjacent streets. Deprived of leaders and harassed by the police, she wandered through a significant portion of the center of the capital.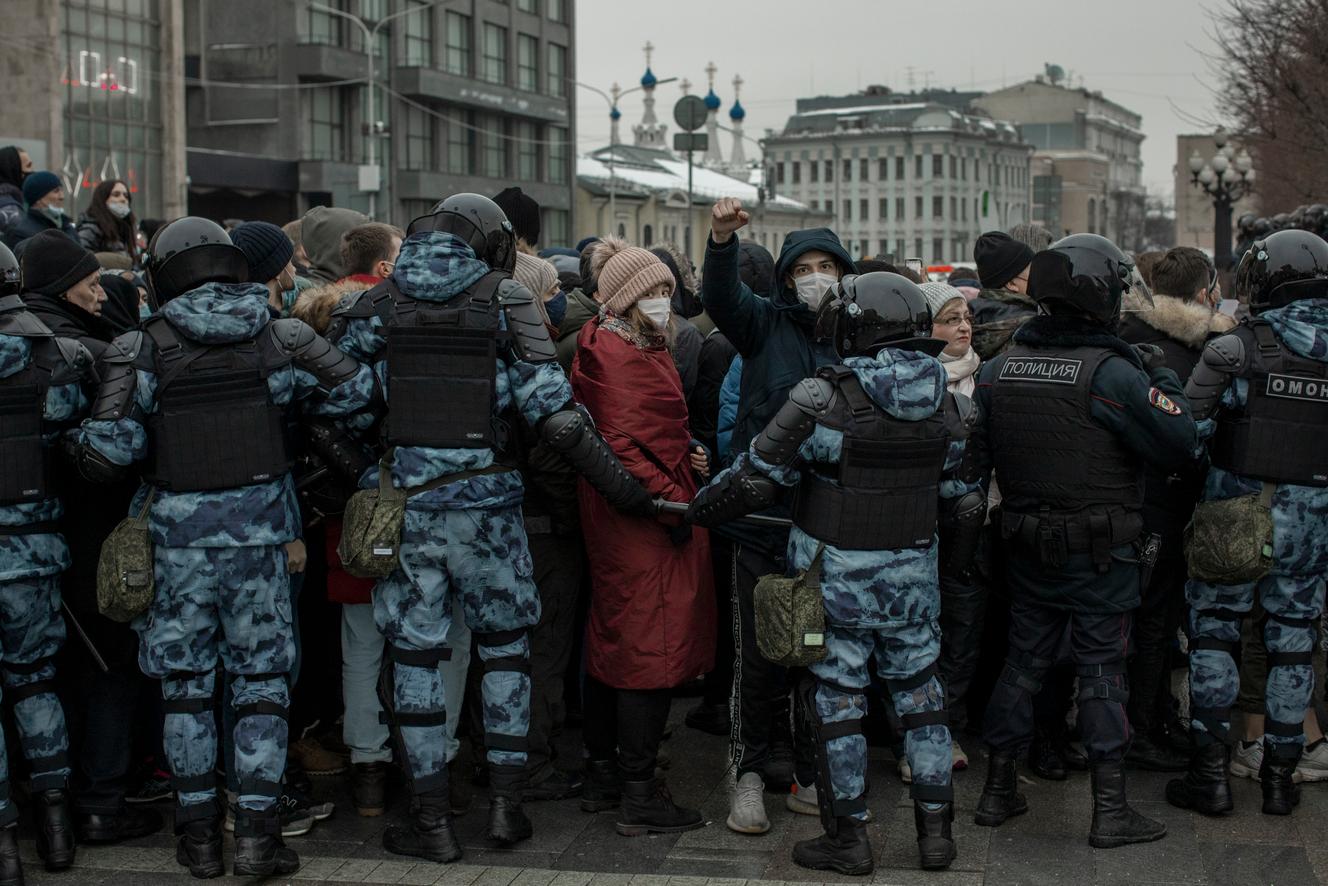 Horns and toilet brush
With the usual slogans – " Freedom ", "Putin – thief" – others referred to the film A Palace for Putin, aired this week and which totals 71 million views. This investigation into a secret presidential palace on the shores of the Black Sea, financed by the "friends" of Mr. Putin, has become the main mobilization tool of the Navalny team. We were thus able to see demonstrators brandishing toilet brushes, in reference to those that the Kremlin would bring from Italy for an amount of 700 euros each, for an annex of this palace.
Another novelty is the incessant sound of horns which accompanied the demonstration as a sign of support. Usually, opposition rallies take place with relative indifference from passers-by or motorists. "The fact that those who have not taken to the streets start to look at those who do so in a neutral way, or even with empathy, poses a greater threat to power than the number of protesters", noted the political scientist Vladimir Pastoukhov at theEcho of Moscow.
You have 67.71% of this article to read. The rest is for subscribers only.
Source link