SeaWorld denies creating 'Jurassic World'-style hybrid orcas
SeaWorld has denied claims by a former employee that it created a hybrid jurassic worldstyle killer whales.
Former SeaWorld orca trainer John Hargrove said The sun newspaper recently that when the park still had a breeding program, subspecies of orcas that would never occur in the wild were forced to mate. It was part of an attempt by the park to create more whales as tourist attractions, he said.
Hargrove spent 20 years working at SeaWorld with the park's captive killer whales. He played a leading role in the 2013 documentary black fishwhich explored a series of deaths caused by Tilikum, one of the park's most famous captive orcas.
Hargrove told the newspaper it was like jurassic worlda film whose premise "is that they created hybrid dinosaurs".
"That's exactly what we did at SeaWorld," Hargrove told the newspaper. "[…]The main takeaway from creating a hybrid orca is that you really have no idea what you've created because they don't exist in nature. So anything is possible."
SeaWorld denied the allegations in a statement sent to Newsweek.
"There is nothing new in these claims. The savage descriptions of this former employee – who has not worked at SeaWorld in any capacity for 10 years – are designed to get clicks, not to communicate facts or science," a SeaWorld spokesperson said. Newsweek.
"The fact is, SeaWorld is independently accredited, reviewed, and certified by federal wildlife agencies and independent third-party experts to meet the highest standards of animal care. Much of what the world knows about killer whales today is due to what has been learned through nearly 60 years of caring for and studying killer whales at accredited zoological facilities such as SeaWorld.This knowledge and expertise continues to directly benefit the understanding of the health and conservation of wild orca populations. SeaWorld terminated its killer whale breeding program in March 2016."
Captive killer whales at SeaWorld have been a controversial topic among animal rights activists for years. Killer whales performed in theatrical shows until 2017.
Four deaths have been caused by captive orcas in the park. Tilikum, who lived at the SeaWorld Orlando attraction, was responsible for three of them.
In black fish, former trainers including Hargrove speak of captive orcas suffering psychological damage and trauma, leading to aggression. Hargove also wrote a book called Beneath the surfacewhich detailed his experiences at the park and how he thought it was dangerous to keep the whales in captivity.
SeaWorld has previously criticized Hargrove for its claims against the park. The park said in 2015 that Hargrove quit his job after being disciplined for a security breach.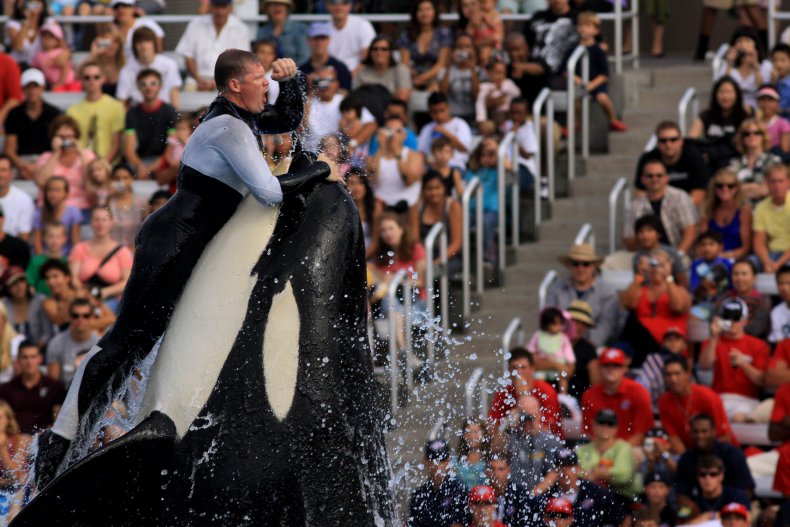 Animal welfare groups continue to monitor SeaWorld and other attractions that keep orcas in captivity.
People for the Ethical Treatment of Animals (PETA) recently shared a video of orcas at SeaWorld San Diego battling each other. PETA claimed this was due to the "extreme stress and frustration" experienced by the orcas.
SeaWorld said the video was "misleading and misinterpreted". The park said in a statement that the video "shows common killer whale behaviors exhibited by both wild populations and those supported by humans through natural social interactions."

gb7
Not all news on the site expresses the point of view of the site, but we transmit this news automatically and translate it through programmatic technology on the site and not from a human editor.