USA News
Score Huge Savings Today on 'The Frame' Smart TV in Discover Samsung Fall Sale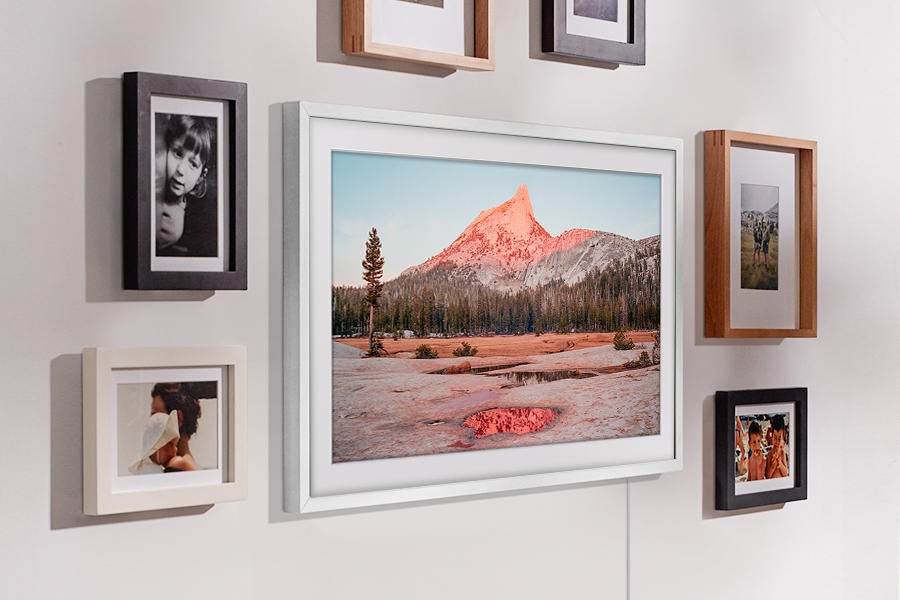 Samsung's "The Frame" smart TV is not only one of the most unique TVs you can buy, it's also the most popular TV among our readers. We'll see why in a moment. But if you want to hang one of these ultra-thin TVs on the wall in your home, you can enjoy additional savings ranging from $300 to $1,000 right now during the purchase period. Discover the Samsung fall sales. 'The Frame' is today's Samsung Deal of the Day with additional savings on select sizes, so act fast if you've got your eye on the best-selling smart TV.
Here are some of the great deals you'll find on Samsung's 'The Frame' smart TV:
Samsung 32″ "The Frame", $550 (instead of $600)
Samsung 43″ "The Frame", $900 (instead of $1,000)
Samsung "The Frame" 50-inch, $1,100 (was $1,300)
Samsung 55″ "The Frame", $1,300 (instead of $1,500)
Samsung "The Frame" 65-inch, $1,600 (was $2,000)
Samsung "The Frame" 75-inch, $2,000 (was $3,000)
Samsung "The Frame" 85-inch, $3,300 (was $4,300)
---
Here's why so many people love 'The Frame' smart TV
So why is everyone clamoring to hang "The Frame" smart TV on their wall? For starters, it comes in seven popular sizes, including 32, 43, 50, 55, 65, 75, and 85 inches. All sizes of this TV use a 4K (3840 x 2160 pixels) QLED display with a 120Hz refresh rate. You also get a unique anti-glare matte finish with a wide viewing angle. The TV is capable of generating billions of precise colors that bring everything you watch to life in incredible detail.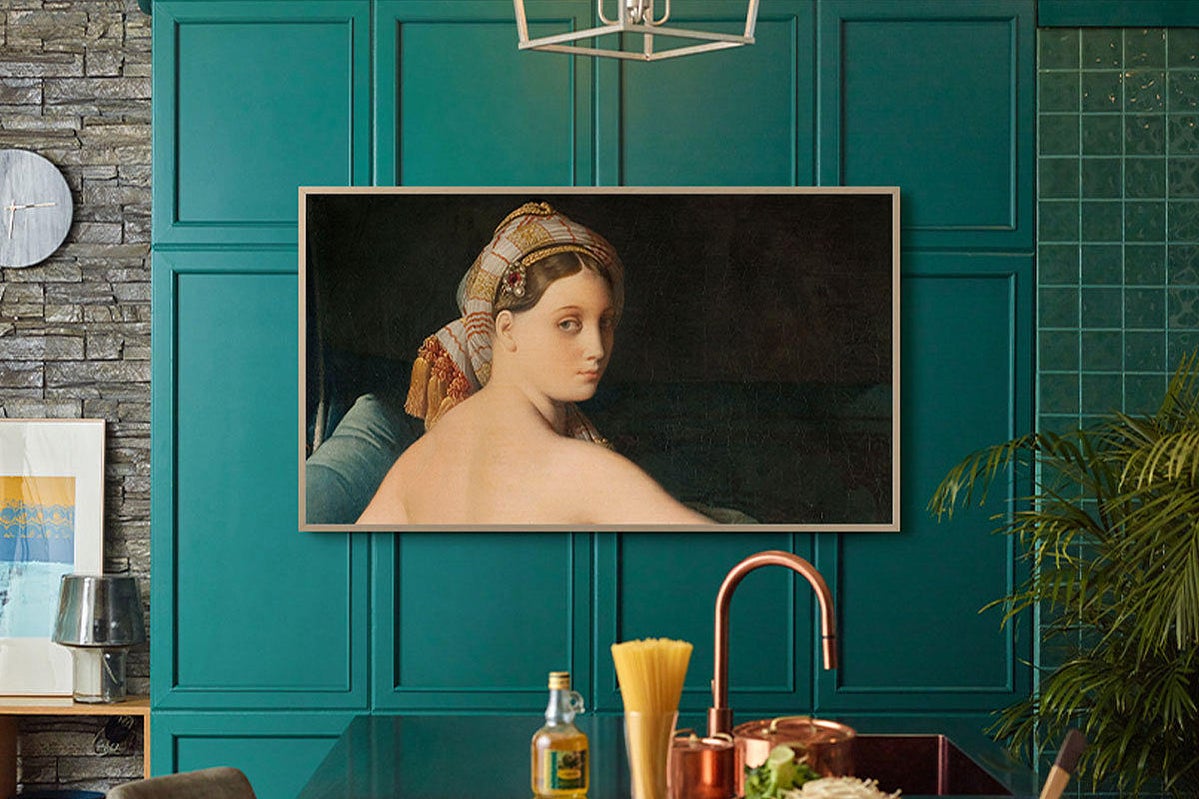 Meanwhile, no matter what size "The Frame" TV you buy, it's only an inch thick and is designed to hang on the wall, just like a picture frame. The TV screen is actually surrounded by frames of your choice that look like a traditional picture frame. When you order the TV, you get to choose from a selection of colors and frame styles, so it fits in perfectly with your home decor.
So when you're not watching a TV show, movie or sporting event for example, instead of being turned off and having a large black rectangle hanging on your wall, "The Frame" is able to display your choice of famous works of art. Each artwork is displayed in high resolution, so the images look like real paintings. If your favorite piece of art was created vertically in portrait form, for example, the screen can easily rotate on its stand to accommodate this.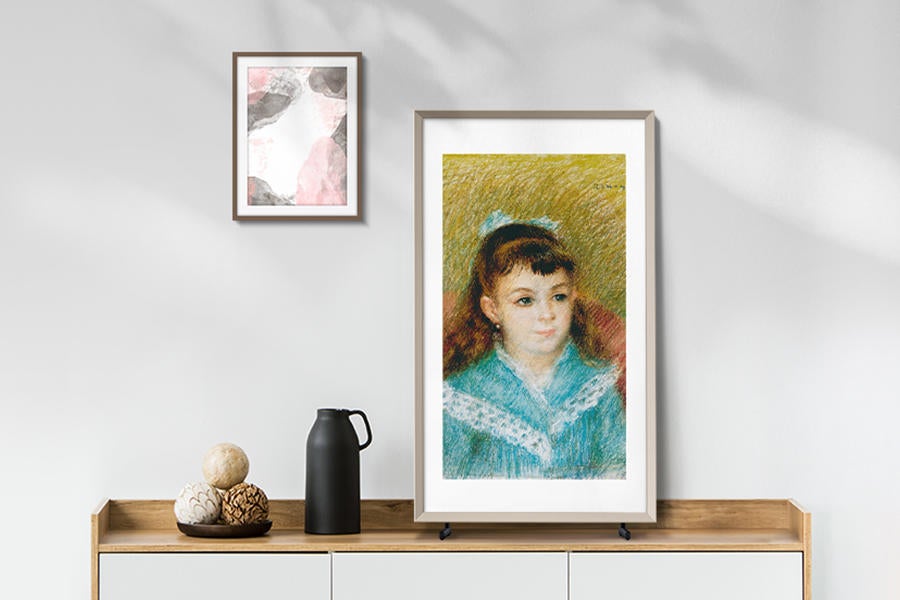 With a paid membership, you can choose from over 2,000 artworks. However, "The Frame" can also display your own selection of digital photos and video clips. Everything is managed using a special smartphone application. Meanwhile, thanks to a motion sensor built into the TV, when no one is in the room (or at night), "The Frame" will turn off, then automatically turn back on and display artwork (or content from your choice). as soon as someone enters the room.
When you watch TV on "The Frame", you enjoy the benefits of AI-based Quantum Dot technology that presents vivid, bright colors that take full advantage of HDR (high dynamic range) to enhance detail and contrast . Blacks appear very deep, while whites are sharp and bright. The TV continuously uses AI to analyze the content you watch and optimizes it to eliminate intricate details in full 4K resolution. But if you're watching content in 1080p resolution, the TV's upscaling feature upgrades that content to near 4K quality.
Plus, with the help of Samsung's Tizen processor, you get all the latest smart TV features. This includes easy access to all popular streaming services. For gamers, "The Frame" supports built-in Xbox online gaming, with no console required. However, you can easily connect any gaming console to the TV using one of the four HDMI ports and then take advantage of Samsung's Game Hub feature.
Choose the screen size and frame design that will best fit your living space, then transform that room using Samsung's "The Frame" as a centerpiece on any wall. For added peace of mind when it comes to your TV investment, consider adding some protection to your purchase with the Samsung Care+ plan, available with two or four years of coverage.
If all this intrigues you, don't miss the savings during the Discover the Samsung fall sales.
---
Samsung 'The Frame' Disney 100 Edition is almost sold out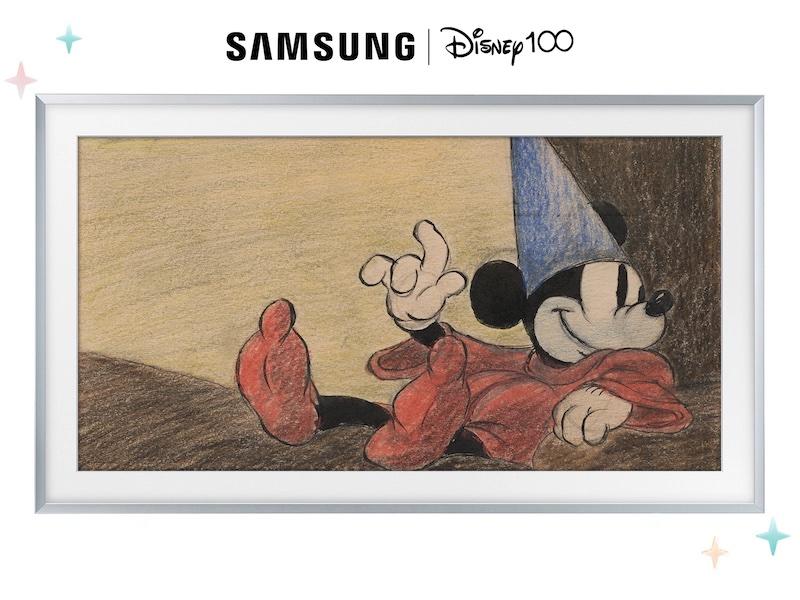 Display type: QLED (matte finish) | Resolution: 4K (3840 x 2160 pixels) | Refresh rate: 120Hz | Operating system: Tizen | Max. Brightness: 475 nites | HDR support: HLG, Quantum HDR, HDR10+ | Main Ports: 4x HDMI, 1x Ethernet, 1x USB | Other key features: Includes 100 pieces of Disney art, Dolby Atmos sound, wide-angle viewing, Movie mode, | Overall dimensions: 66.2 x 37.8 x 1.1 inches (75 inch version) | Weight: 77.8 pounds
Here's a chance to take your television vision to a whole new world. Just in time for your fall home renovation and Disney's 100th anniversary celebration, Samsung has launched "The Frame" – Disney 100 Edition. This is a limited edition available in sizes 55, 65 and 75 inches. In addition to a special Disney-themed frame that surrounds the TV (like a picture frame), it comes pre-installed with 100 pieces of art depicting famous Disney stories and characters. You also receive a Mickey Mouse-inspired SolarCell remote control.
Quantities are very limited and some sizes are already sold out, so you'll need to act quickly if you're interested.
---
Don't forget to add a Samsung soundbar
To significantly improve the sound equality offered by 'The Frame' (or any other large flat screen TV), we recommend investing in an optional soundbar or full surround sound system.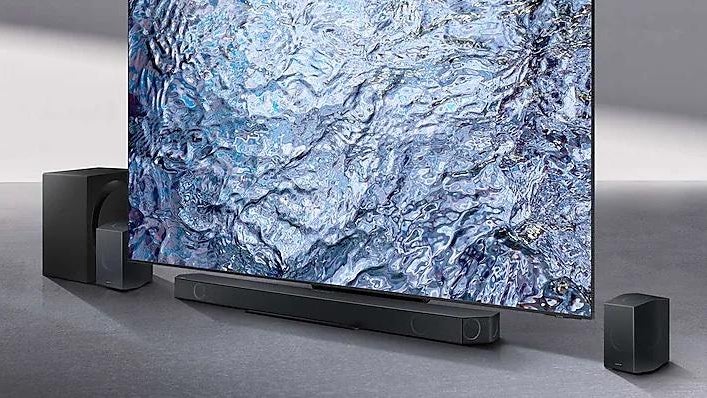 Right now, during the Discover the Samsung fall salesYou'll get instant savings on some of Samsung's most popular soundbars and surround sound systems, including the Q-Series Q990C 11.1.4 Channel Wireless Dolby Atmos Soundbar.. It cost $1,900, but it's on sale for $1,600 (a $300 discount). You can also save $250 on the Q Series Q800C 5.1.2 Channel Wireless Dolby Atmos Soundbar, which cost $1,000 but is now on sale for $750.
If you're more budget-conscious, check out the Q-Series 3.1 Channel Q60C Soundbar, which is also on sale for $120 off, bringing the price down to $380 (was $500). Remember that because "The Frame" TV is designed to be wall-mounted, we suggest choosing a soundbar that can also be wall-mounted (directly below the TV). With these soundbars and other Samsung surround sound systems, the necessary wall mounting kit is included.
---
Related content from CBS Essentials

chicago
Follow Us