Sarah Ferguson spoke this week about her opposition to Princess Diana in the tabloids decades ago and recalled the advice her late friend was giving her.
"In the '80s it was Diana who was beautiful, and there was fat, clumsy Fergie," the Duchess of York told People for the magazine's cover issue, released Friday. The outlet noted that Ferguson, nicknamed "Fergie", was sometimes referred to as the "Duchess of Pig" by tabloids.
"We were just there for people to make a lot of money. At the time, we both didn't know that, "Ferguson said, adding that she and the Princess of Wales" were positioned as saints and sinners ".
"Diana and I had our own mental health issues, and she and I used to talk," the Duchess continued. She said, 'Fergie, remember one thing: when you're on top of the pedestal it's so easy to fall. And you are at the bottom. You just climbed.
"And the most important thing was to stay strong together, and we did it no matter what anyone wrote," she added.
Despite being best friends since their teenage years, the Duchess of York and Princess Diana had an argument and did not speak to each other until Diana died on August 31, 1997.
"Because we were like siblings – we were actually fourth cousins ​​and our mothers, who went to school together, were best friends too – we row," Ferguson told Harper's Bazaar in 2007.
"And the saddest thing, at the end, we hadn't spoken for a year, although I never knew the reason except that once Diana had something in her head …" said -she interrupting herself. Rumor has it that their friendship ended after Fergie revealed she got a plantar wart while wearing Diana's old heels.
"I tried, I wrote letters, thinking it didn't matter what was going on, let's fix it," Fergie continued. "And I knew she would come back. In fact, the day before she died, she called a friend of mine and said, "Where is this Red? I want to talk to him.'"
Sometimes, the tabloid coverage of Meghan Markle and Kate Middleton has been compared to what Diana and Fergie have been through.
However, as the Duchess of Sussex herself has said, there is a major difference between the racist coverage she has faced and the type of abuse the Duchess of Cambridge has suffered in the past.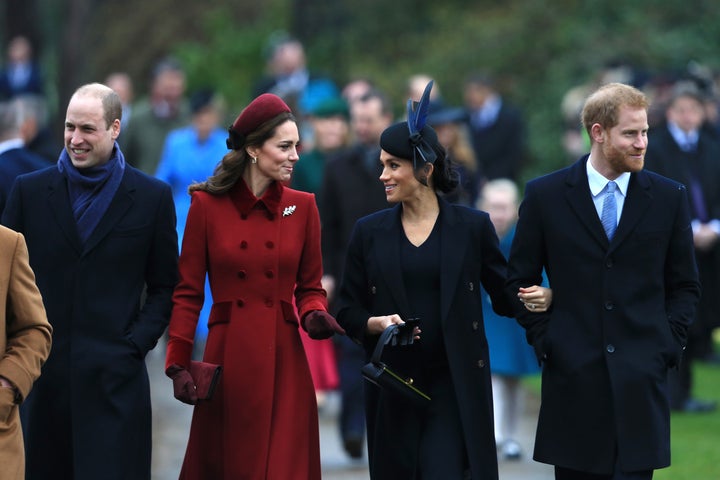 "Kate was called 'Waity Katy' while waiting to marry William. While I imagine it was really difficult and it is, I can't imagine what it looked like – it's not. same thing, "Meghan told Oprah Winfrey in March." What if a family member comfortably says we've all had to deal with rude, rude and racist things are not the same. "
Subscribe to HuffPost's Watching the Royals newsletter for all things Windsor (and beyond).
Calling all HuffPost superfans!
Sign up to become a founding member and help shape the next chapter of HuffPost