News
Ron DeSantis attacks Donald Trump's criticism of Fauci
The war of words between former Republican allies turned bitter rivals in the presidential race intensified Thursday as Ron DeSantis called Donald Trump pathetic for criticizing Dr. Anthony Fauci.
DeSantis mocked the former president for saying he didn't know who gave Fauci a presidential commendation when it was Trump himself who presented the award to the former head of the National Institute of Allergy and Infectious Diseases (NIAID).
DeSantis, as governor of Florida, often criticized Fauci, who advocated masks and lockdowns as the United States struggled to contain the emerging COVID-19 pandemic. DeSantis said Trump was a hypocrite for trying to distance himself from Fauci now that the doctor and former NIAID boss is reportedly less popular with the public.
Both DeSantis and Trump hope to win the presidency, but DeSantis is trailing Trump. Voters favor the former president as the Republican candidate for 2024, even though he faces charges for his manipulation of official documents. Trump denies any wrongdoing.
During an interview on SiriusXM The Megyn Kelly Show On Thursday, Trump was asked why he awarded Fauci a presidential commendation. The former president told Kelly, "I don't know who gave him the commendation. I really don't know who gave him the commendation. Someone probably gave him a commendation." Trump added: "I overstepped a lot of the things he did."
Former Trump staffers have denied claims that the former president had anything to do with Fauci's January 2021 commendation. Alyssa Farah Griffin, his former White House communications director, said told CNN on Thursday: "A commendation of this nature would require a presidential commendation. They go through the personnel secretary for approval, and then the president will have to sign off.
DeSantis wasted no time jumping on Trump's claims. During an interview with Jimmy Failla on FOX Across America after The Megyn Kelly Show " had been broadcast, the governor of Florida declared: "It literally says: 'President Trump awards a commendation.' Is this a pristine commendation or something? Did this happen out of nowhere?"
And in a video clip shared on the social networking site
"It's easy for Republicans to pick on him (Fauci) now, because he's unpopular with the broader electorate," DeSantis said. "Back then, Donald Trump used to cite Fauci's poll numbers to explain why Fauci was someone to listen to…And (during) his re-election campaign in October 2020, They were releasing videos where Fauci was bragging about this, "Donald Trump did everything I told him to do." They presented this as a positive message for their candidate.
"And then of course he DID give Fauci a presidential commendation on his last day in office," DeSantis added. "Megyn asked him about it and he (distanced himself). What was that? Was that the pristine commendation that just happened? He was like, 'Donald Trump is awarding this mention to Fauci.' So I thought it was really pathetic to sit there and listen to this nonsense. It's totally wrong."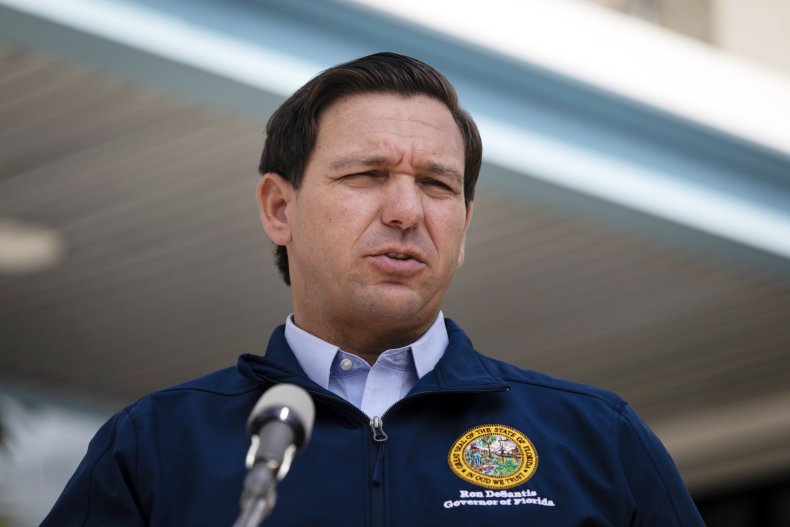 X users commenting under the clip seemed as divided as Trump and DeSantis.
Some praised the Florida politician for going after Trump, with one writing: "You finally have a backbone."
Others posted that DeSantis was a hypocrite because he took the COVID-19 vaccine.
However, many others seemed just as disgusted by the two politicians, with one commenter posting: "Can we watch the fact that these guys are arguing over who hates a respected internal medicine doctor the most. It's disgusting y'all !" Another added: "The pot calls the other pot a pot." And a third wrote: "No, I hate Fauci! No, I hate Fauci! No, I still hate Fauci! Get a grip."
News week contacted Trump via a form on his website, DeSantis via email, and Fauci via an email to NIAID, seeking comments from all three men.



newsg2
Follow Us