Pittsburgh narrowly defeats Mississippi State in Game 1 of four
Jamarius Burton surged ahead with 10 seconds left and Pitt edged Mississippi State 60-59 in a first-four home-and-away game on Tuesday night that featured 21 lead changes — the most in the NCAA Tournament in five years.
Mississippi State had a great chance to win in the end, but Shakeel Moore missed a wide-open 3-pointer from the corner with two seconds remaining on an inbound play. DJ Jeffries' tip-in attempt was off target just before the buzzer.
Nelly Cummings led Pitt with 15 points. Greg Elliott scored 13 goals and Blake Hinson added 12 as the Panthers (23-11) won an NCAA Tournament game for the first time since 2014.
They placed in the Midwest Region bracket as the 11th seed and advanced to face No. 6 seed Iowa State on Friday in Greensboro, North Carolina.
"We showed tenacity, resilience," Pitt's coach Jeff Capel said. "We were what we've been all year, and it wasn't pretty, but it was beautiful."
CLICK HERE FOR MORE SPORTS COVERAGE AT FOXNEWS.COM
A Tolu Smith layup gave Mississippi State a 59-58 advantage with 32 seconds left, but Pitt — after a three-minute drought — regained the lead on Burton's short jumper.
Guillermo Diaz Graham blocked Smith's lay-up attempt out of bounds with 2.7 seconds left, setting up the final stretch.
"I made a block – I don't even know how – with my left hand," said the exhausted 6-foot-11 freshman. "Usually I don't use my left hand. And I blocked it, and I knew it was a big play, so I just let the energy out."
Dashawn Davis had 15 points for the Bulldogs (21-13) and Moore scored 13.
Burton, who spent nearly seven minutes on the bench after committing his fourth foul, said he knew his final shot was going in.
"When I had the ball in my hands for the last 30 seconds or so, I thought I was made for this," said Burton, who finished with six points. "And I just got to a point and let it go, and I had total confidence in myself. That's about all that happened."
DEPTH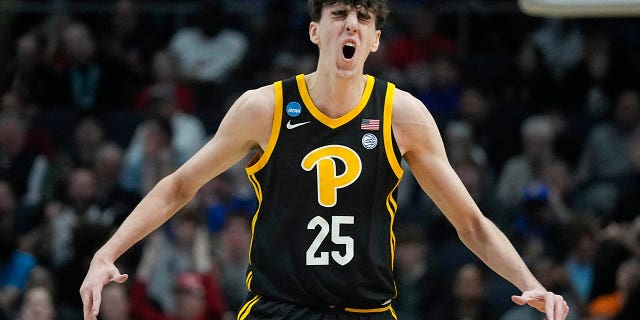 The 3-pointers were thrown straight away as the teams combined for 13 in the first half.
Mississippi State, not a good outside shooting team, hit four in the first five minutes but cooled afterward. The Panthers went 8 for 13 from beyond the arc in the opening period.
EX-VILLANOVA COACH JAY WRIGHT HAPPY WITH TV JOB, AT PEACE WITH COACH'S RETIREMENT: 'ENJOYING THIS NEW LIFE'
The teams only hit one each from long range in the second half.
"Every team is going to make adjustments at half time, so I think we had to make the same kind of adjustments and realize what kind of game we were in and take what the defense was giving us," Cummings said.
A GOOD LOOK
Mississippi State coach Chris Jans said he couldn't argue with the choices his players made in the final seconds.
"That was a hell of a look," Jans said of Moore's missed 3. at that point, that's all you can ask for, a chance – the ball is in the air – to win an NCAA Tournament game and still have enough time to get a comeback."
CLICK HERE TO GET THE FOX NEWS APP
BIG PICTURE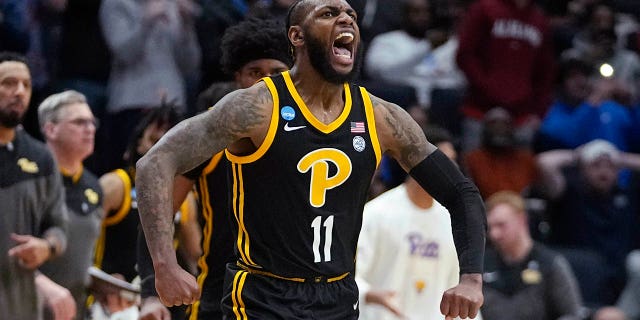 Mississippi State: Came out shooting from long range, but in the second half returned to the inside play that has led the Bulldogs so far. They scored 30 points in the paint.
"When you bounce squarely off someone 49-28, you usually expect to win," Jans said. "But you have to give Pitt a lot of credit, they obviously played well enough to win. We struggled in the first half to keep them. We just couldn't contain the 3, and that was always a one-point match."
Pitt: We were better on the outside and eventually managed to open a lead against Mississippi State's strong perimeter defense.
"The attention to detail that we had to have to maintain that throughout the game was something we talked about as soon as we found out who we were playing against," Cummings said.

foxnews
Not all news on the site expresses the point of view of the site, but we transmit this news automatically and translate it through programmatic technology on the site and not from a human editor.