Petition calls for Djokovic to be allowed to enter US – RT Sport News
An online petition is calling for Novak Djokovic to be allowed to play at the US Open later this year. As things stand, the unvaccinated tennis star will miss the tournament as he will not be allowed to enter the country.
The campaign set up on Change.org, titled "Allow Djokovic to play at the US Open 2022"has a relatively modest current target of 15,000 signatures but is on track to hit that target with around 12,000 supporters on Wednesday.
"There is absolutely no reason at this stage of the pandemic not to allow Djokovic to play at the US Open 2022," reads accompanying text from user Padma Rajan.
"The United States Government and the USTA [US Tennis Association] must work together to allow him to play. If unvaccinated American players can play, Djokovic as one of the legends of the game must be allowed to play. MAKE IT HAPPEN, USTA! »
Djokovic, 35, insisted after winning Wimbledon earlier this month that he still had no intention of getting a Covid-19 shot. US rules currently prevent unvaccinated foreigners from entering.
"I'm not vaccinated and I'm not planning on getting vaccinated so the only good news I can have is they're taking away the mandatory green vaccine card or whatever you call to enter the United States or a exemption", says Djokovic.
The US Open, which is the last Grand Slam of the season, will start on August 29. Djokovic is a three-time tournament winner and was a beaten runner-up last year when he lost to Russian Daniil Medvedev.
Fans online aren't the only ones demanding that Djokovic be cleared to play. American tennis icon John McEnroe has accused politicians of "too awkward" as he launched an on-air rant after Djokovic's Wimbledon win.
"They did it in Australia. Let the guy come in and play in the United States. I mean come on. It's ridiculous," McEnroe said on ESPN.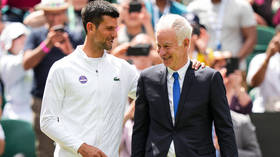 McEnroe, 63, added that "Whatever you think the government should or shouldn't do is a disappointment for tennis" that Djokovic is about to miss.
Unvaccinated star Tennys Sandgren also said it's absurd that as an American he's ready to play, while Djokovic won't just because he's a foreigner.
Even former US national intelligence official Richard Grenell chimed in online, Tweeter this week: "Let [Djokovic] play in the [US Open]! The US Open depreciates when it bans one of the best players in the world."
Djokovic was infamously denied participation in the year-opening Grand Slam in Australia when he was kicked out of the country in a row due to his vaccination status.
He was free to compete at Roland Garros, losing in the quarter-finals to eventual winner Rafael Nadal, but then claimed a 21st Grand Slam title of his career with a win at Wimbledon – putting him just one behind Nadal in all time. challenges.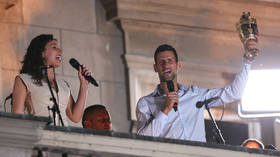 Wimbledon could, however, be Djokovic's last Grand Slam until Roland-Garros next May.
With Djokovic set to miss the US Open, there is also uncertainty over his appearance in Melbourne in January. Deportation from Australia usually results in a three-year re-entry ban, although there are suggestions the government could step in to help.
Djokovic said he was ready to give up the chance to win titles rather than give in to the pressure to get stung against Covid-19.
"This is the price I'm willing to pay" Djokovic said in February.
"The principles of decision-making on my body are more important than any title or anything else. I try to be in tune with my body as much as possible.
"I have never been against vaccination. I understand that everyone around the world is trying to make a big effort to manage this virus and hopefully see the end of this virus soon.
READ MORE:
Djokovic suffers 4-year low despite Wimbledon triumph



RT
Not all news on the site expresses the point of view of the site, but we transmit this news automatically and translate it through programmatic technology on the site and not from a human editor.