Parents' video of 5-year-old son with dementia has the internet screaming
In December 2021, Newsweek shared the story of Simon Croke, a 5-year-old boy with Sanfilippo Syndrome, a fatal degenerative disease that has symptoms similar to Alzheimer's disease.
On Wednesday, Simon's parents, Alina and Jeremy, shared a raw video on TikTok. In the video, Alina and Jeremy are filmed watching a promotional video to help raise money to fund valuable research avenues that could be a breakthrough for Simon and other children with Sanfilippo Syndrome.
With over 2.4 million views and thousands of likes and comments, the unedited video resonated with viewers online.
The power of the viral video has raised over $165,000 in donations towards the family's $1 million goal.
Simon was diagnosed with Sanfilippo Syndrome in 2018 when he was just 2.5 years old. The disease is a rare neurodegenerative disease that affects 1 in 70,000 children and is currently incurable.
Alina, Simon's mother, said Newsweek"Sanfilippo is damaging every cell in Simon's brain and body every second. We know that. He has delays, but luckily he is still learning new things. Without future treatment, this will be a devastating and destructive path for him."
Children with the disease usually begin to lose their intellectual functions – especially speech – before their motor function declines. Devastatingly, those affected will die as children. Children typically plateau in their development as toddlers before rapidly losing their ability to walk, talk, and eat.
"If Sanfilippo continues to progress, Simon will lose the ability to speak, walk, eat and swallow," Alina said. "He will become wheelchair bound and likely die as a teenager."
There are four subtypes of Sanfilippo syndrome, ranging from the most common to the rarest: A, B, C, and D. Simon has type B. Researchers around the world are working hard to develop effective treatments ; various avenues are being explored, gene therapy is considered the most promising. But a combination of treatments is suggested to give the best result, which means research in all areas is essential.
The family works closely with the Cure Sanfilippo Foundation which is supporting funding for two new avenues of research that could benefit Simon and other children with Sanfilippo.
Simon, who loves to shoot basketball hoops, won hearts around the world with the viral video. TikTok users expressed their love and support for the family.
A comment said: "My heart breaks for this family. You can see how much their love for him beats even their fear for the future." Another comment shared hope for the video's impact: "No one should experience this. TikTok please work your magic", while one TikToker simply wrote: "Bawling".
Other viewers commented on Simon's love for basketball and suggested it would be great to get the players involved: "It would be cool if some of these basketball stars or teams/colleges would help you all out. .Prayers for you all." Commentators have since tagged the NBA and several basketball teams across the country in an attempt to draw attention to Simon's story.
Since the video went viral online, retired NBA star Chantel Tremitiere and TikTok challenge creator Alex Presley have both offered to help share Simon's story.
"In a disease like Sanfilippo it can be very easy to lose hope and give up," said Alina: "But we won't do that and we will keep fighting for Simon. Every parent wants only the best for their child, and we know that by doing this fundraising and advocacy, we can help Simon and so many other children like him."
The TikTok community continues to rally around Simon and his family, sharing the heartwarming video and supporting the family in any way they can. Although Simon's future is unpredictable, the family hopes the money raised to fund important research will allow them to spend more time with their son.
"We hope Simon can have many, many more good days," Alina said: "We try not to think too far down the road. not to Simon, with some type of future therapeutic intervention. That's why we're running this campaign. To fund this research and to fund this hope.
You can learn more about Simon's story and donate at helpimon.com.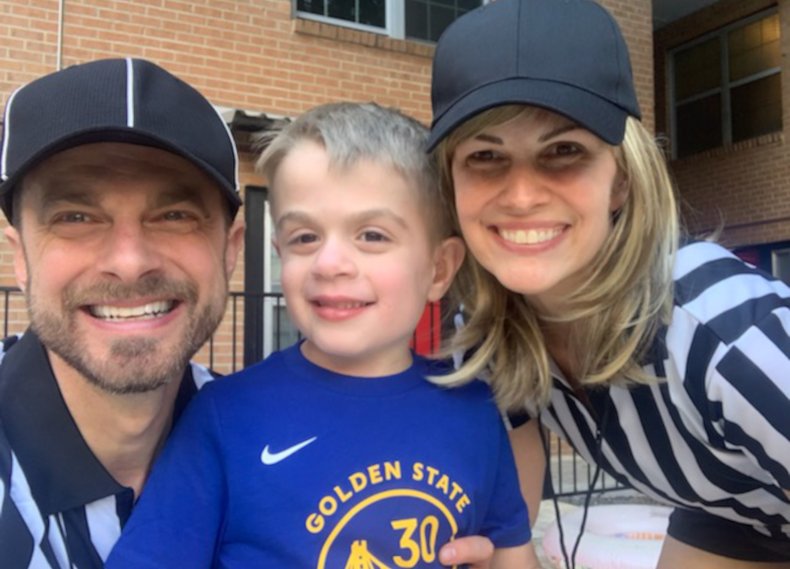 gb7
Not all news on the site expresses the point of view of the site, but we transmit this news automatically and translate it through programmatic technology on the site and not from a human editor.