Parent slams Washington Post for 'downplaying pedophilia' with story about book describing underage sex acts
A Washington Post article published last month hit out at parents for speaking out against a novel depicting oral sex between two ten-year-old boys, although the book's author admitted he never intended his work be placed in school libraries.
The educational article posted online Dec. 22 addressed the controversy surrounding "Lawn Boy," a novel by Jonathan Evison. Several passages in the book, described by Post reporter Hannah Natanson, depict a pair of ten-year-old boys who "meet in the bushes after a gathering of a church youth group, touch each other's penises, and go to the oral sex".
In an interview with the Post, Evison said his book was not intended for inclusion in school libraries and was surprised to learn that the American Library Association gave "Lawn Boy" an award in 2019 for books written for adults that have "a special appeal to young adults."
CALIFORNIA SCHOOL RELEASES SEXUALLY EXPLICIT BOOKS, SOME COVERING 'PEDOPHILES', KINK AND PORNOGRAPHIC IMAGES
The author added that he thought his book had been included in school libraries because of the price, and if it was recommended for middle schoolers or younger, it was probably confused with the children's book "Lawn Boy", by Gary Paulson.
In the Post education article, "Mom Wrongly Said Book Shows Pedophilia. School Libraries Banned It," Natanson said Parents' "misinformation" about the book made it the second book the most contested of 2022.
Natanson specifically focused on two parents, Brandi Burkman and Stacy Langton, who spoke out at their local school board meetings against the book, and falsely claimed that the book depicted sexual relations between a grown man and a boy. The Post credits both parents with thrusting the novel into the national spotlight, catching the attention of politicians and high-profile media.
Langton, speaking to Fox News Digital, admitted she was wrong about her pedophilia allegation and said the passages in 'Lawn Boy' describing the sexual encounter were confusing because the time of the passages changes constantly between a grown man in the present and his childhood sexual experience.
But, she added that her comments on pedophilia were not just aimed at the novel "Lawn Boy," but also another book, "Gender Queer: A Memoir," written by Maia Kobabe.
Indeed, the viral video of Langton at her school board meeting in Fairfax, Va., shows her holding both books while addressing the board. "Gender Queer" indeed shows drawings of a sexual encounter between a man and a young boy and has been removed from many school shelves.
PENTAGON SCHOOLS INFESTED WITH SHOCKING PORNOGRAPHIC MATERIAL FOR MILITARY CHILDREN: 'TIME TO SEND AD*CK PIC'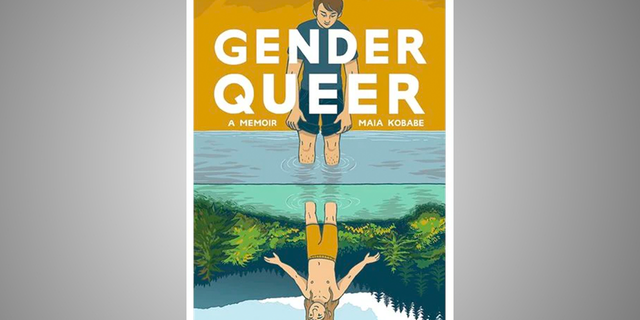 The Post article defending "Lawn Boy" and calling Langton a purveyor of "misinformation" makes no mention of the "Gender Queer" memoir.
Langston also took issue with the Post's article describing parents' objections to sex acts described in a book like 'Lawn Boy' as unwarranted 'panic', and said calling parents' protests 'misinformation' does a disservice. to those who stand up to protect children from sexualization in school libraries.
"I brought two books to the podium that day: one has sex between two little boys, the other has an illustration of sex between a man and a boy, i.e. pedophilia," Langton added. Splitting hairs on the kind of sex we're talking about in an effort to downplay the horror of pedophilia just shows the Post's left-wing bias, in the same vein as the corporate media labeling pedophiles as "persons attracted to minors".
The Washington Post and the article's author did not respond to Fox News Digital's request to comment on Langton's review of the article and why the "Gender Queer" book was not mentioned.
Natanson previously wrote about the sexual images found in "Gender Queer" in September 2021.
NON-PROFIT PARTNERSHIP WITH AFT PROVIDES BOOKS WITH SEXUAL IMAGES, DRAG QUEENS AND GENDER IDEOLOGY TO K-12 TEACHERS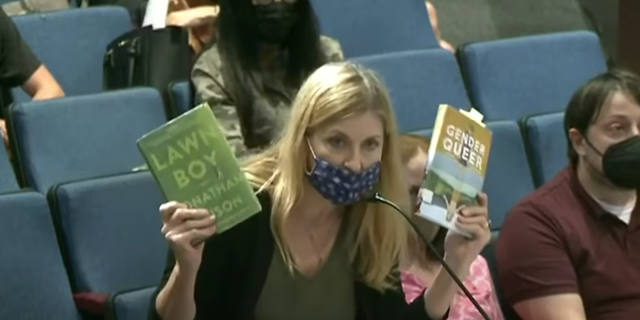 In the article, "Fairfax School System Pulls Two Books From Libraries After Sexual Content Complaints", the author describes a page from the graphic novel that shows "a sexual fantasy by the author – in which an apparently adolescent is about to engage in fellatio with an older bearded man – which the book says was based on Plato's "Symposium".
The author further notes that the philosophical text "Symposium" details discourses on love, including an argument that "heavenly love" can only occur between a man and a boy.
"Gender Queer" author Kobabe said the image in his book is based on an ancient Greek pottery cup from a "court scene" on display in England.
Concerned parents had spoken at Fairfax County School Board meetings to protest the presence of 'Lawn Boy' and 'Gender Queer' in school libraries, but the school district reinstated the books after two committees decided that they did not contain pedophilia or obscene material.
KIRK CAMERON IS REJECTED FROM STORY TIME BY PUBLIC LIBRARIES FOR HIS NEW FAITH-BASED CHILDREN'S BOOK
Fairfax County Public Schools restored the library books after a committee review, which concluded that none of the books contained child molestation.
In January 2022, nearby Loudoun County Public Schools (LCPS) removed "Gender Queer," with then-superintendent Scott Zielger saying the "picture depictions" found in the book "go against of what is appropriate at school.
"I have read all of the books submitted for my review in their entirety. I am generally not in favor of removing books from the library," Zielger told the Post.
CLICK HERE TO GET THE FOX NEWS APP
The Post has previously come under fire for publishing a glowing review of a "paedophile piece" which critics say downplays sexual abuse and attempts to normalize pedophilia.
Washington Post chief drama critic Peter Marks' article, "'Downstate' is a play about pedophiles. It's awesome too," was first published on Nov. 23.
The Post's drama reviewer noted that "predators who have served time in prison are not portrayed as monsters but rather as complicated, troubled souls", and wrote that audiences will learn what each pedophile has done. He also wrote that the "most unpleasant character" is one of the victims of pedophilia.

foxnews
Not all news on the site expresses the point of view of the site, but we transmit this news automatically and translate it through programmatic technology on the site and not from a human editor.