How to approach the Palestinian table? Considering the ancient history of Palestine political professions and the new trauma of the colonial violence of the settlers, bringing an appetite is not enough.
As the Israeli forces impound houses and fence strips of farmland, the relentlessness of the Palestinian farm-to-table philosophy seems to have deepened. In cookbooks and at community events chaired by members of the Palestinian diaspora, we see a sustained emphasis on archiving of regional nuances and local sourcing traditions. There is even a seed bank movement to preserve the heritage. The urgency behind these efforts is quite palpable.
Marcelle G. Afram, chief and owner at Palestinian rotisserie chicken Shababi in Washington, DC, believes diaspora home cooks are an important front in the resistance, serving as an insurance against the real threat of extinct food routes. They are, literally, "the holders of the key, a crucial symbol of the right of returnHe told HuffPost.
Afram, whose grandparents were evicted from their Palestinian home in a 1948 cleanup known as the Nakba, consists of slowly roasted aromatic plates that pay homage to "the love of the Palestinian national dish, musakhan, and the world famous chicken shops of Beit Jala in Ramallah that my grandparents always spoke about". He is grateful for the lively discussions on social media around Palestinian food, "this great movement towards documentation, preservation and celebration" which "will keep the homeland on the table, from generation to generation".
Afram also explains that because "it is necessary to systematically validate our right to exist, inevitably our food is political".
HuffPost spoke to four Palestinian women in the Diaspora about their families' food culture and exceptional meals they will not forget.
Heifa (who, for reasons of confidentiality, prefers to omit his last name) and his family come from Farkha, a small village north of Ramallah and south of Nablus, a olive grove. "You will find jars of fresh olive oil in every household, so fresh it burns the back of your mouth," she said. The food there tends to be fresh, minimalist, and eaten with a sense of immediacy. Fresh bread dipped in fresh olive oil and za'atar is very popular, for example, Heifa said, and the cooking is simple, so "the taste is always bold."
Her most memorable meal was a large family affair that involved mattresses and musakhan. "We all sat on the floor with our legs crossed and we had this beautiful tray full of musakhan made by my uncle's wife," she said. "Everything was so fresh, organic and the flavors were bursting in your mouth. There was homemade bread called a taboon topped with local olive oil, caramelized sumac onions, and roast chicken.
Heifa believes that cooking is essential in preserving Palestinian identity. "A lot of who we are is in these recipes or in ingredients that are part of our way of life," she said.. Makloubeh, an aromatic rice dish that is served upside down, is a festival staple.
"It's made with lamb, chicken, sometimes just vegetables. The rice is fragrant with hints of cumin and cinnamon. The vegetables are perfectly caramelized and tender. It all makes a wonderful bite that reminds me of my homeland, "Heifa said. "I have enjoyed this dish many times in the company of my extended family and I can't help but think of them when I prepare it. Like much of Palestinian cuisine, its simple technique and quality ingredients make it so fantastic.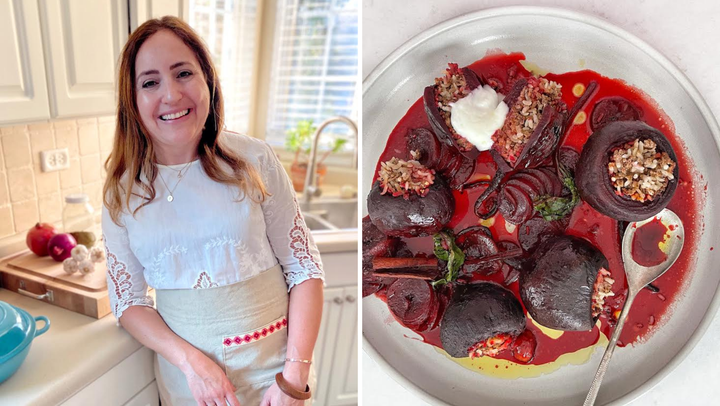 Kakish born and raised in Jerusalem cooks with shipments of za'atar and locally pressed olive oil. They are courtesy of her teta (grandmother), who lives in Palestine, wears handmade aprons and cooks to tunes from Fairuz on the radio. "She cooks with what is called nafas, which literally translates to "soul" or "breath," she said.
Kakish often craves jazar ahmar, which in Arabic means red carrots stuffed in a spicy broth. "It comes to my mind just because it's so difficult to recreate outside of Palestine," she said.
"Ruby carrots are stuffed with a mixture of meat and spicy rice, simmered in a tangy, sweet and lemony sauce. Depending on the city, the sauce is made with tamarind, pomegranate molasses, or lemons. Carrots often come from farms in the Gaza Strip. They are red-purple in color, just like the Mediterranean sunset. When cooked, their ruby ​​color stains the rice. It is glorious. With the restrictions imposed by Israel on movement and the sanctions imposed on Gaza, carrots are even more difficult to find, "she said. She even had a kind friend who empathized with her and packed a container for her, carried by a visitor from her home.
Kakish talks about the politics of Palestinian cuisine and the generational pragmatism that has shaped local farming practices. "We grew up with the concept that our grandparents planted so that we could eat," she explained, then "the confiscation of Palestinian land, uproot olive trees, damage crops, prevent Palestinians from picking the wild herbs of the za'atar is political. She dreams of reuniting with her extended family around a Musakhan feast at her teta's in Palestine.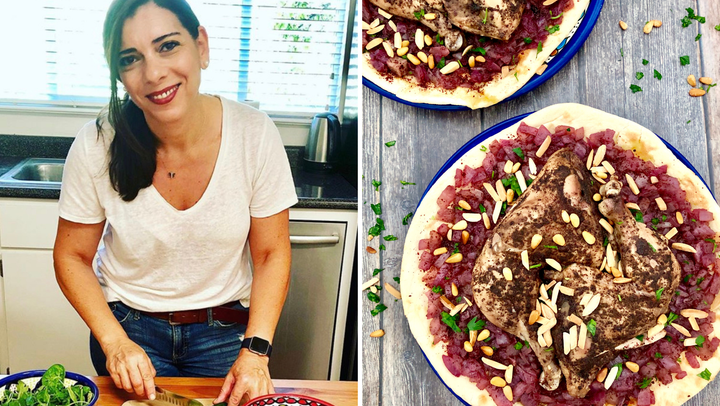 Shami has roots in Jerusalem and Ramallah and grew up being kicked out of the kitchen by her mother, a prolific cook. On Sundays, his father would make a fun mezze and sprinkle it all over with arak, a distilled alcohol made from grapes and anise.
Shami loves the Palestinian obsession with seasonality, freshness and provenance. She says the Palestinians in the homeland generally enjoy "cauliflower stew or spinach in the winter, and vegetables that are only available in the summer – squash and bitinjan battiri, " a variety of eggplant with sweet and melting flesh from the Unesco World Heritage from Battir, south of Jerusalem. It stuffs and fried wonderfully and its seeds are highly sought after.
Shami misses the authentic musakhan experience: warm taboon bread stacked with sumac-tinted onions and roasted chicken, everything is smooth and affirming. "In the United States, I have never been able to find bread close enough to taboon," she said. Today, she doesn't hesitate to use substitutes like naan, discovered while dining in an Indian restaurant. In San José, a local bakery caters to her flatbread needs. She even makes a vegan version with portobello mushrooms.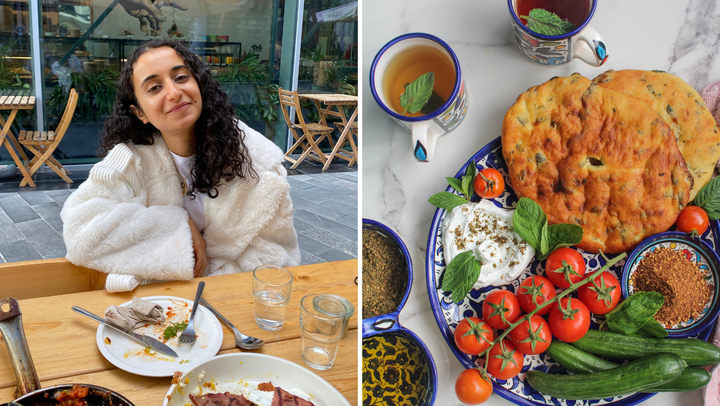 Shaheen's family is from Hebron, a wine country in the West Bank. Hebron traditional houses ceramic factories who craft handmade tableware in breathtaking glazes and patterns, an aspect Shaheen plays on her Blog. "Preparing Palestinian food in Palestinian ceramics while emphasizing its nutritional benefits" is her way of cherishing the house.
Shaheen credits his grandmother and aunts for his culinary chops. Family favorites include modardara / mejadra (a pilaf-like rice and lentil dish filled with fried onions) and maltoot (a sweet fluffy bread with probable roots in it. ancient egypt). She also enjoys the hearty Palestinian breakfast with its' assortment of breads, zeit w za'atar (za'atar moistened with olive oil), labneh (strained yogurt), foul (beans), falafel, cheese Nabulsi, allayet bandora (tomato stew), ejjeh (a riff of frittata), olives, fresh vegetables and greens.
But it is really her grandmother's za'atar bread that has her heart. The bread has a cutting pattern that his family is careful to adhere to: "Circular with notches around and a hole in the middle, a specific shape taught by ma teta that we all make sure to do in the same way. What makes him special is the wild thyme in the za'atar – his family only uses spring hunting and stores a year for special occasions or homesick visitors from abroad. It is served under its grandparents' lemon tree with a mint teapot, pieces of Nabulsi cheese and vegetables from the garden. Shaheen always takes it with her to the UK, interrupting a track whenever she misses to return home.
Not all news on the site expresses the point of view of the site, but we transmit this news automatically and translate it through programmatic technology on the site and not from a human editor.