On this historic day, April 2, 2005, Pope John Paul II died at the age of 84
Pope John Paul II, the third oldest pope, died on this day in history, April 2, 2005, at the age of 84.
The Pope had been in poor health during the last days of his life – and made his last public appearance on March 30, 2005.
During this brief appearance, John Paul II appeared at a window and blessed a crowd of pilgrims gathered in St. Peter's Square. He tried to speak, but couldn't get the words out.
ON THIS DAY IN HISTORY, APRIL 1, 1945, US FORCES INVADE OKINAWA, THE LAST MAJOR BATTLE OF WORLD WAR II
About six hours before his death at 9:37 p.m., Pope John Paul II said, in Polish, "Let me go to the house of the Father," before slipping into a coma, the Vatican said in a September report. 2005.
The Holy See's press office announced the Pope's death.
"The Holy Father passed away tonight at 9:37 p.m. (2:37 p.m. EST) in his private apartment. All the procedures described in the Apostolic Constitution "Universi Dominici Gregis" drawn up by John Paul II on February 22, 1996, have been set in motion" , the statement said.
POPE EMERITUS BENEDICT XVI DIED AT 95, VATICAN SAYS
About 90 minutes before his death, Archbishop Stanislaw Dziwisz of Krakow celebrated Divine Mercy Mass on Sunday in Pope John Paul II's bedroom, said Joaquín Navarro-Valls, then director of the Holy See's press office. .
He was the first non-Italian to be elected pope in 455 years.
During the Mass, Pope John Paul II received both the Sacrament of Anointing of the Sick and Viaticum, Navarro-Valls said.
Viaticum is a term given to the Eucharist when given to someone who is in grave danger of death. The term comes from a Latin phrase meaning "travel arrangements".
In this case, the Eucharist would be the food to help someone spiritually on their journey from life to death, notes the Catholic Culture website.
'GREEN' BURIAL ALTERNATIVES AND HUMAN COMPOSTING GET A HARD 'NO' FROM CATHOLIC BISHOPS
Pope John Paul II's funeral mass was celebrated on April 8 and he was buried in St. Peter's Basilica.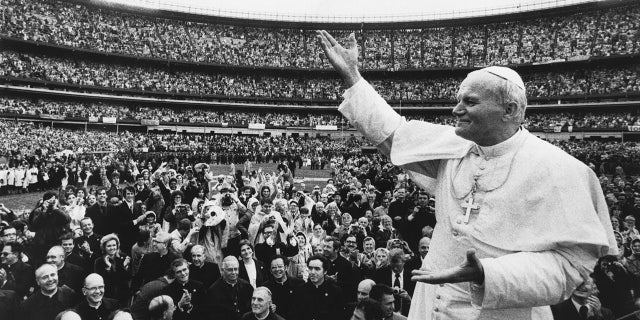 Born as Karol Józef Wojtyła in Wadowice, Poland on May 18, 1920, the future pope was the youngest of three children born to Karol Wojtyła and Emilia Kaczorowska, his official biography states on the Vatican website.
As a child and young adult, John Paul II was heavily involved in theater, even helping to organize an underground theater troupe, the Vatican said.
John Paul II's youth was marked by tragedy. His mother died in 1929, when he was just eight years old, and his brother Edmund died in 1932 aged 26 after contracting scarlet fever while working as a doctor.
MEET THE AMERICAN WHO ATTAINED SAINTITY FIRST, ELIZABETH ANN SETON, MOTHER, EDUCATOR, MIRACLE WORKER
His father, the eldest Karol, died suddenly in 1941.
The immense losses weigh heavily on the young John Paul II.
"At 20, I had already lost all the people I loved, and even those I could have loved, like my older sister who, it was said, died six years before I was born," said the Pope John Paul II to the writer André Frossard in 1984. .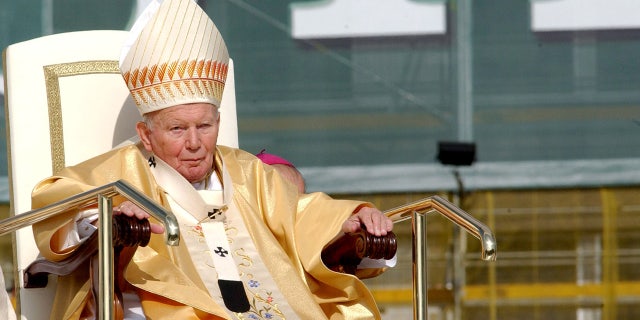 It was his father's death that prompted John Paul II to give serious thought to the priesthood, according to reports.
His plans, however, were impacted by the Nazi occupation of Poland during World War II, the Vatican website said.
In 1942, when Poland was occupied by the Nazis, John Paul II began studying for the priesthood at a secret underground seminary in Krakow.
ON THIS DAY IN HISTORY, FEB. ON NOVEMBER 11, 1858, OUR LADY OF LOURDES APPEARED FOR THE FIRST TIME AT ST. BERNADETTE SOUBIROUS
After the war ended, he continued his studies more typically at the now legally reopened Major Seminary of the Archdiocese of Krakow, as well as at the Jagiellonian University School of Theology, his biography notes.
He was ordained a priest of the Archdiocese of Krakow on November 1, 1946 and then began doctoral studies in Rome.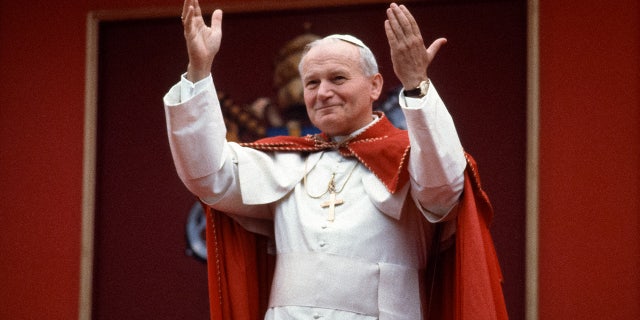 On July 4, 1958, Pope Pius XII named the then father. Wojtyła (later Pope John Paul II) as Auxiliary Bishop of Kraków.
Just under six years later, on January 13, 1964, Pope Paul VI appointed Bishop Wojtyła as the new Archbishop of Kraków.
Archbishop Wojtyła was elevated to the College of Cardinals, becoming Cardinal Wojtyła, on June 26, 1967.
INDIANA PRIEST SAYS HE HAS CURE OF BRAIN TUMOR AFTER TRIP TO LOURDES: 'THANK GOD'
In 1978, Cardinal Wojtyła participated in his first conclave, or papal election, which resulted in the election of Cardinal Albino Luciani as Pope John Paul I.
Just 33 days later, John Paul I died, necessitating another conclave. This time, the College of Cardinals elected Wojtyła as the new pope on October 16, 1978, the third day of the conclave, his biography states.
He was the first non-Italian to be elected pope in 455 years.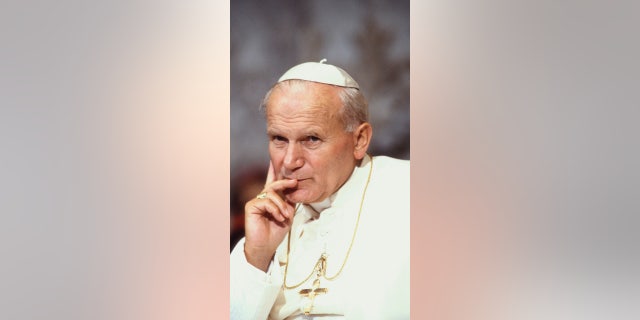 To honor his predecessor, he took the papal name "John Paul II".
As pope, John Paul II made 104 international apostolic trips, as well as 146 pastoral visits to Italy, his biography states.
He is the author of 14 encyclicals, 15 apostolic exhortations, 11 apostolic constitutions, 45 apostolic letters and five books.
PRAYING THE ROSARY: UNDERSTANDING THE PRAYER THAT HELPS CATHOLICS MEDITATE ON JESUS ​​AND MARY
He survived an assassination attempt on May 13, 1981, when a Turkish sniper shot and seriously injured the pontiff in St. Peter's Square.
At the funeral of John Paul II, cries of "Santosubito", or "Sainthood now!" were heard in the crowd of mourners.
John Paul II credited the Virgin Mary with saving his life, as he was shot on the feast day of Our Lady of Fatima.
John Paul II pardoned Mehmet Ali Ağca, his would-be killer, during a meeting in an Italian prison.
Additionally, he "celebrated 147 beatifications, during which he proclaimed 1,338 blessed and 51 canonizations, for a total of 482 saints," the Vatican website said.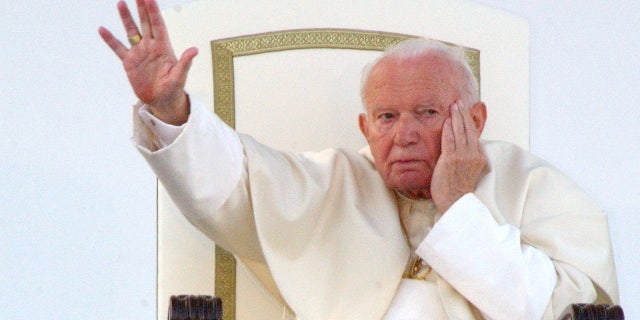 One such saint was Saint Faustina Kowalska, a Polish mystic who claimed to have had visions of Jesus Christ in the 1930s.
During these visions, Christ supposedly called himself the "King of Divine Mercy".
Christ also reportedly gave Kowalska instructions for the Divine Mercy Rosary and asked that the first Sunday after Easter be devoted to mercy, the Catholic Online website says.
John Paul II was devoted to the visions and message of his fellow Pole. When he canonized Saint Faustina on April 30, 2000, he declared that the Sunday after Easter each year would be known as "Divine Mercy Sunday".
At the funeral of John Paul II, cries of "Santosubito", or "Sainthood now!" were heard in the crowd of mourners.
CLICK HERE TO SUBSCRIBE TO OUR LIFESTYLE NEWSLETTER
The usual five-year waiting period was waived and Pope Benedict XVI announced that John Paul II's cause for canonization was officially opened on May 13, 2005, the anniversary of his assassination attempt.
John Paul II was beatified on May 1, 2011 by his successor, Pope Benedict XVI.
CLICK HERE TO GET THE FOX NEWS APP
He was later canonized, or officially declared a saint in the Catholic Church, by Pope Francis, along with his predecessor Pope John XIII, on April 27, 2014 – Divine Mercy Sunday.

foxnews
Not all news on the site expresses the point of view of the site, but we transmit this news automatically and translate it through programmatic technology on the site and not from a human editor.