Tens of thousands of people have taken to the streets of New York to demand that President Joe Biden end the use of fossil fuels in the United States, warning that there is no future on a "planet dead."
The March to End Fossil Fuels on Sunday was led by Rep. Alexandria Ocasio-Cortez, who joined protesters' calls to cease federal approval of new oil and gas projects, phase out fossil fuel drilling on public lands and declare a federal climate emergency.
Ocasio-Cortez, a New York Democrat, received loud applause from the massive crowd when she called climate action "an electoral and popular force that cannot be ignored." This is the biggest problem of our time."
The protesters' demands were supported by more than 500 organizations, 400 scientists and numerous celebrities, including Mark Ruffalo, Kevin Bacon and Jameela Jamil. On Sunday, it was unclear how many people participated in the event, but several media outlets reported that "tens of thousands" of people joined the march and rally.
The New York protest is one of more than 600 events that are part of the global fight to end fossil fuels, according to the End Fossil Fuel website. More than 500,000 people participated in protests demanding that world leaders stop using fossil fuels, including in Europe, Asia, Africa, South America and Antarctica, the website said.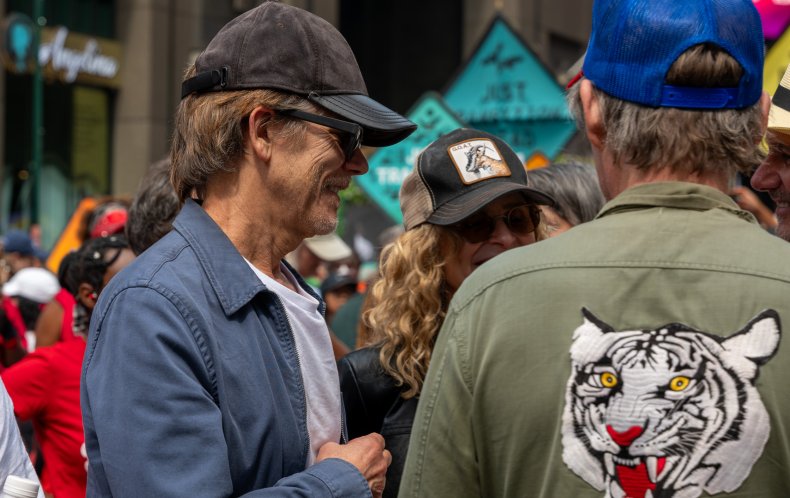 On point
Actor Kevin Bacon joins thousands of activists, indigenous groups, students and others taking to the streets of New York for the 'March to End Fossil Fuels' protest, September 17, 2023 At New York.
Start slideshow 6 PICTURES
Sunday's march was just announced before United Nations Secretary-General António Guterres hosts the Climate Ambition Summit in New York on Wednesday. Guterres announced he would issue a new standard requiring nations to phase out the use of fossil fuels and commit to no longer using oil, gas or coal. The White House previously said Biden had no plans to attend.
News week On Sunday, he reached out to Biden representatives by email for comment.
The march comes amid a summer marked by numerous extreme weather events that experts say have been intensified by climate change, including record heat waves across the world, the deadly Maui wildfire and catastrophic flooding in Libya.
Addressing protesters at the rally, Peter Kalmus, a climate scientist at NASA's Jet Propulsion Lab, painted a dire picture of humanity's future, saying: "We are on the brink of the sixth mass extinction. "
"I have two kids in high school," he said. "I'm terrified for their future. I'm terrified for my own future. Things are burning and flooding. The smoke is getting worse. The heat waves are getting worse."
Kalmus received cheers from the crowd when he took aim at President Joe Biden.
"Every little amount of fossil fuel we burn makes the planet a little hotter and makes the situation worse," he told protesters. "We are so clearly in a fucking climate emergency. Why isn't President Biden declaring it? I feel so excited it's insane."
The NASA scientist said there was "no way out of this" and urged US lawmakers to "turn the tide" by moving away from fossil fuels.
"This is the only planet in the universe that we know of that supports life and we are on the brink of the sixth mass extinction," Kalmus warned. "We are about to lose everything. There is no politics on a dead planet. There is no economy on a dead planet. There is no democracy on a dead planet. "
Several protesters who spoke with News week On Sunday, they said they also feared for the future of the planet and humanity.
Lisa Marshall, director of advocacy and organizing for New Yorkers for Clean Power (NYCP), said she wants to do her part to ensure the earth is always "habitable" for her children.
"I'm a mother of three," she said. "I'm here on a beautiful day, not because I want to be, but because my children are counting on me to do everything I can to preserve the climate for them."
Marshall joined thousands of calls for Biden to phase out fossil fuels, saying Americans need "leadership to do our part."
"I think the main goal for today is to express the urgency to President Biden to stop approving further fossil fuel extraction, it has to stop at the top," she said. News week. "Individual actions are good, but we cannot escape the climate crisis. We must meet our commitments to the Paris Agreement. And we must no longer approve fossil fuel extraction projects."
Thomas Hirasun, a climate activist from Ithaca, said News week that lawmakers must act before it is too late.
"The point of the march is urgency," he said. "We have to do something now."
newsweek-bbc