Novak Djokovic: Australian Open champion pledges to return to Melbourne as long as he can continue to compete with the best | Tennis News
Novak Djokovic says he will keep coming back to play at the Australian Open as long as he can "play at the highest level and be one of the candidates to win the Grand Slam".
Djokovic's victory over Stefanos Tsitsipas on Sunday earned him a 10th Australian Open title and tied him with Rafael Nadal at the top of the men's all-time rankings on 22 Grand Slam titles, all roads now heading to the French Open in the spring.
A triumphant Djokovic marched the Norman Brookes Challenge Cup through the gardens of Melbourne's Government House, after adding another notch to the plus column for those who claim he is the greatest of all time in the GOAT debate .
"I think the results speak for themselves enough, how I feel in Australia, how well I've played here for the last 15 years," Djokovic said.
"In fact, it was exactly 15 years ago that I won my first Grand Slam here in Melbourne.
"I will keep coming back as long as I feel like I can perform at the highest level and be one of the candidates to win the Slam."
Despite a hamstring injury which left him fearful for his chances, Djokovic only dropped one set at Melbourne Park and felt he was playing some of his best tennis.
At 35, he shows no signs of slowing down and returns to world No. 1 after overtaking Carlos Alcaraz.
"I'm as fierce a competitor as anyone," Djokovic said. "Whether it's a Grand Slam or any category of any event in the world, I do my best. I don't like to lose, I do everything I can to win every match I play and there's still a lot of that fire in me that burns for sport, and for competition.
"It's what allows me to push my limits even further in training sessions, day after day after so many years.
"Going through the same routines over and over again sometimes isn't that great, but I know there's always a bigger goal. A Guiding Star, so to speak, and this trophy is one of those Guiding Stars. It's always something I strive for."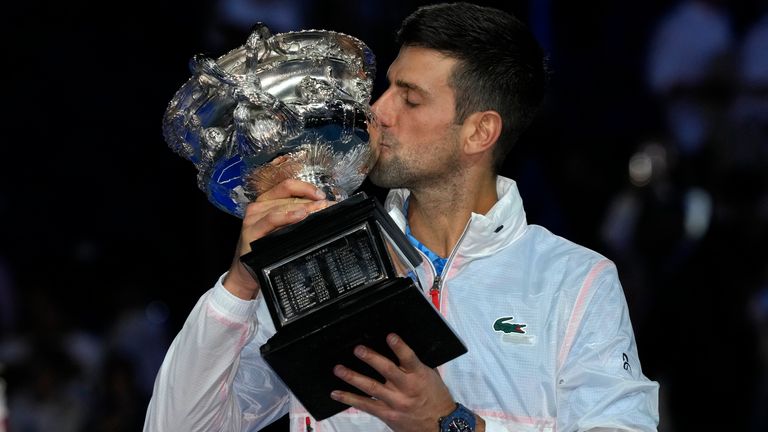 I had to stay strong and not let any outside factor or disruption distract me on my way to the title and of course after the events of last year, coming back to Australia I was curious and more nervous about coming in Australia than usual. You know, how will people receive me, what will be the reception I will receive on and off the pitch. All in all, it was a very positive experience and I'm very grateful.
How many Grand Slam tournaments could Djokovic win?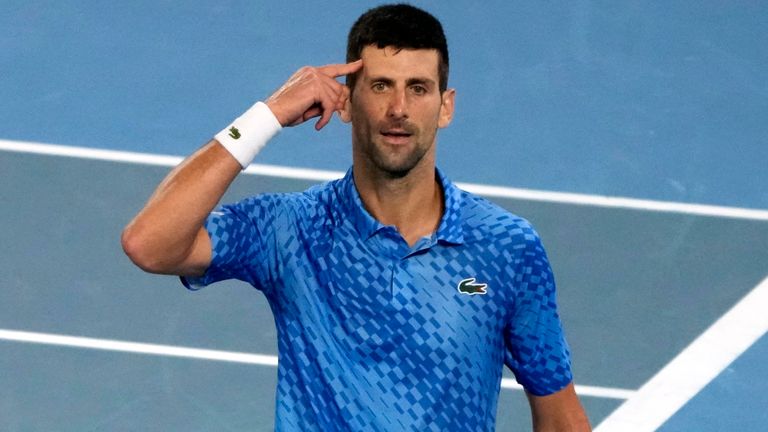 When asked how long he thinks Djokovic can fight for major titles, his coach Goran Ivanisevic said: "Definitely two, three more years. The way he takes care of his body, the way he addresses everything, the food, it's amazing. It's amazing, the level."
Former Wimbledon champion Ivanisevic described the 22-22 draw as 'like a handball game', and he expects Djokovic and Nadal to fend off Tsitsipas, Alcaraz and the other young contenders in Paris again .
"Talking about the youngsters, they are there, it's great for tennis, great for the future of tennis," he said. "But you still have these two guys fighting. It was Novak's pitch and now we're going to Rafa's pitch.
"Yes, they are coming – Alcaraz, unbelievable. Yet if Rafa steps onto the pitch at Roland Garros, for me he is still the favorite to win the tournament.
"I said eight or nine years ago that Novak and Rafa would overtake Roger (Federer). People looked at me strangely. But we have 22-22. Two incredible competitors, two incredible tennis players, what they have made for tennis.
"Honestly, I can't wait for them both to be super healthy, so the battle is on. And with the youngsters going to try to find backdoors to sneak in and try to do something. But still these two guys, they will have the last word there."
10 perfect for Djokovic
Djokovic has won 10 of the 20 Grand Slams (50%) he has participated in since turning 30 in 2017 – four Australian Opens, four Wimbledon titles, one French Open and one US Open.
The Serb seems to be improving with age, having won 12 out of a possible 40 major trophies (30%) in his twenties.
His last victory at the Australian Open was particularly worrying, coming for a single set loss in the entire tournament as he suffered from a hamstring problem.
What happens next?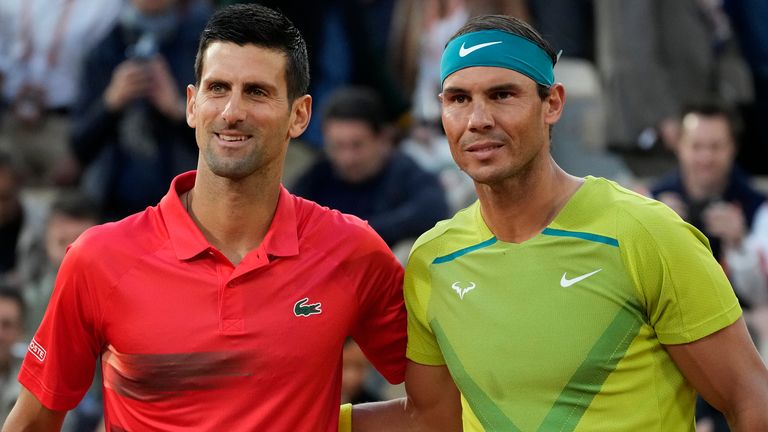 In the best-case scenario, Nadal could return for the next big tournaments in Indian Wells and Miami in March, but could choose to stay off the match fields until his favorite clay court. With the pair locked at 22 Grand Slams each, it opens up the delightful prospect of a straight fight for outright supremacy at Roland Garros, starting May 28.

Sky Sports
Not all news on the site expresses the point of view of the site, but we transmit this news automatically and translate it through programmatic technology on the site and not from a human editor.