Nigel Slater's Recipes for Sausage and Beans, and Blood Orange Panna Cotta | Food
It was the kind of winter night where only sausages would do, and I came home with my favorite butcher's variety and a packet of Italian charcuterie – coarse-textured and seasoned with fennel seeds and dried chilli. I cooked everything slowly, so that their skins were shiny and sticky like pot.
For lack of potatoes – which I forgot to get from the grocer – I mashed some white beans with a bunch of steamed spinach leaves and made a mound of fluffy mash. with green freckles.
I have to say that just about any sausage and mash is welcome at my table, but the best will always be those with coarsely ground, open-textured meat, cooked with care and a watchful eye. The mash can be anything smooth and silky – pumpkin, potato, chickpea or cannellini bean, or even a mixture of roots, such as parsnip or rutabaga – the latter only welcome when it's served with copious amounts of salted butter and coarsely ground black. pepper.
I'll sometimes mash chickpeas to go with merguez sausages (I also stir in some za'atar), and creamed beans with garlic Toulouse sausages. The rosemary cannellini mash is delicious with the fennel Italian sausages.
Last winter, a puddle of buttered parsnip puree went particularly well with a plate of black pudding, and I think it will again this year.
Baked sausages with spinach cannellini
If you are blending your sausages, I suggest cooking the plumpest sort before adding the thinner ones. (Those with a good girth need a lower heat if they don't have to split.) You can add cream to the spinach and white bean puree – not much, but it's fine like that. A knob of butter mixed in at the end is a good idea, but even better would be hot juices from the sausage pan.
Enough for 4
peanut or vegetable oil 3 tablespoons
assorted sausages 1kg
sprigs of rosemary 8
garlic 8 cloves
bay leaves 3
For the beans:
spinach leaves 200g
chicken stock 200ml
cannellini beans 2 cans of 400g
Wash the spinach leaves and discard the thick stems. Put the leaves, still dripping, in a deep saucepan, covered with a tight fitting lid, over medium heat. Let them steam for a minute or two, then flip the leaves over with tongs and steam for an additional minute until they're crumbled and bright green. Remove from the heat and briefly rinse the spinach under cold water, squeeze firmly, then let cool.
Place spinach in the bowl of a food processor or blender.
Pour the chicken broth into a deep saucepan. Drain the cannellini beans, add them to the chicken broth and bring to a boil. Lower the heat and simmer the beans for about 5 minutes. Add them and their broth to the spinach and mix briefly, until obtaining a coarse purée. (Be careful not to over process or it will become gooey in texture.)
Cook the sausages: Place a large skillet over medium heat. Heat the oil in a shallow pan that you have a lid on over low to medium heat. Add the sausages, starting with the fattier ones before adding the thinner and smaller ones a few minutes later. Tuck in the rosemary sprigs, garlic cloves and bay leaves, then allow the sausages to brown slightly. Watch them closely, turning them over when the underside is a shiny golden brown.
Pour the spinach and bean purée into a small saucepan and heat over medium heat, stirring so that it does not stick, then serve with the sausages.
Panna cotta with blood orange and pomegranate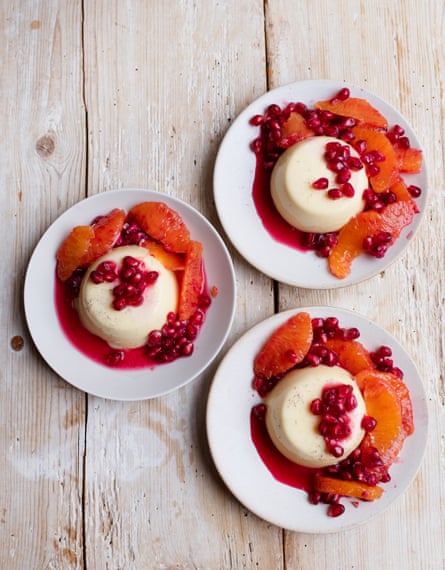 Pomegranates and dark carmine blood oranges make a crisp accompaniment to panna cotta. The dessert is perfectly oscillating after about 4 hours in the refrigerator, but it won't be damaged if you leave it longer, even overnight. The portion is small – I use a nice mold that holds 175ml which seems just enough for one.
For 4 small dishes
For the panna cotta:
green cardamom pods 12
double cream 400ml
whole milk 125ml
caster sugar 90g
gelatin 2 sheets
For the fruit:
Grenade 1
blood oranges 2
Break open the cardamom pods and extract the seeds, then crush them into a coarse powder using a pestle and mortar. Put the cardamom in a small non-stick saucepan with the cream, milk and sugar, and heat over medium heat. Bring the cream almost to a boil, then remove from the heat, cover with a plate and leave to infuse for 30 minutes.
Soak gelatin in a bowl of cold water for 10 minutes or until softened. Gently heat the infused cream, stirring continuously, for 2 or 3 minutes, but under no circumstances let it boil. Remove the gelatin from the water and drop it into the cream, stirring with a wooden spoon until it is dissolved, then remove from the heat.
Strain the cream through a sieve suspended over a pitcher. Pour into 4 small ramekins and refrigerate for 4 hours or until lightly set.
Cut the pomegranate in half, remove the seeds, discard one with the pith and save as much juice as possible. Cut the zest from the oranges and remove the core. Cut into quarters, removing the skin as you go and toss with the pomegranate.
Briefly heat the ramekins by dipping them for a few seconds in hot water, then unmold the panna cotta into cups. Pour the pomegranate, the orange segments and their juice over the sausages at the last moment.
Follow Nigel on Instagram @NigelSlater



Fr
Not all news on the site expresses the point of view of the site, but we transmit this news automatically and translate it through programmatic technology on the site and not from a human editor.