As Alan Shearer walked away, arms raised in typical style, to celebrate another Newcastle United goal, something different.
At San Siro in March 2003, Shearer had just scored his second goal to give Sir Bobby Robson's Magpies the lead against Inter Milan in the Champions League, before Ivan Cordoba equalized a few minutes later.
Newcastle had fought hard in two group stages during this campaign to show they were equal to Juventus, Inter and Robson's former club Barcelona.
Although they ultimately failed to progress further, a 2-2 draw against an elite team at an iconic stadium created memories that will last a lifetime.
"An iconic moment"
On Tuesday, Newcastle return to face AC Milan in their first Champions League appearance for 20 years, bringing back all those memories again.
"What a game," former defender Steven Caldwell told BBC Sport. "The San Siro is the stadium you think of if you grew up watching Italia 90; it's the stadium of my generation.
"To see what it was was incredible. It was an iconic moment for a football club that I love.
"It was a real football match; there was a lot on the line, high stakes, against a world-class team. For us to compete was so incredible, we were so close, in the match, that it would have could have happened one way or the other."
When Newcastle arrived in Milan, they had more than left their mark in the competition, becoming the first team to lose their first three group matches against Dynamo Kyiv, Feyenoord and Juventus and progressing further, with famous victories against the three in inverted fixtures.
At the time, there were two group stages in the Champions League. And as they traveled to the San Siro, Newcastle needed a win because, after a heavy defeat to Inter in the first game, a sobering defeat to Barcelona in the rain at the Camp Nou had followed before successive victories against Bayer Leverkusen.
The draw was compounded by another defeat to Barcelona at home and the dream ended, but the evening in Italy became more famous for the atmosphere than the football.
"The San Siro had an aura; it was an iconic, mythical venue. Watching Newcastle play there was not on the horizon," said Matthew Philpotts, writer for the True Faith Fanzine.
"It was as much about the experience as the result. Shearer's goal in front of the away pitch is etched in the memory. It seemed like everyone you knew was at Milan. The number of fans was overwhelming."
"The team was unique, combustible and difficult to face"
Robson had masterminded a meteoric rise after replacing Ruud Gullit as manager in September 1999. The Dutchman's reign ended after a dispute with Shearer reached a boiling point, with the manager dropping the attacking for a derby defeat to Sunderland, and the club was heading towards the abyss. .
But the team Robson assembled, blending the exuberance of youth with the experience he inherited, was as unpredictable as it was talented. They finished fourth in 2002.
"We had a lot of high energy players like Jermaine Jenas, Kieron Dyer, Craig Bellamy and Laurent Robert," Caldwell recalls. "The balance between Alan (Shearer), Shay (Given) and Gary (Speed) was really unique and it made us difficult to play against.
"That team was combustible. They weren't the same type of people; it was hard to keep everyone on track and Bobby did it wonderfully."
The speed of recovery, driven by the strength of County Durham-born Robson's personality and passion for her club, initially caught by Newcastle.
After making light work of Bosnian side Zeljeznicar Sarajevo in the qualifiers, the 2-0 defeat in Kiev was compounded by a retrospective suspension for Bellamy, before being beaten at home by Feyenoord and, perhaps unluckily after a Shearer header was wrongly ruled offside, Juventus away.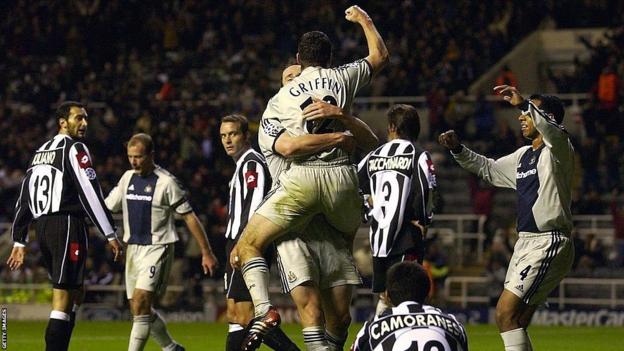 The victory over the Old Lady at St James' Park reignites the fire. Defender Andy Griffin was the unlikely hero, helping Newcastle win by a single goal, aided by a deflection from goalkeeper Gianluigi Buffon.
"People will remember me for that goal and that game. Whether I scored or not, it doesn't matter," Griffin said. "The fact that I started against Juventus, played 90 minutes and participated in the goal and the victory, was enough.
"(Buffon) made a little mistake. We managed to keep a clean sheet, people are talking about the goal, but I made a very good tackle right at the end when someone scored on goal. I'm almost proud. contrary to the goal."
"It was an emotional roller coaster"
Shearer inspired them at home to kyiv, but it was the match at Feyenoord that went down in folklore. Newcastle led 2-0 thanks to Bellamy, back from his ban, and Hugo Viana before the Dutch side quickly got back on level terms. Needing a goal to have any chance of progressing, Bellamy scored in stoppage time to drive everyone crazy.
"It was crazy," Caldwell recalled. "It's not often you get lost and become like a fan. We were so engrossed in the game."
"It was definitely a roller coaster of emotions," Griffin adds. "The final whistle blew and our celebrations had to be suspended as we had to wait for the result from Kiev. Juventus beat Kiev, which meant we qualified for the second group stage.
"We're all in the locker room, singing 'We are the Champions League' and dancing, enjoying the moment to the fullest. It was one of the best games and one of the highest highs I've experienced."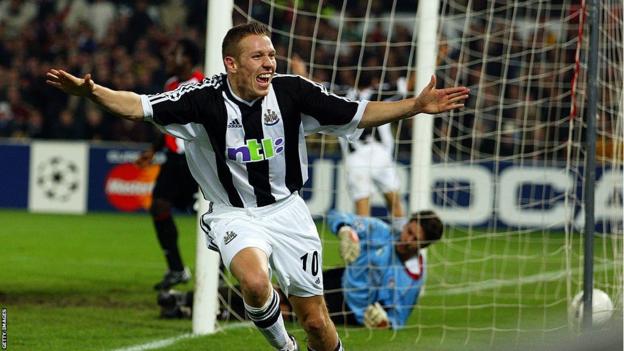 Bellamy would be sent off in the home defeat to Inter, facing another ban. No one embodied the tough nature of this team more, but Robson was the man who knew how to get the best out of himself when it counted.
"Bellamy was a feisty little character," says chief scout Charlie Woods. "That's what made him so good. His contribution to the team was huge.
"Bobby wanted Shearer to play between the lines of the 18 yard box and he would get Dyer and Bellamy to make runs in behind and put the balls into the box. Alan was a great finisher.
"Bobby's man management was always excellent. He knew when to take a chance and when to put his arm around people when necessary. He looked after Bellamy superbly."
For two decades Robson's side have been immortalized for their exploits, but the anticipation on Tyneside as Eddie Howe's men look to emulate them is palpable.
newsweek-bbc