Nunziatina and I met in the summer of 2005 in Greece. I was there with a friend and had suffered a concussion for two days after hitting my head at a foam party. My friend brought her because she and her cousin were moving apartments on our side of the hotel and I opened the door, not wearing anything, and saw her standing there.
We immediately clicked and were inseparable for the rest of the vacation. In December of the same year we got engaged and we got married in September 2006. We then decided to spend two years together before having children, so our son Will arrived in June 2009 and we had Samuel in April 2012.
We were building our careers and our lives together and we were happy. There weren't really any arguments; we were best friends with a similar sense of humor and similar interests. For the majority of them, it was a good and happy marriage.
We both had issues with each other's families, so it became a bone of contention every time we talked about it. But that didn't lead to heated arguments, just disagreements and cold shoulders for a few days.
I worked in London and we lived in Bedford; a town about an hour away. Nunziatina worked locally, but I got up at 6 a.m., took the train to town, stayed at work until 7 p.m., and often didn't get home until 9 p.m. So we didn't have much time together in the evenings and the work was quite demanding. In the last 18 months of our marriage, we had a few conversations where we talked about what we were unhappy about and we were both going to change for a while and then back out. The marriage was slowly falling apart and the end result was that I met someone new.
Donna had already separated from her husband Dan a few months before, but I was still married and living with Nunziatina. Donna and I commuted on the same train to London and worked close to each other, so we became very good friends. We would meet for lunch and talk about what she was going through with her divorce. It was really a friendship and a personal connection, but it made me realize that I was very unhappy and that this other person made me happy. I tried to turn off that part of my brain and stay away from Donna but we still describe her as being like two magnets; we were drawn to each other.
Navigating Divorce and Custody Agreements
Then, in early March 2017, I collapsed at work and was rushed to hospital. It was a panic attack because of the situation I was in, and I realized then that something had to give. On March 17, Nunziatina and I had a conversation. I explained that I had been unhappy for a while and had a great time trying to figure out why. I had to say that even though I still loved her, I was no longer in love with her. She was hurt, angry and upset. It was awful having to say things that would be powerful enough to be real, but not wanting to destroy his world.
I didn't tell him about Donna until a few weeks later, maybe it was a bit of fear or cowardice. I grew up with divorced parents and lived in the family court system from the age of 3. One of my biggest fears was losing my children if my relationship with my wife broke down. At the same time, I had always said that when I had children and got married, it was all for life. So I was ashamed of breaking my own values. I never wanted to be that person. But I was there; it had happened.
Nunziatina then filed for divorce on grounds of adultery which I did not contest and we went through the process of separating finances and assets. Then at the end of the summer of 2017, I moved in with Donna. She and her ex-husband Dan had previously agreed to 50/50 custody of their two children, Leonie and Zac, and we subsequently introduced the four children to each other in August 2017. Fortunately, the children They all got along well from the start. goes.
For Nunziatina and me, the divorce itself was not acrimonious. The financial part was a little difficult, but the part that took our breath away was agreeing on custody arrangements. It got really awful.
Ex-wives and ex-husbands start dating
In the summer of 2017, Nunziatina had started dating Dan, but this was kept under wraps. They had bumped into each other at a party, shared a few drinks together and the rest is history. Donna and I actually thought it was great that they were dating. We both thought, and even told each other, that Nunziatina and Dan are a better match. But we knew without being officially told, and the kids were going between the two houses and they knew, so it was a really awful time.
At that time, I had started a conversion as a coach. I was going to get into business coaching, but Donna suggested I help others through the divorce journey, as we were starting to realize how we could use some of the skills I was learning in our own situation. .
What really boiled down to myself, Donna, Nunziatina and Dan was that someone had to do something differently. All four of us were creating difficulties. It had an impact on our work, we were constantly stressed and we were all worried about the next step. We were treading water, trying to put our children first.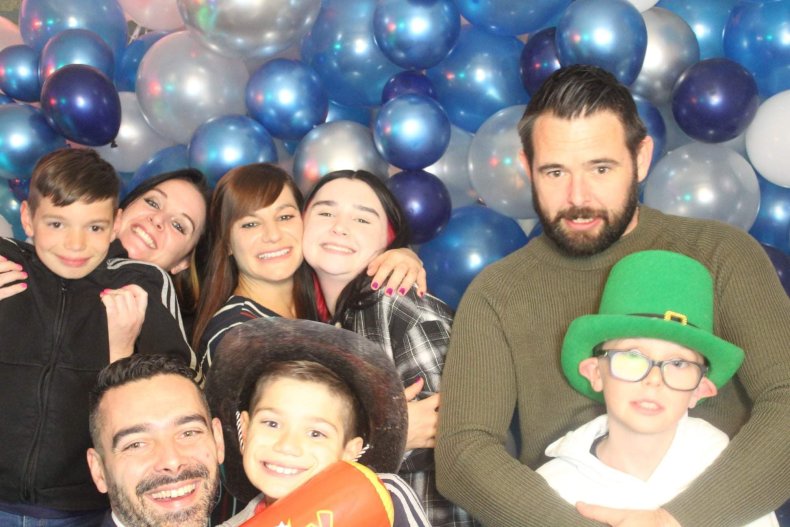 There was a day that same year when I knew Dan had had a really bad time with something. He stopped outside to pick up his kids, and I told Donna to take him out to dinner and not take no for an answer. He came in and had dinner with Donna and me, and the four children. It was definitely the weirdest dinner we've ever had.
After that, every time Nunziatina came to pick up the children, I invited her for coffee. There were many times she said no, it was just a process of trying to constantly show that I wanted to engage and help and be involved. I may have been the last person she wanted to call on, but I made her aware that I was constantly there and available. After that first coffee, we started doing little things together. The children also started to feel more comfortable and happy talking about the other set of parents, so it became more normal to hear about what was going on in the other house and our lives became a little more intertwined.
Become best friends with an ex
Nunziatina and I started spending more time together, but there were also some more serious and poignant conversations that needed to take place. I had to apologize and show him that I recognized what I had done to him and that I recognized that I had played a part in it. Some time later, she then admitted that there were other things that led to our divorce as well. There was a lot of respectful heart to heart. When you go through the thick of it with a divorce and it's really awful, you may think, "How could I possibly marry them?" But they are only in this space at this precise moment. When you start to recognize the parts of the person you fell in love with and the amazing friend they were, you can move on. I would much rather have Nunziatina in my life as a supportive friend than not.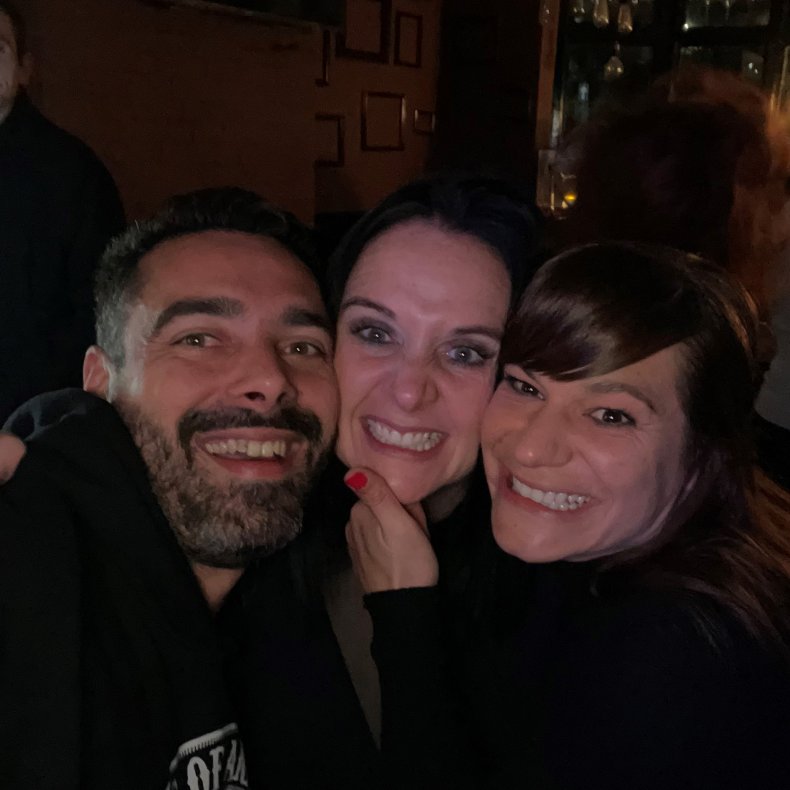 I think you have to try to get over that first discomfort, like that dinner we had with Dan, because not only are you missing birthdays and parents' nights, you're also missing the opportunity to support your ex. Now if I have coffee with Nunziatina and she asks our boys to put on their shoes and they don't listen, I'll come in and support her. I will tell them not to disrespect their mother, to do as they are told and to say sorry. We can do it now.
Nuntziana is my best friend and closer to me than my brothers and sisters. It's like going to see my sister or a relative with whom I've never had a romantic relationship! It's really natural and it's really real. She is my family. We entered another sphere and another relationship.
Seeing her smiling and happy in her relationship with Dan and hearing him genuinely laugh were truly poignant moments. Donna would never feel weird that I described Nuntziana as one of my best friends, because she also sees Nuntziana that way. The two have a very intertwined bond of motherhood and friendship. Donna and Dan are also very close, and Dan and I are also great friends. We're taking Nuntziana and Dan for Nuntziana's 40th birthday and every experience like this reminds me that if you want to get ahead, you can. It just takes effort, consistency, respect and recognition.
The four of us have vacations planned and we will do many other things together. We joke that when the kids have all moved out and we're older, instead of living in a nursing home, we should all live together, because we're all friends anyway. Even the children asked why we still live in two houses; they think we should sell both and buy a big house.
Everyone says our situation is weird, but why is it weird? Because society told us we should hate each other? It makes me really happy to have Dan and Nuntziana in my life and Donna's.
Tom Nash is a divorce and separation coach. You can find out more at mrdivorcecoach.co.uk and on LinkedIn at mrdivorcecoach or follow him on Instagram @MrDivorceCoachUK.
All opinions expressed in this article are those of the author.
As said to Jenny Harvard.



gb7
Not all news on the site expresses the point of view of the site, but we transmit this news automatically and translate it through programmatic technology on the site and not from a human editor.