This Edifier MP230 Bluetooth speaker gets almost everything right, from design to sound quality to price. For around $130, the speaker doesn't try to do too much, but it still includes bonus features like a 3.5-millimeter auxiliary (AUX) input, physical buttons, and the ability to play music. offline with a microSD card. Its biggest appeal, however, is its classic, retro design.
Many companies struggle to fully commit to an aesthetic without ruining it in some way, big or small. Edifier even manages to include its logo and name without detracting from an otherwise perfect design. Personally, I don't think enough modern wireless speakers use wood. Even on this budget model, it's gorgeous.
Fortunately, Edifier was also able to give the MP230 speaker two drivers capable of producing decent sound. The speaker gets loud enough to fill a living room. Although bass is lacking compared to larger speakers, there's enough low-end punch to make the sound full and have some depth. The worst thing about this speaker is simply its boring and unimaginative product name.
TL;DR
Advantages:
Striking design
Big sound for its compact size
Aesthetically consistent and useful physical control buttons
The inconvenients:
Only one color and one style available
Buy from Edifier.
Bluetooth speaker design
Appearance and design are probably secondary concerns for a speaker. But who doesn't want a speaker that's dripping with style? This is the first modern Bluetooth speaker that I immediately fell in love with. I love the wooden enclosure, the woven fabric grille and its golden buttons. Everything is done in the service of the brilliance of his style.
Its physical control buttons are in the exact style of the retro radios that this design is reminiscent of. I love this detail. It would have been so easy for someone to put the buttons on top or make them ugly in the name of internal circuitry or for some other reason. Instead, power, Bluetooth pairing, play, pause, and volume control more aesthetics. The company's MS50A speaker also uses wood, but it doesn't look as sleek as a whole as the plastic speaker top and controls deviate from its overall design.
There's a battery inside the MP230, so the speaker doesn't need to be plugged into a wall most of the time. The company calls it portable. I would only agree in that it can be moved around the house. Due to the wood wrapped around the outside, I would be hesitant to put it in a bag and take it with me outside. It is, however, compact enough to travel with if that's what you really want to do with it.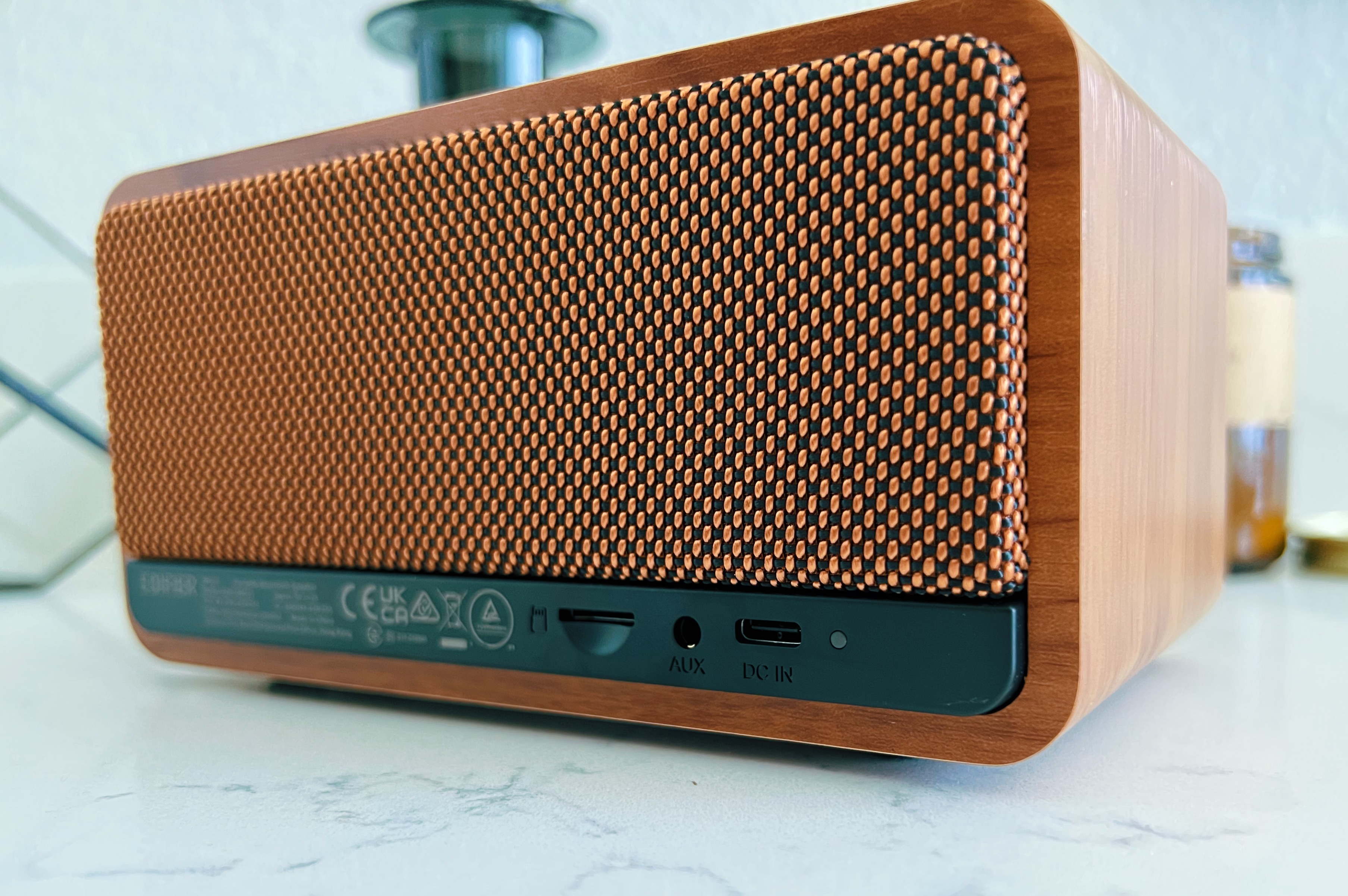 Additional connectivity, such as an AUX input and a microSD card slot, is included on the back of the speaker. I had trouble finding a wired device to plug into the AUX port. I haven't tested the microSD card slot, as I don't have an adapter or a way to transfer music to a card. If you need those ports, they're there, but those connections seem to be getting more and more outdated. Since these features don't seem to take anything away from the speaker, I don't mind them being included.
Sound MP230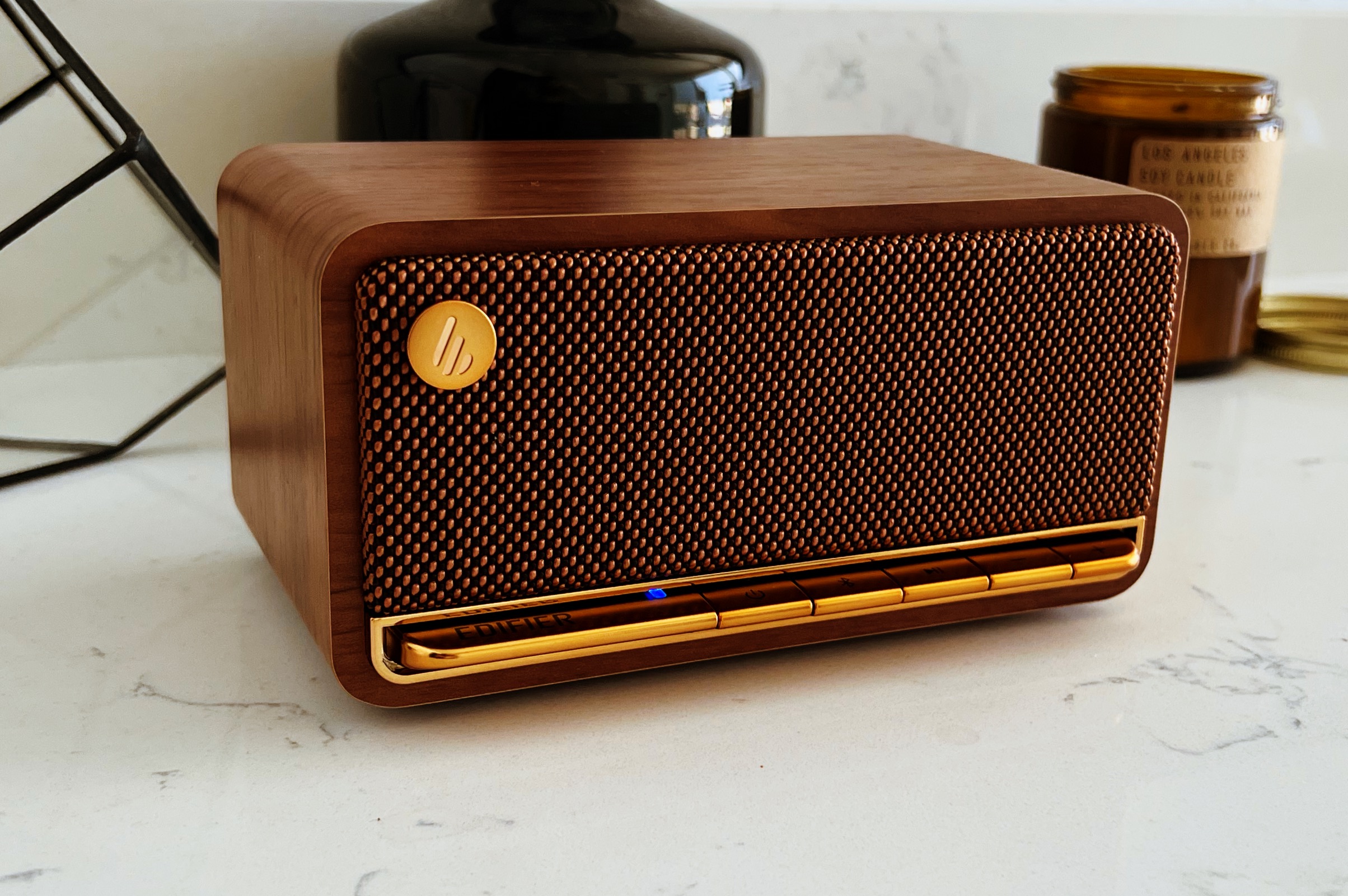 Edifier advertises stereo sound as there are two 48 millimeter speakers behind the front-facing fabric of the speaker. I think the stereo sound is overkill. My favorite way to test stereo separation is with Haim's song "Summer Girl". On a single speaker, the bass is vibrant and present. But from a pair of stereo speakers with real space between them, you can also hear the bass slide from left to right. I couldn't hear that on the MP230 speaker.
This is not the speaker's fault, just a physical limitation of spatial distance. Also, most of the time, in general, we listen to music through a single speaker these days. The MP230 may technically be stereo, but don't buy it for that reason alone.
Having two (small) drivers inside gives the speaker plenty of volume. At 50% volume level, it might be too loud for a small room. At 75% volume, it's probably too loud for conversation with other people in a living room. At near maximum volume, I didn't notice any distortion and I think the balance between high and low frequencies remained nearly even.
It's hard to make an exact comparison to other speakers, but I think the MP230 sounds somewhere between one and two HomePod mini speakers, both in terms of volume and sound quality. The MP230 provides a little more bass than a single HomePod mini, but not as much as two paired.
I listened to jazz, rock, and pop songs through the speaker, and they all sounded great, better than the nearly $130 price tag. Its sound isn't amazing, but the music is crisp and lively.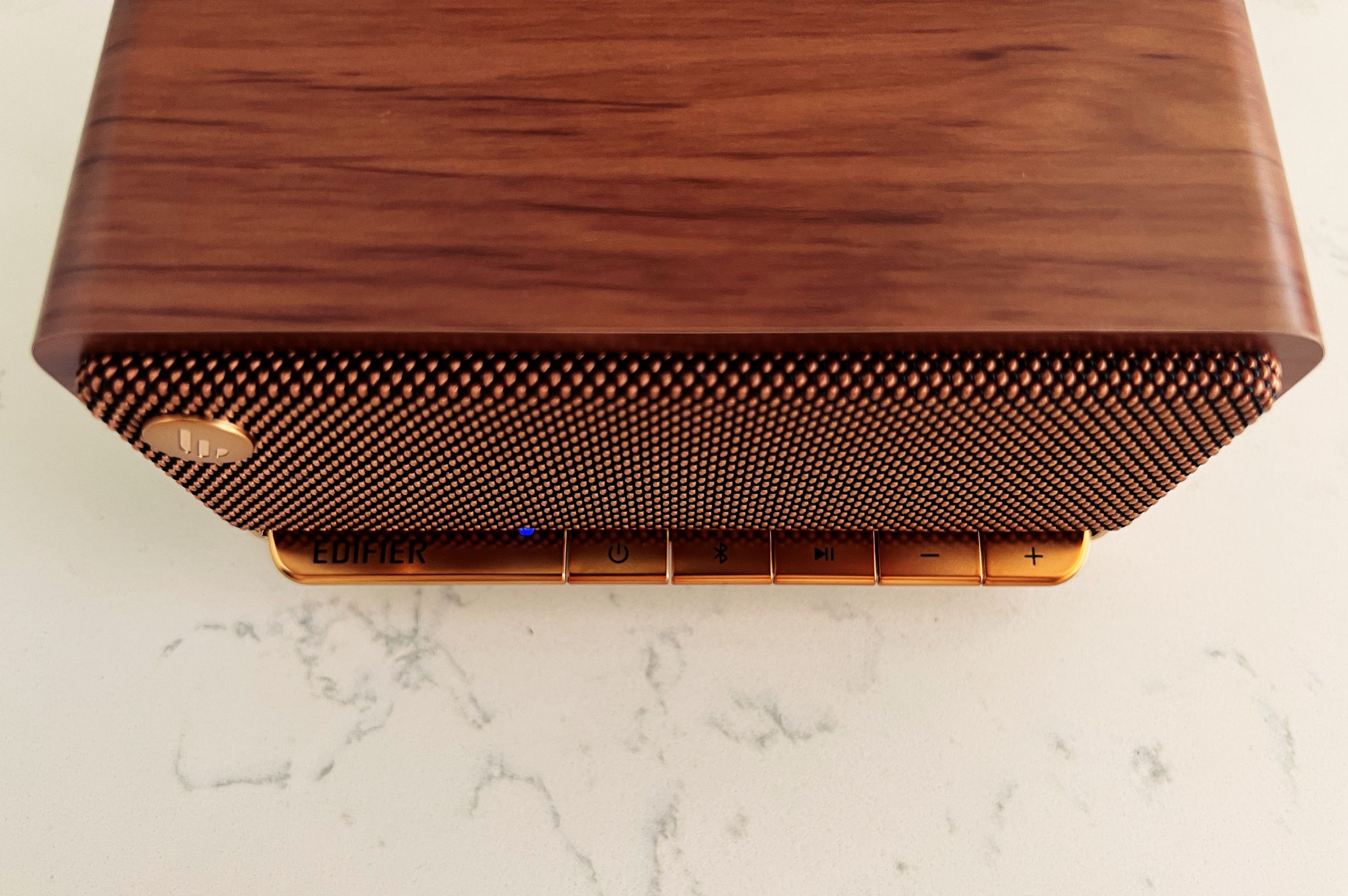 Should you buy the Edifier MP230?
Overall, there is almost nothing wrong with the Edifier MP230 speaker. No speaker is perfect, but for what this one is, it comes close. Since its design doesn't really make it easy to get out of the house, I would have liked to see Wi-Fi included. I would also have liked the same design in a larger version for a truly impressive living room speaker. Maybe a different wood choice with a different grill color? These are not defects or problems with the product, only wishes for the future.
If the design of the Edifier MP230 speaks to you, as it does to me, then you should be very happy with this purchase. It is a beautiful bedside speaker. It can work very well in an office. And thanks to its long-lasting battery, it's a versatile speaker that can be moved around the house.
Buy from Edifier for $129.99.
Newsweek may earn a commission from links on this page, but we only recommend products that we support. We participate in various affiliate marketing programs, which means we may earn commissions on editorially selected products purchased through our links to retailer sites.

gb7
Not all news on the site expresses the point of view of the site, but we transmit this news automatically and translate it through programmatic technology on the site and not from a human editor.