Mikel Arteta has criticized Arsenal's 'disorganized' start to Villarreal, but remains confident they can triumph in the Europa League semi-finals after scoring an away goal in the 2-1 first leg loss .
Arsenal trailed 2-0 in the first half against former coach Unai Emery and were further shaken after the break when Dani Ceballos saw red.
But Nicolas Pepe's 73rd-minute penalty – won by Bukayo Saka – gave the Gunners hope and meant they scored a potentially priceless away goal in the decisive stage at the Emirates next Thursday.
Arteta was frustrated with his team's performance in the first half but said he believed Pepe's kick kept the game very lively as Thursday's decider approached.
"We didn't want to come here and obviously lose, but the way the game has developed, being 2-0 and with 10 men it's probably the best result we could have," said Arteta. BT Sport.
"They were two different halves. We started to be us. In the first half there were so many times that we weren't us. We weren't clear with our high press, we were disorganized, we weren't. We weren't precise with the ball and we didn't have enough control.
"We didn't have enough threat or desire to attack the box, but in the second half it was completely different."
"We're very used to it (Bukayo Saka is playing well) this season, but it tells us that we have to do a lot more because we can't always count on him.
"Bernd Leno was very good, 2-0; luck with Gerard Moreno saved us, and in the end we had a great chance with Auba to draw.
"I am confident we have a chance to win [the tie], that's for sure."
Arteta explains lack of starting striker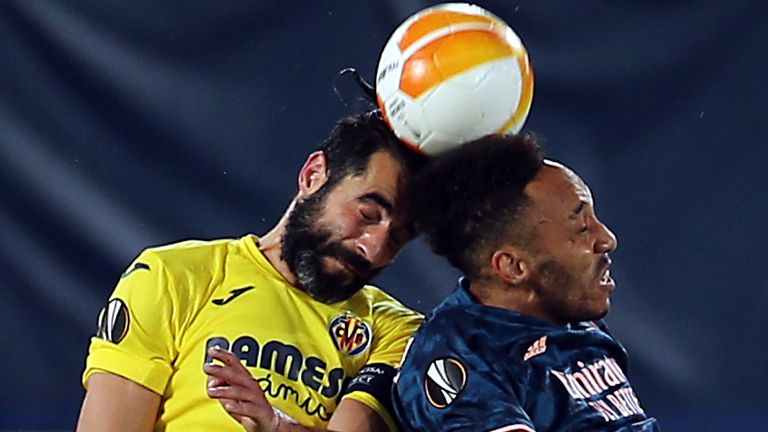 Arsenal's starting XI did not include a recognized striker, although captain Pierre-Emerick Aubameyang returned among the substitutes.
During his post-match press conference, Arteta explained why he created his squad this way and his system crashing in the first half.
"It's the way we prepared for the game and the decision I made, thinking it was the best way to play, but the game was different after four minutes," he said.
"So it's hard to assess whether it would work or not, given that set pieces have also changed it and after that we have to approach it in a different way.
"The main reason [the system didn't work] was that after conceding the goal, we got disorganized … We didn't give ourselves the chance to get into the last third to do what we wanted to do because we weren't as precise on the ball therefore on the whole was not the best.
"We started the second half with the same players in a completely different way. We sometimes played with three forwards, and we haven't scored a goal several times in the season, so it's a decision that I have. take and that's it. "
Saka: We gave each other a chance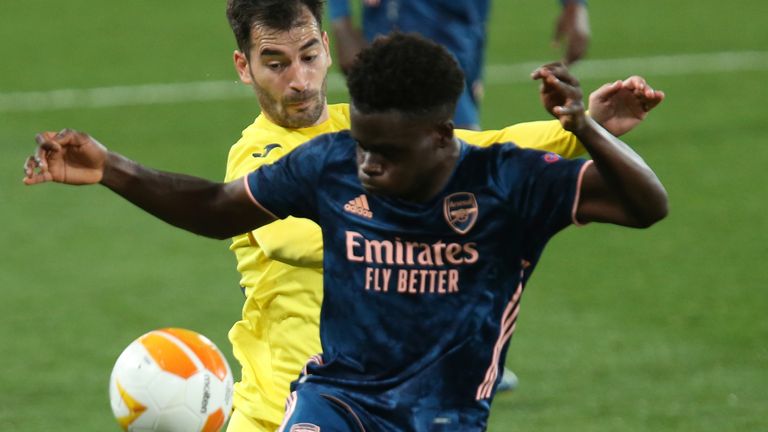 Bukayo Saka has admitted his own relief at Arsenal's resumption after a sloppy start and believes his team-mates can beat anyone when they "play right".
"There are a lot of positives that all came in the second half but it's a Europa League semi-final; to start the game like we did is impossible," he said. . BT Sport.
"We didn't create, we lost duels, we were passive. It's really frustrating to look back but I'm just happy we got up and gave ourselves a chance.
"We showed in the second half that we were better than them, even with 10 men, we dominated.
"It's up to us to decide. When we play well, we can beat anyone."