Meghan Markle's 'Sweet' Royal Tour Moment Captured
Images of Meghan Markle taken during her first major overseas tour as a member of the Royal Family have been widely shared online, with fans praising the Duchess' "kind" manner.
The video is the latest clip of Meghan to go viral on social media, with TikTok users building and posting more and more edited compilation clips of royals including Prince Harry, Kate Middleton and Princess Diana .
The newly redone footage of Meghan was filmed as part of her Australian and South Pacific tour with Prince Harry in October 2018.
This string of engagements, which saw them visit the islands of Tonga, Fiji and New Zealand, in addition to the Australian mainland, has since been seen by the couple as a turning point in their relationship with members of the royal family, who are said to have he was wary of Meghan's overwhelming popularity as a result.
The clip, posted to TikTik by user, meghmarkle, and captioned "shes so kind fr😭", shows the royal accepting an offer of an umbrella during a stop in Auckland, New Zealand. The post has been viewed over 500,000 times and received over 21,000 likes in just 48 hours.
Many commenters praised the Duchess for her engagement in the video and for apparently offering to hold the umbrella over a guest seated next to her as Prince Harry prepared to deliver a speech at the event, which celebrated the planting of trees in honor of her grandmother. , Queen Elizabeth II.
"She said 'I'll keep it for us' 😩 she's so sweet inside out," one user wrote.
"Aww. She took it and shared the umbrella ☂️. Love her ❤️," another comment read with a further addition, "Meghan seems like the sweetest soul. I'll never understand why people love constantly tearing it down."
The tour was a milestone for Meghan and Harry for a number of reasons, on the one hand being their inaugural long-haul overseas tour as a married couple (having married in May 2018) and on the other hand, as they had just announced that Meghan was pregnant with their first child.
In 2021, after the couple left their posts in the monarchy citing problems with the British tabloid press and relations with the royal family, the 2018 tour was mentioned as a turning point during their explosive interview with Oprah Winfrey.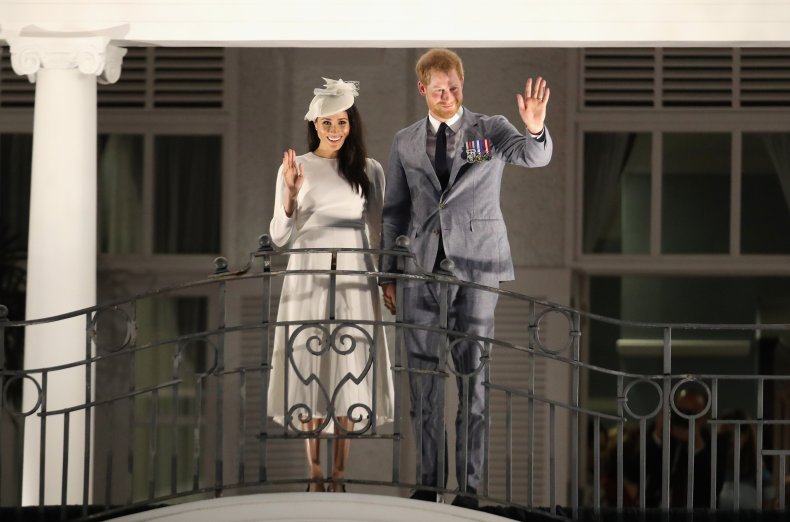 It was after this tour, Harry noted, that his family's previously warm attitude towards Meghan cooled.
"You know, my dad, my brother, Kate (Middleton) and all the rest of the family, they were really welcoming (to Meghan)," he told Winfrey. "But that really changed after the Australia tour, after our South Pacific tour."
"That's when we announced we were pregnant with Archie. It was our first tour," Meghan noted.
"But it was also the first time the family saw how amazing she was at work," Harry said. "And it brought back memories for me.
In this, he drew a comparison between Meghan and Princess Diana, who on her first tour of Australia in 1983 received such a positive reception that she was accused of upstage then-Prince Charles.
The prince talked about it in more depth in the couple's Netflix docuseries, Harry and Meghanreleased in December 2022.
"The problem is," he said, "when someone who gets married, who should be a support, a support act, then steals the show, or does the job better than the person who was born to do it. It bothers people. It changes the balance.
The royal family has, for its part, remained mostly silent on the allegations made by Harry and Meghan in the years since their departure from the monarchy. The day after Oprah's interview, Buckingham Palace released a rare statement, reading:
"The whole family is saddened to learn how difficult the past few years have been for Harry and Meghan. The issues raised, particularly that of race, are of concern. While some memories may vary, they are taken very seriously. and will be addressed privately by the family. Harry, Meghan and Archie will always be much loved members of the family."
James Crawford-Smith is Newsweek's London-based royal journalist. You can find him on Twitter at @jrcrawfordsmith and read his stories on Newsweek's The Royals Facebook page.
Do you have a question about King Charles III, William and Kate, Meghan and Harry or their family that you would like our experienced royal correspondents to answer? Email royals@newsweek.com. We would love to hear from you.



gb7
Not all news on the site expresses the point of view of the site, but we transmit this news automatically and translate it through programmatic technology on the site and not from a human editor.