USA News
Mayor Johnson faces scrutiny after hiring GardaWorld to build migrant tents in Chicago for $29 million – NBC Chicago
Chicago authorities signed a nearly $30 million contract with a private security firm to relocate asylum-seeking migrants from police stations and the city's two airports to winterized camps with massive tents before the the arrival of cold weather, like New York City's use of communal tents for migrants.
GardaWorld Federal Services and an affiliate reached a one-year, $29.4 million agreement with Chicago on September 12. That was less than a week after Mayor Brandon Johnson announced plans to move about 1,600 migrants to a network of newly erected tent cities across the city. He said the moves will take place "before the weather starts to change."
Many of these migrants live temporarily in Chicago police stations or at O'Hare or Midway airports.
The contract with GardaWorld states that its purpose is "to enable the City to purchase from the State Contract temporary housing solutions and related services…to provide essential services to asylum seekers."
It does not identify the specific sites of the camps and none have been chosen, said Johnson's press secretary, Ronnie Reese. The contract also does not mention a precise timetable for erecting the tents.
"It has to be done pretty quickly if it's going to be done before the bad weather breaks," Reese told the Chicago Sun-Times. "The objective is to decompress the police stations as quickly as possible. We know this is not sustainable.
A company building tents for migrants also bused them to the city
The plan was developed without debate in the City Council, a decision that did not please even the mayor's allies, including Ald. Andre Vasquez, who is Johnson's point person for migrant issues on the City Council.
"I recognize that an executive branch has the latitude to be nimble in times of crisis, so I understand why some of these things are evolving quickly, but clearly we all have questions," Vasquez said.
Some of these questions concern the company's role in the crisis. GardaWorld is not only hired to build the tents, but is also responsible for busing migrants to the city, a conflict that has raised eyebrows, including those in Ald. Ray Lopez.
"I don't think we know enough about this situation, let alone who we're sleeping with, to solve the migrant situation," Lopez said. "Just finding out that we're paying the same company that was responsible for shipping them here, to now be responsible for taking care of them, is like the fireman starting and putting out the fire at the same time."
Community and faith leaders are speaking out against a plan launched by Mayor Brandon Johnson to move asylum-seeking migrants to tent cities, NBC Chicago's Charlie Wojciechowski reports.
Questions were also raised over the company's inability to secure a contract in Denver, which withdrew from the deal due to "concerns (which grew) about the history of abuse and alleged mistreatment by the international company, as well as its lack of experience in accommodating migrants. », According to a press release.
Cristina Pacione-Zayas, Johnson's chief of staff, said GardaWorld is a "state preferred contractor" and that they have undergone training on operations and procedures following this decision by the city of Denver .
"The state is OK with that. We understand what those concerns were and how they were resolved, so we're ready to move forward as well," she said.
GardaWorld signed a similar $125 million contract with the state of Illinois late last year, although so far very little money has been paid, the Chicago Tribune reported. The company has also drawn criticism over its treatment of migrants, the Chicago Sun-Times reported.
What tents should include
Under the terms of the contract, GardaWorld will be responsible for providing security, three meals a day, daily child care, van transportation to school and doctor's appointments, and laundry services.
The "yurt"-type structures made of soft materials could each accommodate 12 camp beds and would be equipped with fire extinguishers and portable toilets, with makeshift kitchens to be set up nearby, the contract states.
The tents are supposed to be able to withstand colder temperatures, maintaining temperatures of 70 degrees even when the mercury outside is 40 degrees. Ald. Lopez, however, expressed skepticism about the solution's ability to withstand Chicago's winters.
"The fact that we're spending $29 million on a tent solution that probably won't even work in freezing weather, Chicago style, is just incredible to me," Lopez said.
As of Thursday morning, there were a total of 8,307 migrants in the city's shelters, including nearly 2,000 awaiting placement.
Most of the 14,000 migrants who have arrived in Chicago seeking asylum since August 2022 have come from Texas, some under the leadership of Republican Gov. Greg Abbott.
Below are renderings of what the tents could look like, provided by the City of Chicago: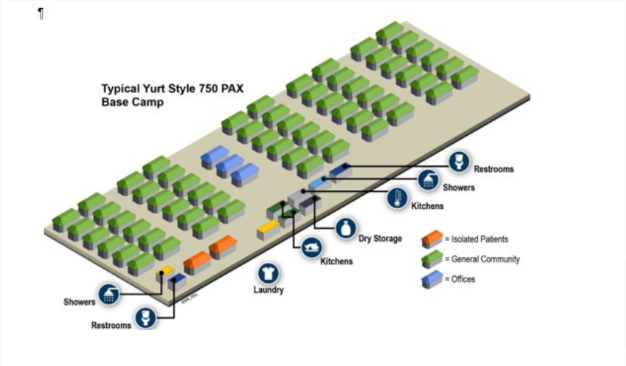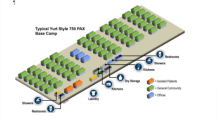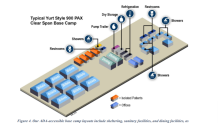 NBC Chicago
Follow Us