Matty Harris: 'Being able to knock someone out with one blow is a gift – but it can also be a curse' | boxing news
Matty Harris picked up his third straight first-round stoppage win when he beat Jiri Sirmaj in 74 seconds on the Chris Eubank Jr undercard against Liam Smith in Manchester last month.
The heavyweight prospect intends to maintain that pace as he progresses through the professional ranks.
"Especially when you're a heavyweight, that's what it's all about. It's about getting them out of there early, especially in those early stages. That's what people are paying to see," Harris said. sky sports.
Matty Harris proves to be a problem at heavyweight with his third straight first-round knockout!

"That's what people want to see, that's what draws the crowds."
It's a remarkable change for Harris. Two years ago, he worked as a delivery driver for Asda. In January, he was performing on the undercard on a huge Sky Sports ticket office event.
"I worked as a laborer, I worked on construction sites, in warehouses," he said. "It was just to make ends meet so I could pay for my car to go to training. It was about making enough money to pay for training.
"It's been a huge change. I don't think I can put into words how much life has changed in the last 24 to 26 months. It's been fast. That's why you'll see me dancing in the ring. Because I appreciate every single second I love what I do.
"Being on big shows like this shows me what's achievable in the future."
Six-foot-eight inches tall, Harris is adamant he has the attributes to go all the way to the top of the heavyweight division.
"My body continues to develop, grow and adapt to the game. You've seen what I can do now," he said. "Imagine what I'll be able to do in three years. It's just about knowing when to push and when not to push, and building on that experience.
"At the minute, at the very top, you have the best heavyweights, [Joe] Joyce, Tyson Fury, Anthony Joshua, Dillian Whyte, Deontay Wilder. There's no point in me continuing now because I'm not going to fight any of them."
But he added: "They only have so many years left. In five years none of them will be boxing anymore. It's about making sure that by the time these guys are gone I'll be in the best possible position to lead the pack, take control of the division."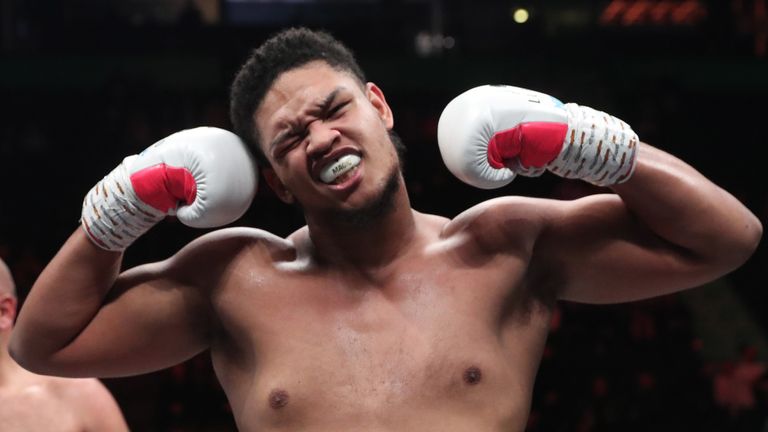 There are other heavyweight prospects who will follow the same path, who could meet Harris down the line.
"Against the prospects now, there's nobody I'd be afraid to fight," Harris said.
"I think a fight with Frazer Clarke is always going to be exciting. Because of his amateur pedigree it will get people excited and because of my knockout reel it can only increase the excitement.
"Right now he and I are both in our very early stages of development. He's nine years older than me and people are talking about a fight between the two of us. I haven't even finished yet. to grow."
He knows, however, that the development phase of a heavyweight career is crucial.
"Having the ability to hit hard, being able to knock someone out with one blow – that's a gift, but it can also be a curse," Harris said.
"Because I can punch so hard, it's easy to overlook boxing. My skills are something I work on frequently to make sure I'm the complete fighter I need to be, when the time comes."

Sky Sports
Not all news on the site expresses the point of view of the site, but we transmit this news automatically and translate it through programmatic technology on the site and not from a human editor.