Manchester United sale: Sheikh Jassim to submit new offer on Friday or this weekend | Soccer News
Sheikh Jassim bin Hamad Al Thani will submit his new offer for Manchester United later on Friday or over the weekend.
The deadline for second offers was Wednesday at 9 p.m., but Sheikh Jassim's representatives asked for an extension on Tuesday and were given more time.
Sky Sports News said the bid remained on track and nothing had changed. Sir Jim Ratcliffe and INEOS submitted a revised offer on Thursday evening.
US hedge fund Elliott Management made an offer before the deadline to buy a minority stake in the club.
Elliott Management has also offered financing to other parties interested in investing in United and that offer still stands.
Would £4.5billion be enough for Glazers to sell?
Sky Sports News' Kaveh Solhekol explains what US hedge fund Elliot Management's minority bid could mean for Manchester United and the Glazers

Sky Sports News chief reporter Kaveh Solhekol:
"There was this deadline last night (Wednesday) of 9pm, and we understand that the Ratcliffe team contacted Raine to ask for a bit more time, and that offer was tabled today.
"We are now waiting to hear that the Qataris have also made their offer. We know Ratcliffe has the funds in place – not everything will be his own money – to be able to buy Man Utd.
"How much is the offer worth? The information I have is that the first round of offers was a world record, over £3.75bn and potentially around £4.5bn. staggering amount of money, but perhaps not enough for the Glazers to sell."
Sky Sports News understands that the Glazer family wants to sell the club.
Here's what transpired on a dramatic Tuesday night of extraordinary developments surrounding the sale of Man Utd:
9 p.m.: The deadline for second bids has passed, with Elliott Management having submitted a bid for a minority stake.
9:10 p.m.: The Qataris claim to make a new, improved, debt-free world record bid.
9:45 p.m.: Raine Group, the company handling the sale of Man Utd, said it had not received any offers from Sheikh Jassim or INEOS from Sir Jim Ratcliffe. The Qataris had previously requested an extension, followed by INEOS. Both extensions were granted.
10:25 p.m.: Raine Group say they received "many offers" to buy United before the deadline, but not from the Qataris or Ratcliffe.
10:35 p.m.: Sky Sports News says Glazers want to sell United.
10:45 p.m.: The Qataris say they did not submit an offer because they were offered an extension which had been granted to other parties and Sheikh Jassim decided to accept it.
10:50 p.m.: The sources involved reveal that Sheikh Jassim's bid is ready to go and he didn't need any extra time.
The Glazer family have yet to say how much they want for United, with even the most experienced people involved not knowing the asking price.
It is understood that as many as eight offers were sent to Raine on Wednesday night, but not all of them are to buy United.
The Qataris believe they will have the best offer for the club, the fans and the community.
Sheikh Jassim and Ratcliffe are the main contenders, but there are no favorites at present, with the highest first-round bids having valued the club at around £4.5billion – well below the asking price of £6 billion widely reported by the Glazer family.
Sir Jim Ratcliffe arrives at Old Trafford on Friday as talks continue over a possible Manchester United takeover

The Raine Group and the Glazers will take around a week to assess the new offers, although there is no new deadline for Sheikh Jassim to make his new offer.
Sheikh Jassim's bid team called Raine on Tuesday and asked for more time. Sir Jim Ratcliffe's bid team called Raine on Wednesday and asked for more time. Both requests were accepted without further delay.
Once the bids have been evaluated, one bidder could be granted exclusivity, although it is more likely that there will be another round of bids with a smaller group of preferred bidders.
How Ratcliffe and the Qataris made their pitch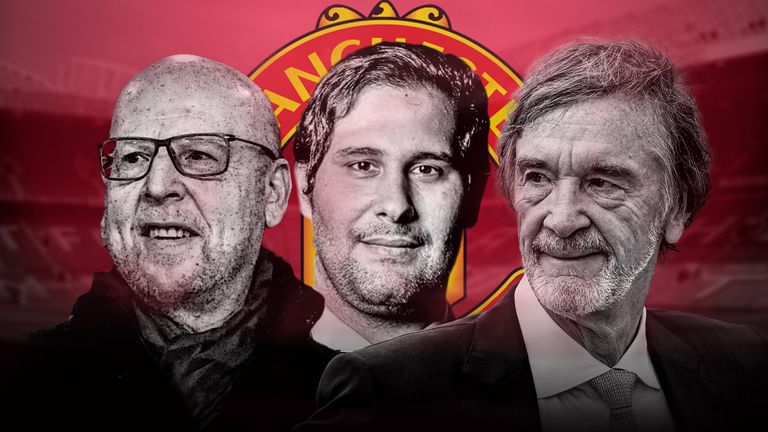 Ratcliffe and his INEOS delegation were described as impressive and sophisticated in their approach, having toured the club for six hours last Friday.
Ratcliffe says he won't pay a 'stupid' price for United but his interest in the club would be 'purely to win things', calling the club a 'community asset'.
It was previously understood that Qatari bidders were determined not to overpay the club's chances, but that stance has softened in recent days, coinciding with a delegation visit to Old Trafford.
After Manchester United's second round bidding deadline, Sky Sports' Kaveh Solhekol provides latest updates

A Qatari delegation traveled to Manchester from London by train and received a warm welcome. The talks went on for 10 hours – much longer than expected.
Sheikh Jassim and his team members had been to Old Trafford before as fans and the purpose of this visit was to get an idea of ​​what they could do with their capital investment regarding infrastructure, development of youth and women's team.
Any bid over £3.75billion would shatter the world record for a sports club set when the Denver Broncos were sold last summer.
Washington Commanders are also for sale and should change hands for more than that.
Zilliacus: Funding Man Utd bid not big hurdle
Finnish businessman Thomas Zilliacus reveals what he would like to do with Manchester United if his offer to become an investor is accepted

Finnish businessman Thomas Zilliacus reveals what he would like to do with Manchester United if his offer to become an investor is accepted.
"We have the finances," he told Sky Sports. "The Glazers know the world has no money, but there is enough in the hands of people looking for opportunities and great returns.
"I think it could be one of those. To fund the bid, frankly, I don't see that as a big hurdle. We have funding available for whatever is needed, but we won't go at insane levels.
"I have read that there are up to five other applicants for the club. We would be happy to speak to the other applicants to partner with one or more of them if they feel the same than us regarding fan involvement."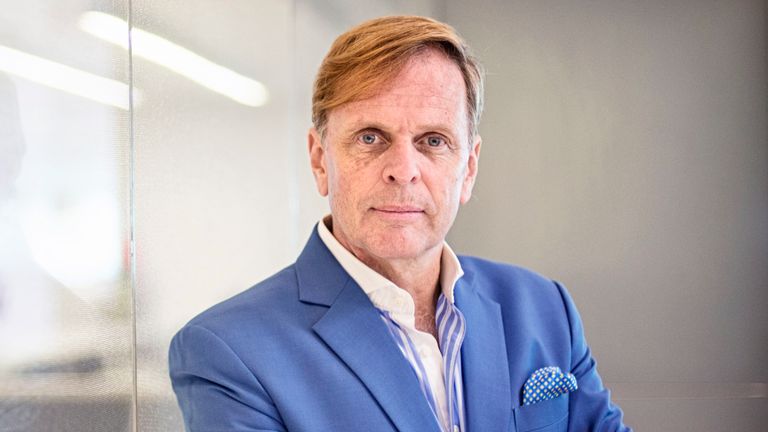 Zilliacus revealed his offer was based on buying half the club, leaving fans to buy the remaining 50%.
He is the founder and chairman of social media company novaM Group and said he submitted his bid through his holding company XXI Century Capital.
"Any sports club should ultimately be owned by its fans," Zilliacus added. "The current development, where sheikhs and billionaire oligarchs take control of clubs and control them as their personal playgrounds, is not a healthy trend.
"The current market value of the club is just under $3.9 billion. This means that if each of the club's fans joined in the purchase of the club, the total sum per fan would amount to less than $6 My offer is based on a tie with the supporters.
"My group will finance half of the sum needed to take over the club and will ask the supporters, through a new company being created for this purpose, to contribute for the other half. If every supporter joins, that means minus plus $3 per fan Each fan who joins will have access to an app that the fan, from anywhere in the world, can use to participate and vote when deciding football matters relating to the club.
"No decision will be made without the support of a majority of fans.
He added: "Manchester United should not only be the best football club in the world, they should also be the first club in the world to tackle abuse, racism and hate speech on social media and on the pitch. sport.
"If we are successful in our bid, we will ensure that Manchester United, the best football club in the world, operates on the basis of respect, equality, dignity, diversity, racial harmony and democracy, and with its global fan base included and involved in all decisions."

Sky Sports
Not all news on the site expresses the point of view of the site, but we transmit this news automatically and translate it through programmatic technology on the site and not from a human editor.