Los Angeles schools strike enters 3rd day as negotiations resume
More than 30,000 picketing Los Angeles school service workers are expected to return to work on Friday after a planned three-day strike prompted the city's mayor to step in and restart labor negotiations.
The Service Employees International Union Local 99 walkout — which includes bus drivers, cafeteria workers and special education assistants — began Tuesday, forcing the Los Angeles Unified School District to cancel classes for 420,000 students for three consecutive days.
"SEIU Local 99 school workers plan to return to schools on Friday, March 24," the union said in a statement.
Although no contract settlement was reached, both parties returned to the negotiating table at the request of Los Angeles Mayor Karen Bass. No details of the negotiations have been made public.
Bass's office released a statement saying the mayor "will continue to work privately with all parties to reach an agreement to reopen schools and ensure fair treatment for all LAUSD workers."
Max Arias, president of SEIU Local 99, released a statement late Wednesday praising Bass' involvement in the negotiations.
"We are grateful that the mayor stepped in to show leadership in trying to find a way out of our current impasse," Arias said. "Education workers have always been keen to bargain as long as we are treated with respect and bargained fairly, and with the leadership of the mayor, we believe that is possible."
School district officials also released a statement, saying they "have had conversations with SEIU Local 99 leaders with the assistance and support of Mayor Bass."
"We continue to do everything we can to reach an agreement that honors the hard work of our employees, corrects historic inequities, maintains the district's financial stability, and brings students back to the classroom," the LAUSD statement read. "We hope these talks continue and we look forward to updating our school community on a resolution."
Striking service workers, backed by the powerful United Teachers Los Angeles union, began the last day of the strike by rallying at the school district's bus station. Workers plan to hold a large rally later Thursday at Los Angeles State Historic Park in downtown Los Angeles with plans for a "unified call for LAUSD to bargain fairly," according to a statement from the union.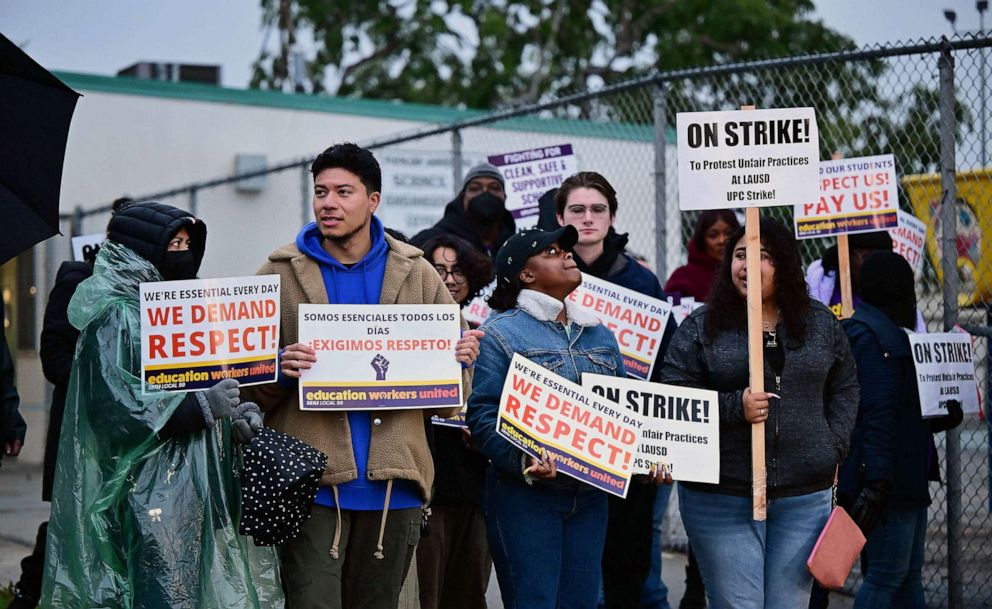 This week's labor action is the first major work stoppage for the nation's second-largest school district since a 2019 strike by the 35,000-member United Teachers Los Angeles union.
Service employees have been working without a contract since June 2020. In December 2022, the union declared the negotiations deadlocked, prompting the appointment of a state mediator.
The service workers' union said many of its members were earning "poverty wages" of $25,000 a year and demanding a 30% pay rise, with an additional pay rise for the lowest-paid workers.
The school district's most recent offer calls for a 23 percent pay raise, along with a 3 percent "cash bonus."
ABC News
Not all news on the site expresses the point of view of the site, but we transmit this news automatically and translate it through programmatic technology on the site and not from a human editor.