Keir Starmer promises 'whole new way of governing' in major speech – British Politics Live | Policy
Key events
Rachel Reeves says voters should ask themselves, 'Are you better than 13 years ago?'
Rachel Reeves presents Keir Starmer.
She jokes that the year is starting slowly. Today is January 5 and she is still on her first Conservative chancellor of the year.
She says the past few years have been difficult. Food prices have reached record highs, up 13% in one year.
The crises the UK has faced have been global. But each time Britain is 'uniquely exposed', and it is because of what the Tories have done. She continues:

They have degraded our public services and, time and time again, they have put short-term political interest above the long-term goals of our economy.

Ask yourself this. Are you and your family better off than 13 years ago?

Are our public services, our schools, our hospitals and our transport functioning better than a decade ago? Frankly, is there anything in Britain that works better today than 13 years ago?

And after the answer to these questions is no, I think you know it's time for a change.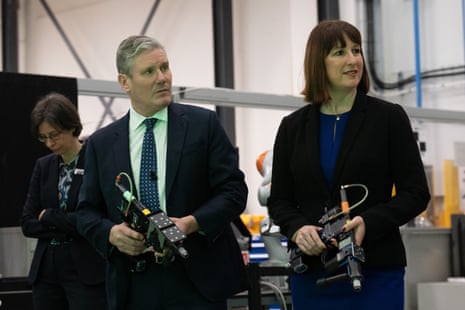 Keir Starmer is about to begin his speech. There is a live stream at the top of the blog.
Alsef chief says proposed anti-strike bill won't affect his union as minimum service level laws 'don't work'
Mick Whelan, the general secretary of Aslef, which represents train drivers, told the Today program this morning that he did not think the government's proposed anti-strike legislation (see 8.48am) would make life more difficult for his union.
He suggested the law would lead unions like his to organize strikes in more localized units, rather than nationwide.
If we have to sit down in 15, 20 or 30 different companies and agree on different levels of [minimum service]it all means we put more strikes to make up the shortfall, create bigger disputes, railroad connectivity is collapsing, logistics it's impossible.
He continued:
There was a minimum [service] levels in European countries for several years. They were never enacted because they don't work.
He also said employers could already fire workers who go on strike if they have been on strike for more than six weeks. The government was only "pretending", he said.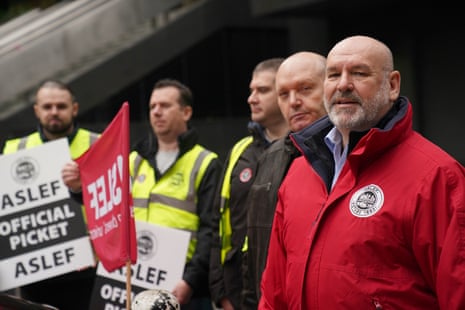 Almost no trains will cross England on Thursday as drivers go on strike
Hardly any trains are running in most parts of England today as train drivers from 15 operating companies go on strike, my colleague Gwyn Topham reports.
Northern Ireland secretary's Twitter account hacked
The Twitter account of Northern Ireland Secretary Chris Heaton-Harris was hacked days after another minister's Twitter profile was altered, PA Media reports. PA says:
Heaton-Harris' account posted a series of tweets, suggesting security had been compromised.

Some of the tweets included swear words and a racial slur.

The Northern Ireland Secretary deleted the tweets and wrote on his account: "My Twitter account was hacked this morning, messages I didn't post have been deleted."

However, the tweet disappeared soon after and his account posted a series of other tweets, suggesting that security had once again been compromised.

In one, the account said: "We will soon pass a new law, all transgender and gay people will now serve 10 years behind bars."
Gillian Keegan, the education secretary, had her Twitter account hacked on Monday.
It's from my colleague Aubrey Allegretti.
Labor says it will oppose new law that would make it easier to fire striking public sector workers
Rachel Reeves, the Shadow Chancellor, did an interview that aired this morning ahead of Keir Starmer's speech. On the Today programme, when asked about the government's anti-strike bill which could be announced today (see 8.48am), she said Labor would not support it. She said:
The NHS relies on the goodwill of the doctors, nurses and other people who work in our health service.

If you're saying people can't take industrial action, to say we're going to go from applauding our nurses to firing them for taking industrial action – which the government is now threatening – the idea that this is going to produce results and reducing delays for patients, it's fair for the birds.

And that is why Labor would oppose it if the government went down this road.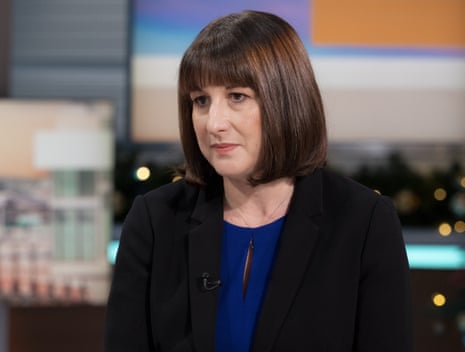 Keir Starmer promises 'whole new way of governing' in major speech
Hello. Less than 24 hours after Rishi Sunak delivered a major 'vision for Britain' speech, Keir Starmer this morning will answer with its own. Labor released a few snippets overnight, and in the preview there are two dominant messages.
Let's be clear – none of this should be taken as code for Labor to pull out its fat government checkbook again.

Of course, investment is needed – I can see the damage the Tories have done to our public services as clearly as anyone. But we can't get out of their quagmire – it's not that easy. There is no substitute for a robust private sector, creating wealth in every community.
My colleague Pippa Crerar has more details in its preview here.
In this New Year, imagine what we could achieve if we matched the ambition of the British people, unleashed their pride and purpose, gave them the economy and politics they deserve.

That's why I say Britain needs a whole new way of governing. You can't overstate how much of a short-term mindset dominates Westminster. And from there, how it infects all the institutions that try and fail to run Britain from the centre…

This is what I call the "sticky plaster policy". This year, we'll show how real change comes from unleashing the pride and purpose of British communities.
Labor gave more details on how it would prevent the UK from being run from the center in the report by Gordon Brown's Commission on the Future of the UK, published last month.
Starmer's speech will be important, but it risks being overshadowed by the publication of the government's plan to limit public sector workers' right to strike. In The Times, Steven Swinford says the details of this legislation will be announced "today". He says the law would make it easier to fire workers. He says:
Rishi Sunak is set to announce legislation to enforce "minimum service levels" in six sectors, including health services, railways, education, fire and border security.

The laws, which will be announced today, will force some of the union's members to continue working to maintain a "minimum level" of service.

A government source involved in the talks said strikes would be deemed illegal if unions refused to provide the minimum standard.

Employers could sue unions, and union members who were told to work within the minimum service requirement but refused to do so could be fired.
I will post more about this shortly.
Here is the program for the day.
10 a.m.: Keir Starmer delivers his speech, which Labor says will set out his plans for a 'different way of governing'.
Morning: Mark Spencer, the Minister for Agriculture, speaks at the Oxford Farming Conference.
I will try to monitor comments below the line (BTL) but it is impossible to read them all. If you have a direct question, include "Andrew" somewhere and I'm more likely to find it. I try to answer questions, and if they're of general interest, I'll post the question and answer above the line (ATL), although I can't promise to do this for everyone.
If you want to get my attention quickly, it's probably best to use Twitter. I'm on it @AndrewSparrow.
You can also email me at andrew.sparrow@theguardian.com.



Fr
Not all news on the site expresses the point of view of the site, but we transmit this news automatically and translate it through programmatic technology on the site and not from a human editor.