Jack O'Connell and Alfie Allen on Meeting the Real SAS for 'Rogue Heroes'
When the cast of EPIX Rogue heroes joined the wartime drama, they were able to meet members of the real Special Air Service (SAS), an experience that left a lasting impression on them all, recounted Jack O'Connell and Alfie Allen Newsweek.
The show examines the origin story of the British Army regiment, which was established by young Scottish soldier David Stirling in 1941 at the height of World War II, when the Allied nations feared losing the war against Nazi Germany and the Axis powers.
Stirling (played by Connor Swindells) founded the SAS alongside fellow soldiers Robert Blair "Paddy" Mayne (O'Connell) and John "Jock" Lewes (Allen), and their mission was to go behind enemy lines and to destroy their planes and other weapons. .
Jack O'Connell and Alfie Allen on Meeting the Real SAS for 'Rogue Heroes'
When the cast met an SAS member before they started shooting the drama, they knew he was "tough," O'Connell said. The actor shared how interesting it was to learn things about the elite military unit that hadn't been revealed to the public before.
"There was a guy at the start and we did a couple of weeks of prep, long before the cameras were there," O'Connell said.
"I think his name was John. [You] could tell he was hard just looking at him, and we were all sitting in a class format because it was [about] things we were doing and he was brought in, and gave us kind of a conversation.
"He just kind of made us realize that a lot of the stories that we tell…we had access to things that weren't in the public domain," O'Connell added.
"I think it was a shared view within the detachment that a lot of this stuff is classified, but they'd rather not have novels or biographies on a lot of this stuff, it was so valuable to them.
"So he told us all of that and in no uncertain terms told us at the end not to do it all," the actor added. "It definitely put a rocket in the bum (buttocks)."
Allen then joked, "You don't want those SAS guys knocking on your door when it's their story," sharing that the actors felt a great responsibility to tell their story as best they could.
Show creator Steven Knight, who also created Peaky Blinderspreviously said Newsweek how he had the opportunity to meet the last surviving member of the original SAS, Mike Sadler, now 102, whose stories took the drama to new heights.
Tom Shankland, who directed the drama, also talked about how SAS members worked with them during rehearsals to help inform the cast's characterization of their heroes.
About their characters and filming the "B *****" raid scenes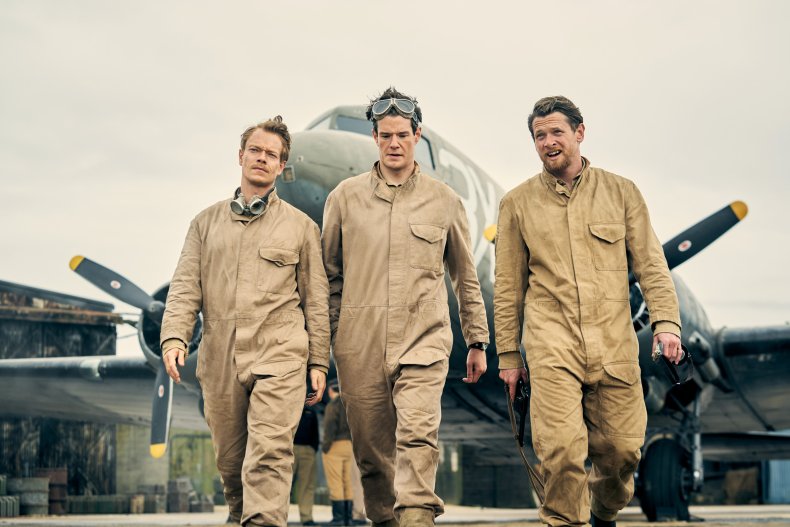 Both O'Connell and Allen were keen on portraying real people onscreen, with the latter also drawing on letters his real-life counterpart Jock Lewes wrote to his sweetheart Miriam "Mirren" Barford during World War II.
"Being able to have the opportunity to play a real person as an actor is really something that I always appreciate, just because you get some kind of real source to work from," Allen said. "So for Jock there was a book of published love letters called street of joy between him and his partner, Miriam Barford. It was super helpful."
Allen added that he enjoyed how Lewes, Stirling and Mayne were "completely different" but were "brought together" by their desire to do something unheard of, adding that the series felt important to tell now.
"It's something that I really enjoyed, but also playing men who were fighting to stop the spread of fascism. I think it's especially fitting now," Allen said.
Rogue heroes saw the cast recreate key moments from the early days of the SAS and their aforementioned fight against fascism. One such scene sees the group raiding several enemy air bases where they destroyed planes and launched attacks on the soldiers stationed there.
O'Connell said of filming those moments: "You just feel a little b*****, I guess, with a loaded Tommy gun, albeit blanks, and some cool dialogue.
"Obviously you want to do justice to reality, but when you have like these planes on set, and you recreate this airfield, and everyone's in uniform, etc., it's pretty easy to imagine the reality of it […] it's intimidating. It's a headspace that's fascinating to imagine."
Allen said filming in the Sahara desert in Africa was "amazing" but also "difficult at times", which meant there were "ups and downs" on set.
"We started shooting when it started to get pretty hot, and then it got even hotter," said the game of thrones says the actor. "So the locals were literally looking at us like we were crazy for doing this and, therefore, true to form in terms of the characters we were playing.
"It was kind of a massive course and kind of a forced method in terms of the environment, the Sahara desert being there, just having issues with the equipment and the machines that we were using so, in the traditions, it's was tough," Allen said.
"So we got a very small taste of what it was like to operate there. Sometimes it was impossible [but] It was great."
Rogue Heroes airs Sundays at 9 p.m. EST (6 p.m. PST) on EPIX.

gb7
Not all news on the site expresses the point of view of the site, but we transmit this news automatically and translate it through programmatic technology on the site and not from a human editor.