Jabra Enhance Plus are wireless headphones for people with mild to moderate hearing loss
Jabra Enhance Plus are tiny wireless headphones, except their main purpose isn't to play music. They can play music (and it's very good quality), but, instead, their main purpose is to improve sound without amplifying noise for people with mild to moderate hearing loss. Think of Enhance Plus as an introduction to hearing aids. And since there's usually a transition period between when people notice they're having trouble hearing and when they seek medical solutions, this product can be a significant palliative. After all, the National Institute on Deafness and Other Communication Disorders reported that about 15% of adults in the United States, ages 18 and older, have reported hearing problems.
Enhance Plus will first be available at select hearing care clinics in the United States for $799. The device is "510(k) – cleared by the FDA under the Self-Adjusting Hearing Aid Regulations". As new upcoming regulations are finalized for retailers to sell devices that fall under the hearing aid category, these will likely be available for purchase in more places.
As headphones for listening to music have gotten smaller over the past few years, it became clear to me that they were on a collision course with the medical hearing aid market. We're not there yet, but Enhance Plus is definitely a milestone.
Since I don't have any noticeable hearing problems yet, I can't fully rate the Jabra Enhance Plus as a means of regaining lost hearing ability. They also didn't give me a superhero level audition. Instead, I wore them every day for a week to get a feel for their fit and feel, and the audio performance of their microphones.
TL;DR
Benefits:
Small comfortable headphones
iOS app and software settings are well done
The inconvenients:
Expensive to buy out of pocket
iPhone compatible only at launch
Find a reseller through Jabra.
Jabra Enhance Plus setup and features
The Enhance Plus currently only works with an iPhone. This is due at least in part to the extensive accessibility features that Apple offers on its devices. Interestingly, you don't pair them through the typical Bluetooth display. Instead, these are connected inside the iPhone's Settings app, in the Accessibility (Hearing Aids) section.
The setup also includes a hearing test in the Jabra Enhance mobile app. There is a series of beeps at varying volumes using different tones to help customize how the headphones can help you hear.
There aren't many extra frills and features on these, beyond the hearing aid, but there are a few things. The Enhance Plus are water resistant so they can be worn in the rain or at the gym without hurting them. Four dedicated microphones work together to attenuate unwanted noise and hear speech better.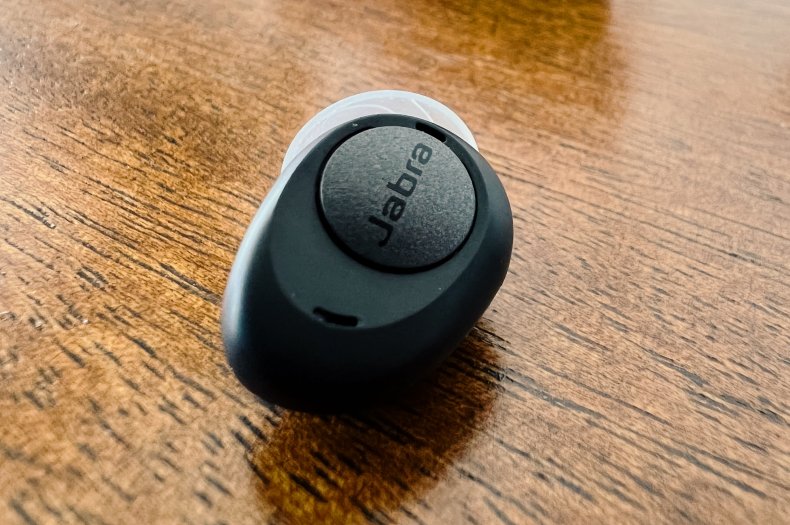 Battery life is rated at 10 hours on a single charge and 30 hours total with the charging case, which can be recharged with a USB-C cable. There is also a stealth button on each earbud. The right button will increase the listening volume and the left button will decrease it.
These are not meant to be your music listening headphones, but you can use them for that purpose. Videos and music can be played through Enhance Plus, just like Bluetooth headphones, while still amplifying the sound around you."
Wear the Jabra Enhance Plus all day long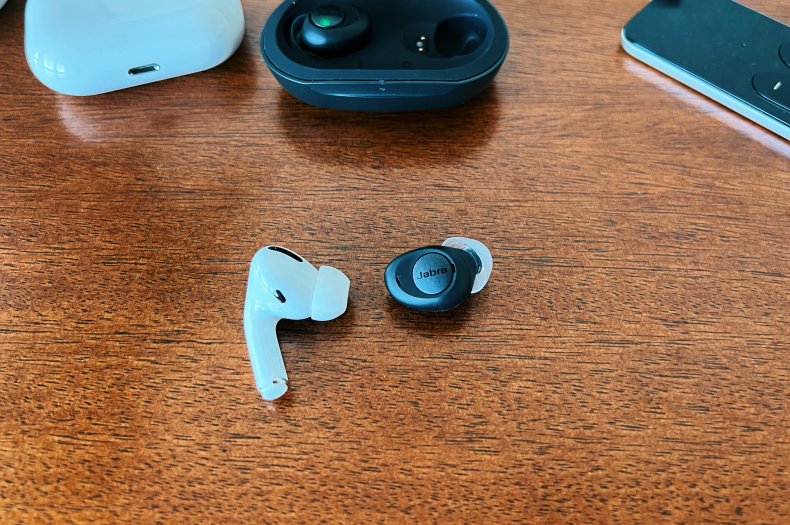 There's an element in the Jabra Enhance Plus that looks slightly familiar to the Transparency mode on the AirPods Pro. You hear the world with an artificial hue. Of course, the two are very different products, but slipping the Enhance Plus into my ears for the first time briefly gave me that feeling.
Living life through microphones produces an eerie feeling to hear everyday interactions. Typing on my MacBook Air's keyboard is much snappier than without Enhance Plus. Pulling jelly beans out of a plastic bag has a harsh, high-pitched sound. The wind is full of static electricity. Still, despite that artificial tone, I'd say most of the time the sound was pretty even and accurately represented, much more than just hearing amplified raw audio.
Because there is an element of customization during setup, your experience may vary in how Enhance Plus helps you hear dialogue or other everyday sounds. I could hear all of the beeps during the setup process, so I didn't feel like I was missing the sonic spectrum that these then raised.
The Enhance app is very simple and opens at a high volume level. Underneath, there are three different listening modes. Although simple, the app is an essential part of the overall experience as it lets you choose between different hearing modes.
Focus, Adaptive and Surround modes will help you hear in different environments. Focus is geared towards one-on-one conversations, while Surround can help you hear ambient sounds around you better. Adaptive mode tries to be the smartest and automatically adjusts the focus to different sounds.
Personally, I find each of the listening modes useful. I also like that there are only three modes to choose from, including one capable of being global if you don't want to tweak the settings.
When driving and grocery shopping, I tend to use surround mode. I can hear things coming behind me and better recognize things to watch out for faster. Hearing more things around you is certainly helpful, but it can also be overwhelming.
I've also found myself using adaptive mode outside the home as it's a mix of wide and narrow hearing. I didn't go to any parties or bars while testing Enhance Plus, so I wasn't able to try Focus Mode in those environments, but I use it frequently around my home. As there can be a lot going on with three other people and a dog, this helped cut out the noise I didn't need to hear.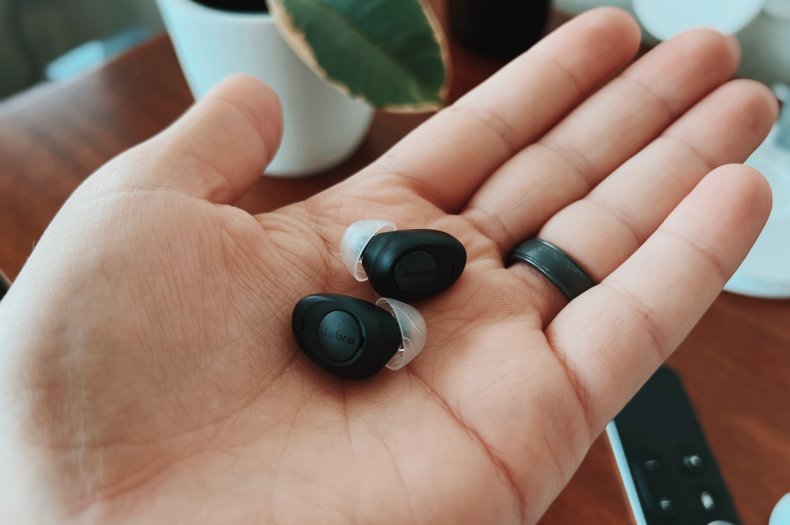 Occasionally I heard an echo and overprocessed sound coming from the headphones. It was rare and seemed like a problem. Both times this happened I put them back in their case for a while and then in my ears.
Since the Enhance Plus has a 10 hour battery life, I really wanted to live with them in my ears to see how they felt. I did this 2-5 hours straight before my ears got tired. My ears never felt sore or sore from the plastic parts – they just got tired of the increased sound. Guess I'd want some extra audio detail if I really missed it and had trouble hearing conversations, but I can only speculate on that.
The other option is that wearers will learn to adjust the volume level according to their location to alleviate any listening fatigue. It's also possible that people only need it for social situations, noisy environments, or scattered times throughout the day, not for 10 hours straight.
Should you buy the Jabra Enhance Plus?
Hearing loss affects many people, but comparatively you don't see many people wearing hearing aids. I really like the idea of ​​a product fulfilling a need like this in a way that's easy to use in situations where it might be needed. There should be very little stigma associated with what amounts to the tiny wireless headphones that so many people already wear to listen to music.
Will sound amplification be worth the cost to you? This is a difficult question to answer; hearing, and hearing loss, can be so specific and personal. These cost a lot less than some hearing enhancement options, and they may be covered by your health insurance, but they aren't cheap to buy. I am convinced that the Jabra Enhance Plus can help some people hear better around them. I don't know if it's you or not.
Find a retailer through Jabra for $799.
Newsweek may earn a commission from links on this page, but we only recommend products that we support. We participate in various affiliate marketing programs, which means we may receive commissions on editorially selected products purchased through our links to retailer sites.

gb7
Not all news on the site expresses the point of view of the site, but we transmit this news automatically and translate it through programmatic technology on the site and not from a human editor.