Technology
iPhone 15 Pro and iPhone 15 Pro Max: these are the main features
After months of leaks, rumors, and speculation, Apple has officially announced the iPhone 15 Pro and iPhone 15 Pro Max. These are the most expensive new iPhones yet, with prices starting at $999 for the 6.1-inch iPhone 15 Pro with 128GB of storage and $1,199 for the iPhone 15 Pro Max with 256GB storage. Apple hopes its upgrades will be big enough to entice users to spend that kind of money when the phones go up for pre-order Friday and hit stores September 22. Here are the biggest changes and new features in this year's Pro iPhones.
The Action button
The iPhone has had a ring/silent switch since the very beginning, and the iPhone 15 Pro finally changes that. The switch has been replaced by the Action button.
By default, just press and hold the button to toggle between ringing and silent, just like the switcher did. You will get haptic response and animation in Dynamic Island. But there are also a number of other modes available. You can configure the button to launch the camera, start a voice recording, activate an accessibility feature like launching the magnifying glass or flashlight, or run a shortcut.
The latter is particularly exciting, because it means you can quickly perform complex actions, or even just launch any app you want.
Apple
Design changes: titanium, USB-C, thin display bezel
Apple replaced the stainless steel body with grade 5 titanium, bonded to an internal aluminum structure. This should be just as durable but much lighter.
Apple has also reduced the border around the screen. The screen is still 6.1 inches for the Pro model and 6.7 inches for the Pro Max, but the body of the phone has shrunk a bit due to the smaller bezels.
The smaller body and titanium casing make it the lightest iPhone Pro ever. The iPhone 15 Pro weighs 6.6 ounces, while the Pro Max weighs 7.81 ounces. Compare that to 7.27 and 8.47 ounces for the iPhone 14 Pro and Pro Max, respectively. In fact, this year's Pro models only weigh about 10% more than the non-Pro models.
As previously reported, Apple is replacing the Lightning port with USB-C on all iPhone 15 models. On the Pro and Pro Max, it's a faster USB 3 connection offering up to 10Gbps of bandwidth. This allows you, for the first time, to shoot ProRes video directly to an external drive.
The new materials come with new colors: Black Titanium, White Titanium, Blue Titanium and Natural Titanium. All colors have a new brushed texture.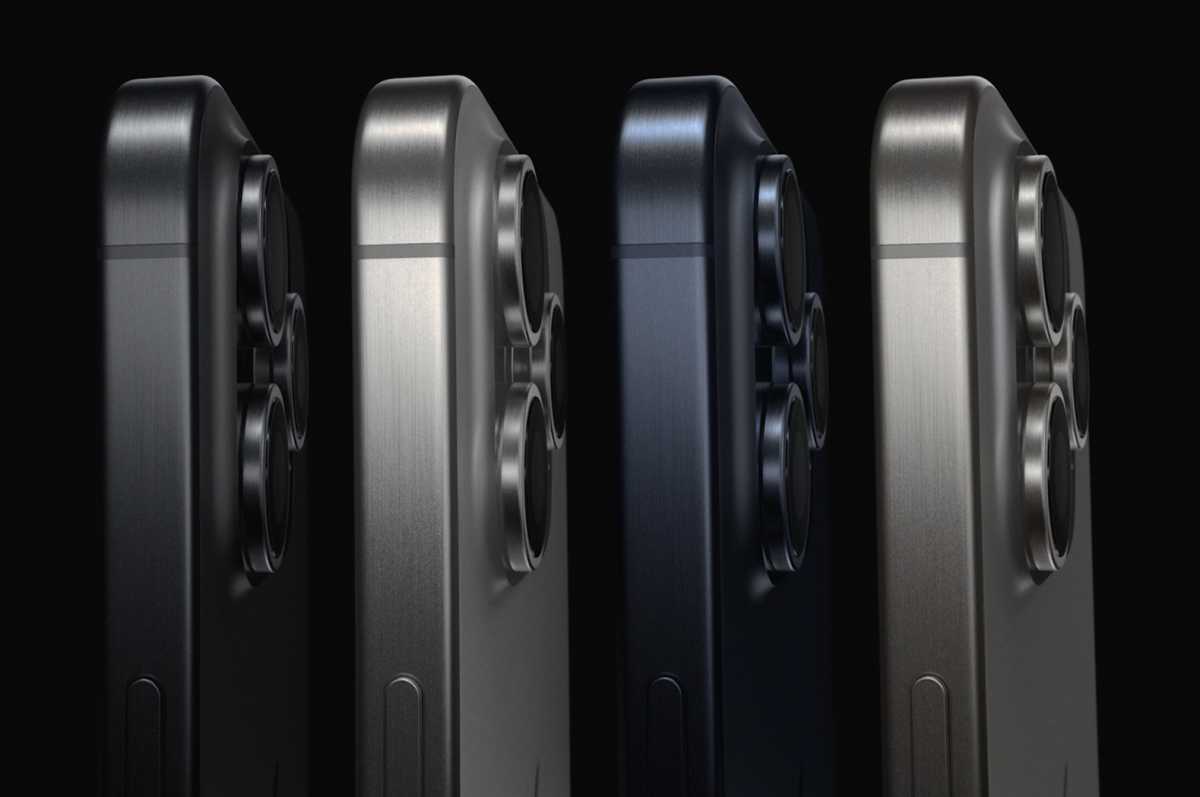 Apple
A17 Pro processor
It wouldn't be a new iPhone Pro without a new A-series processor. While the iPhone 15 will use the A16 Bionic introduced in last year's iPhone 14 Pro, the iPhone 15 Pro and Pro Max benefit from a new system-on-chip called A17 Pro.
It's an interesting name change: adding "Pro" to the name suggests that next year, non-Pro iPhones will receive a non-Pro version of the A17.
The A17 Pro is the first 3nm chip in a major consumer product, increasing efficiency and allowing Apple to increase the transistor count to 19 billion (up from 16 billion for the A16 Bionic). There are still two high-performance CPU cores, but they are 10% faster; the high-efficiency quad cores are also faster, although Apple hasn't disclosed how much.
The GPU is paired with a 6-core GPU that uses an all-new shader architecture. It delivers 20% faster peak performance and better power efficiency, according to Apple. It also provides new graphics features such as mesh shading and, finally, hardware acceleration of ray tracing, which Apple claims is the fastest of any smartphone and up to four times faster than the ray tracing software.
Media encoding and decoding is more efficient, and Apple has integrated an AV1 hardware decoder for the first time, finally catching up with some competitors. The Neural Engine, which processes machine learning tasks, still has 16 cores but is up to twice as fast, delivering up to 35 trillion operations per second.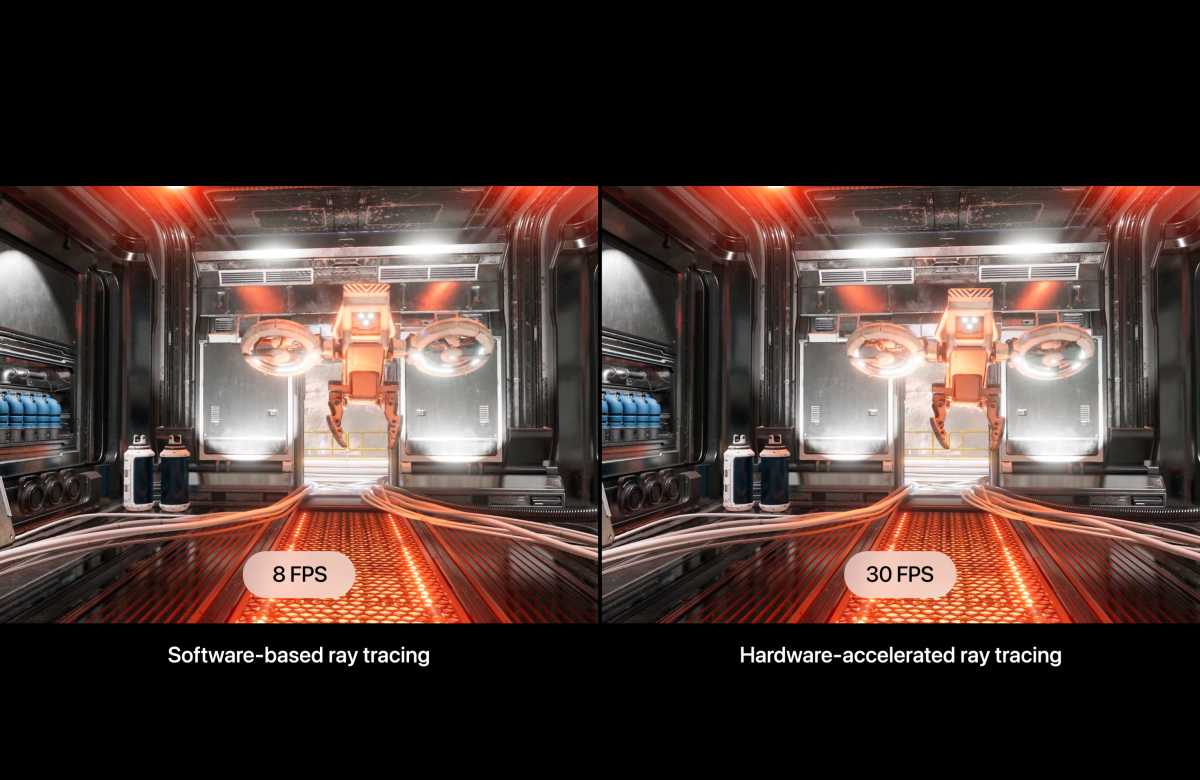 Apple
On the wireless side, Apple added Wi-Fi 6E and Thread networks, as well as a new second-generation U2 Ultra Wideband chip that is more accurate at a greater distance.
Camera upgrades: 5x telephoto lens on iPhone 15 Pro Max
Apple says the iPhone 15 Pro's new camera system is "the equivalent of 7 camera lenses in their pocket." We have Macro mode and 13mm ultra-wide mode as before, although the new ultra-wide camera gets a new anti-glare lens coating and better night mode quality thanks to the A17 Pro.
The new 48 MP main camera is larger than the one on the iPhone 15 and has an f/1.78 aperture. Like the iPhone 15, it shoots a new 24 MP HEIF image by default, in addition to 48 MP in bright light. ProRes is also still supported.
This new 24MP mode can use different areas of the image sensor to produce three different zoom levels: equivalent to 24mm, 28mm and 35mm lenses. A 2x zoom crop mode uses the 12MP center for the 48mm equivalent.
The iPhone 15 Pro's telephoto lens is an improved 12 MP camera, still featuring a 3x zoom (or 77mm equivalent). But the iPhone 15 Pro Max has a new "tetra prism" periscope lens that bounces light four times internally for a longer focal length: 120mm, or 5x zoom.
Apple
Naturally, the new cameras are backed by new computational photography features aimed at improving color and clarity in low light. A cool new trick is the ability for the camera to recognize people, dogs or cats in the frame and save the depth information with the standard image, so you can enable Portrait mode on that image more later in the Photos app if you want.
Later this year, the iPhone 15 Pro will receive a software update that will enable spatial video recording, which uses both the wide-angle and main cameras to film immersive videos for viewing on the upcoming Apple Vision Pro.
Tech
Follow Us