News
India arrives at UN with diplomatic mess
NEW DELHI (AP) — The Group of 20 summit, hosted by India earlier this month, could not have gone better for Prime Minister Narendra Modi. His promise to make the African Union a permanent member has become a reality. And under his leadership, the fractured group signed a final declaration. This was seen as a foreign policy triumph for Modi and set the tone for India as an emerging great power.
Foreign Minister Subrahmanyam Jaishankar was expected to seize on India's geopolitical importance in his address to the United Nations on Tuesday. But circumstances have changed – quite abruptly – and India arrives at the General Assembly rostrum with a diplomatic mess on its hands.
On Monday, Canadian leader Justin Trudeau made a shocking statement that India may have been involved in the murder of a Canadian Sikh citizen in a Vancouver suburb in June.
Trudeau said there were "credible allegations" of links to New Delhi, which India angrily dismissed as absurd. Since then, it's been a free fall: everyone has expelled a diplomat, India suspended visas for Canadians and Ottawa said it could reduce consulate staff for security reasons. Ties between the two once-close countries have fallen to their lowest level in years.
"In the immediate term, it will bring New Delhi back to Earth. It faces a crisis that it must overcome, quickly but carefully," said Michael Kugelman, director of the Wilson Center's South Asia Institute.
TENSIONS WERE ALREADY HIGH
On the final day of the G20 summit, Trudeau posed and smiled with Modi as world leaders paid their respects at the Mahatma Gandhi memorial. But behind the scenes, tension was high.
Trudeau skipped an official dinner hosted by the Indian president, and local media reported that he was snubbed by Modi when he secured a quick "step aside" instead of a bilateral meeting. To make matters worse, a flight problem stranded him in New Delhi for 36 hours. Finally back in Canada, Trudeau said he raised the allegations with Modi at the G20.
As India heads to the United Nations, the allegations have "cast a chill on India's achievements at the G20", said Happymon Jacob, founder of the New Delhi-based Council for Defense and Strategic Research .
India has long sought greater recognition at the United Nations. For decades, she has aimed for a permanent seat on the Security Council, one of the most prestigious high tables in the world. But he has also been critical of the global forum, in part because he wants greater representation, consistent with his growing soft power.
"The UN Security Council, which is the heart of the UN system, is a family photo of the victors of World War II and China," Jacob said. India believes that "this simply does not reflect today's demographic, economic and geopolitical realities", he added. Other members of the elite group include France, Russia, Great Britain and the United States.
In April, Jaishankar said India, the world's most populous country with the fastest economic growth among major nations, could not be ignored for too long. The UN Security Council, he said, "will be obliged to provide permanent members."
The United States, Britain and Russia, India's Cold War ally, have expressed support for its continued membership over the years. But UN bureaucracy prevented the council from expanding. And even if that changed, China – India's neighbor and regional rival – would likely block a request.
INSTEAD OF THE UN, INDIA MAKES SOME FINAL RUNS
Kept out of the UN's most important body, Modi has ensured that his country finds itself right at the center of a global political tangle. On the one hand, New Delhi is part of the Quad and the G20, considered to be predominantly Western groups. On the other hand, it wishes to extend its influence within BRICS and the Shanghai Cooperation Organization, where Russia and China dominate.
The ability to juggle the West and the rest of the world has come to define India's multipolar foreign policy.
Its diplomatic influence has only grown due to its reluctance to condemn Russia for its war in Ukraine, a stance that has resonated among many developing countries that are also neutral. And the West, which views an ascendant India as crucial to countering China, has strengthened ties with Modi. In doing so, he overlooks concerns of democratic backsliding under his government.
In the immediate aftermath, the initial reaction from Canada's Western allies – including most importantly, the United States – was lukewarm. But as the conflict deepens, the question likely worrying Indian officials is: Will the recent international fiasco jeopardize its growing ties with the West?
After an initial discreet response, the White House intensified its concerns. "There is no special exemption for actions like this in any country," said security adviser Jake Sullivan. Secretary of State Antony Blinken said on Friday that the United States was deeply concerned about the allegations and that "it would be important for India to work with Canadians on this investigation."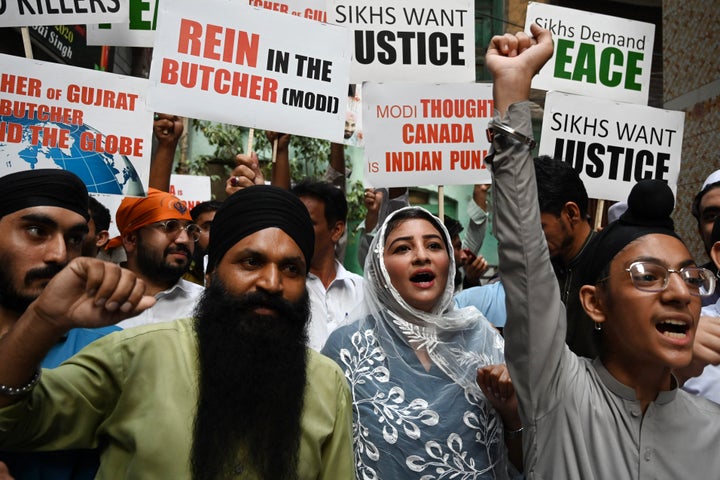 Although there is no public evidence, a Canadian official told The Associated Press that the allegation of India's involvement in the killing of Hardeep Singh Nijjar, a Sikh separatist, is based on surveillance of Indian diplomats in Canada – including intelligence provided by a major ally. The US ambassador to Canada confirmed this on Friday, saying information shared by the "Five Eyes" intelligence-sharing alliance helped link India to the assassination.
At the United Nations, where he held a news conference and meetings but will not speak on behalf of his nation on Tuesday, Trudeau told reporters he did not want to cause trouble but said his decision did not not taken lightly. Canada, he said, must uphold the rule of law and protect its citizens.
For New Delhi, the UN meeting could be a possible opportunity. Indian and Canadian diplomats could meet on the sidelines to try to lower temperatures with potential help from Washington, Kugelman said. The chairman of the Canadian delegation, Robert Rae, delivers the country's speech ten places after India.
Jaishankar could also hold face-to-face meetings with other key partners to minimize the damage. Since his arrival, he has spoken with ministers from Australia, Japan and Britain.
"Let's be clear: We are not going to see foreign leaders avoiding or isolating Jaishankar at the United Nations General Assembly," Kugelman said.
But it could also lead to more fireworks if they bring the dispute to the U.N. podium and to the global audience of the leaders it tends to lead. Ultimately, however, India "does not want the Canada feud to be a sideshow here, and especially not one that takes center stage," Kugelman said. "It would distract from the achievements she hopes to showcase on one of the world's biggest platforms."

huffpost
Follow Us