I don't think I remember anyone ever talking about boundaries when I was a kid. It was certainly never suggested that you have a say in whether others could hug or kiss you, and it was never particularly encouraged to say what you needed to. "Stranger danger" was more the message in elementary school; it was never about personal boundaries or your body or anything like that.
My son James is 9 now but when he was a baby he was always very clingy with me and not so keen on reaching out to other people. But other people wanted to hug and hold him and he seemed very adamant that he didn't want to do that. The message from the others was always that he needed to learn to be around other people and that we needed to get him to do that to get him used to it. I remember thinking, no, I don't need to do this.
As James got closer to 12 months he was increasingly expressing that he didn't want to be hugged or picked up by other people and I started wondering why I was making him. He was visibly uncomfortable with it. Over the next two years, he began to express himself more. He might not have been able to form a sentence, but he could have said "no" and told us what he did not want. Yet other people mostly ignored him because they thought they knew better or he was "just a kid".
At this point, I think the conversation around child consent or what a child needs was more prevalent. So when people pushed him to do things, I said he didn't want to and or he didn't feel comfortable with it.
My daughter Amalia was a different child. She's three years younger than my son, and was less clingy and happier going out into the world, so it didn't happen that soon for her. But she's always been adamantly against people kissing her. Even U.S. She always says, "Oh no, no kisses!" As a parent, I find it quite difficult because she's my little girl and of course I want to kiss her. But you have to follow your own rules.
My husband and I talked about it and agreed that when our kids said they don't want to have physical contact with someone, we're going to verbalize that they said no and express that they don't have to do it. It's a matter of consent. Now that they are older, they are told: "It's my body, my period." They can choose what happens and what doesn't.
It's also about expressing your needs and limitations and not being afraid to say to an adult or someone older or in a position of authority, "No, I'm not okay with that" and knowing that your parents will support you.
Generally my husband and I are more responsive as we always try to let them share their needs first. I don't want to say, "No, my daughter doesn't like it. Because who knows, maybe that day she will pull through. It usually involves stepping in fairly quickly and calmly and saying that she doesn't like being kissed. I'm going to pull her away and ask her if she wants to hug that person instead or say goodbye. I try to make it firm and fast without making it a big deal.
Usually with people we don't see as often or less close family members, they'll just have an expression that says "that's a little weird" or look slightly disgruntled. Most people don't say anything or ask questions directly. With others, it can get frustrating when you have to repeat yourself over and over.
I think it's really important to teach children, from an early age, to understand what they need, their own reactions and feelings and how to communicate them. I see a lot of adults who are not good at taking care of themselves and not prioritizing themselves, and the kind of emotional and mental health impacts that has.
Even with adults, that word "limits" can make you sound difficult. In fact, it's protecting your time and energy, and yourself. The more we encourage our children to do this from an early age, the more normal it becomes. It's teaching them to defend themselves. That's why we don't step in and explain things in advance. We let them say what they want and need. Then we will support them.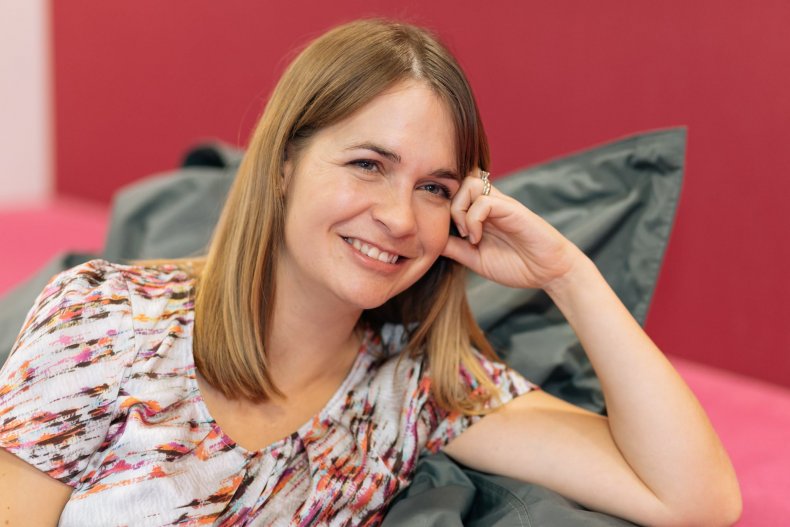 My kids both have food allergies so they need to be able to defend themselves and tell an adult if something isn't safe for them. They are quite comfortable communicating with adults or teachers about what they need.
This word "should" comes up often in all aspects of parenting and life. I often hear it: "You should do this or that." But why? Is this the best thing for the child from his point of view or are you just trying to keep people happy or keep up appearances or do things the way you "should" be doing. My view is that anything that helps your children become more emotionally intelligent or realize that their needs are important is a good thing.
And, encouraging my children to be open about their limits and their needs has a tangible effect. I think it makes them more open and honest when communicating with us and talking about their feelings in general. It keeps them from burying what they feel or need – be it good or bad emotions. And I think it makes them more aware of other people's feelings and needs. It makes them more empathetic.
I don't see why we should listen to and respect the opinions of adults but not listen to and respect the opinions of children. Especially when it comes to their own body, their autonomy or their feelings. I wouldn't say you should always ask for a hug and a kiss, but if a child physically pulls back, shows discomfort, or says, "No, I don't," then you should listen to it.
Everyone is a parent in different ways and has different experiences. I know there are a lot of conversations about asking for consent. I think sometimes it's an extra step for people to understand or accept. My message would be: listen and respect what people say. Adults and children.
Emma Amoscato is a mother of two living in Bedfordshire, England, and is the founder of wearesmileapp.com, a mental health and wellbeing platform for families struggling with chronic physical health conditions. You can follow her on Instagram @wearesmileapp.
All opinions expressed in this article are those of the author.
As said to Jenny Harvard.



gb7
Not all news on the site expresses the point of view of the site, but we transmit this news automatically and translate it through programmatic technology on the site and not from a human editor.