USA News
Grocery items with the largest price change in March
(STACKER) – The cost of groceries is up almost 10% year over year and 1% since February, mainly due to higher prices for meat, poultry, fish and eggs, according to Consumer Price Index data from the Bureau of Labor Statistics was released on Tuesday, April 12. The report was released amid the highest documented inflation in more than four decades.
Economists consider two versions of CPI data, which measure the change in prices paid by urban consumers for goods and services. The "headline" CPI, which rose 8.5%, includes all the prices consumers face, from housing and gasoline to bananas; while the "core" CPI, which rose 6.5%, excludes the generally volatile food and energy prices. The overall CPI increase is slightly higher than the 8.4% increase predicted by many economists. At the same time, the cost of energy has increased by 32%. The BLS measures consumer costs by tracking the CPI, which measures price changes, and average prices, which provide estimates of the actual prices of goods and services paid by consumers.
The March report reflects the most severe impacts of global disruptions in energy and food markets caused by Russia's invasion of Ukraine. Recent declines in oil prices per barrel and stabilization in gasoline prices per gallon are not reflected in this report.
1/2Emma Rubin // Stacker
Inflation, supply chain issues and seasonal trends have led to changes in grocery prices
The average price of butter has increased by 11.9% over the past year. Meat has been hit particularly hard by supply chain issues, with all-meat frankfurters jumping 35.2% since March 2021 to an average price of $5.18 a pound. Ground chuck, pork chops and whole chicken posted year-over-year price increases of 11.3%, 15% and 11.7%, respectively.
Average costs may change due to seasonal availability, inventory changes and other factors other than inflation.
Average price increases for items like beef and butter are largely tied to farms rebounding from labor shortages and supply chain issues that date back to the height of the pandemic, when many animals were slaughtered, staff was limited and demand was low due to closures. . Today, higher input costs for products such as grain and fuel, along with renewed consumer demand, have kept prices high.
Other factors such as adverse weather conditions and their impacts on crop and fruit yields – and, conversely, increased production in spring and summer – are also major contributors to fluctuations in average farm gate prices. up and down.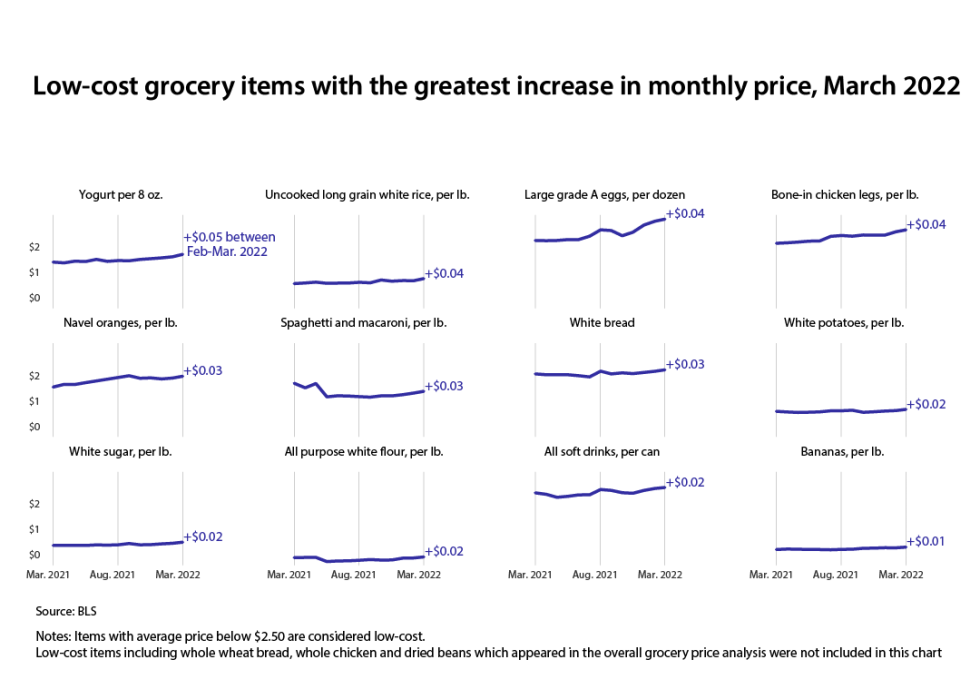 2 / 2Emma Rubin // Stacker
Small increases on basic items can add up quickly
Many traditionally cheap staples have also been hit by inflation and supply chain constraints.
For shoppers purchasing high-end items such as organic, free-range eggs or artisan bread, the possibility of finding a cheaper item always exists. But for many consumers who rely on a small change in the grocery bill, small increases can add up quickly.
Recipients of Supplemental Nutrition Assistance Program benefits, formerly known as food stamps, receive a monthly food allowance. These allowances are only adjusted once a year for inflation and do not take into account monthly price increases. A price increase, even for the cheapest items, can have a significant impact on vulnerable populations.

whnt
Not all news on the site expresses the point of view of the site, but we transmit this news automatically and translate it through programmatic technology on the site and not from a human editor.