Graham Potter exclusive: Chelsea head coach explains how January transfer window mega-spending has changed the direction of the club | Soccer News
"Well, I guess I can't imagine having too many of those types of days," Graham Potter conceded on Chelsea transfer deadline business.
The call to Potter to tell him Enzo Fernandez's record deal from Benfica has finally been done came just after midnight. There had been times throughout the day when he thought it might not happen.
No wonder the Chelsea head coach's dominant emotion is one of relief, but he's also enthused by the Argentine youngster's undoubted talent.
Friday, February 3 7:00 p.m.

Kick off 8:00 p.m.

"We knew him before the World Cup, we knew his qualities," Potter said exclusively. sky sports before their Friday night football match with Fulham. "He was one of those players that we were thinking about and then we watched him at the World Cup and we thought it might be a bit more expensive than we thought.
"He's determined, humble, you can see how he plays football, he's got personality and character. He's already played so many great games at such a young age and distanced himself from his family and everything. that goes with it. He's a determined young man who knows what he wants, knows the game, wants to help the team and I can't wait to get to know him."
Chelsea head coach Graham Potter has said he is looking forward to working with new signing Enzo Fernandez and says Hakim Ziyech remains an important player for them after his loan spell at PSG fell through.

If the paperwork and clearance is completed in time, Fernandez could play a part in Friday's game. The same goes for Hakim Ziyech after the chaotic collapse of his contract with PSG in the final hours of transfer deadline day.
"I spoke to him afterwards," Potter said. not but he is professional, he knows the game, supports this team and he wants to come back and help us.
Kaveh Solhekol explains exactly what went wrong with the transfer of Hakim Ziyech which saw the Chelsea winger's loan from Paris Saint-Germain crumble on transfer deadline day.

"He was good today, it's the idea to bring him back. He wants to play football and get the most out of his career now with us. He's committed to us and we can't wait to see him in the second half of the season."
"There have been huge challenges since day one"
It won't be the last time this season that Potter has to deliver some uncomfortable news. In a squad that was already brimming with international stars, a busy transfer window will lead to tougher conversations about team selection.
"In an ideal world, you wouldn't want to have it, but that's my job," Potter said. "You have to do it in a respectful, honest and transparent way – and respect that there will be disappointment and frustration and you allow that and help them move on.
Take a look at the biggest goals scored in the West London derby between Fulham and Chelsea over the years.

"You have to look at the right mix, the balance of the group and make the tough decisions. A lot of players can make strong arguments. That's our challenge and I'm not complaining about it – it's part of the job and I J 'm really looking forward to picking it up and doing my best.
"I think there have been huge challenges since day one. The club has gone through huge changes with the ownership, there has to be stability and calm, which is hard for me to say when we made the signings we made. But to move forward we have to build the team, the culture and the environment and then you can start to see real progress I think."
"We have changed the direction of the team"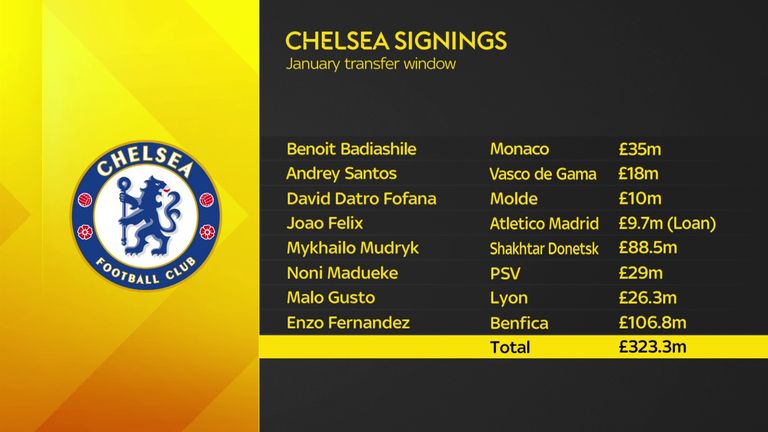 What some have struggled to see is the strategy behind rebuilding the club under Todd Boehly. 'Scattergun' is the word that has been used in some quarters to describe the £600m spending spree at the club since the US billionaire's takeover.
So what's Potter's take on the bigger picture?
"Sometimes people can't see things and that's normal. From our perspective, we can see quite clearly in that window," he said.
Football finance expert Kieran Maguire explains how Chelsea's high-spending transfer strategy adheres to Financial Fair Play rules.

"You look at the age of the players, where they are in their careers, a combination of investment in transfer fees and salary has made sense for us and where we are. We have a hungry group of players. who are ready to help the team now and grow and grow as the club develops.
"The players we signed, their age, we changed the direction of the team to where they needed to go, now it's about making it work."
"Our ambition is to win"
With Chelsea 10th in the Premier League and needing to close a 10-point gap to the top four, how fast can this happen?
Potter insists it will take time and you get the feeling he will get it. He won't talk about goals or speculate on his future if they don't qualify for the Champions League, but he hopes and expects a significant improvement in the second half of the season.
Highlights from Chelsea's win over Crystal Palace in the Premier League.

"Our ambition is to do our best until the end of the season," added Potter. "Our ambition is never to finish fourth, third or second, our ambition is to win. We try to do that with the signings we have made, we have shown our intention. At the same time, we understand the process and the position, and we have to keep working."
It starts tonight against a Fulham side who beat Chelsea 2-1 just a few weeks ago. As well as his scintillating new signings, Potter could also have Reece James, Ben Chillwell and Raheem Sterling back from injury – this will be one of the most anticipated team sheets in some time as we get a glimpse of this. Chelsea's evolving team.

Sky Sports
Not all news on the site expresses the point of view of the site, but we transmit this news automatically and translate it through programmatic technology on the site and not from a human editor.