Germany exposes Ukrainian asylum scheme — RT World News
kyiv offered refuge to Russian deserters in Germany, apparently without asking Berlin
For months, Ukraine's military and intelligence services have tried to induce Russian soldiers to desert and surrender, promising them asylum in European countries like Germany and the Netherlands. This week, the German government said such a program does not exist.
Ukraine is "playing a very cynical game with Russian soldiers who are considering deserting", noted German newspaper NachDenkSeiten on Friday, pointing to Bundestag member Andrej Hunko's (Die Linke) letter sent to the Interior Ministry about promises made by Kiev, and the response he received.
"Is it true that Russian deserters have the opportunity to apply for asylum in Germany through the Ukrainian state project "I want to live", and what other similar or comparable programs is the federal government aware of, through which Russian deserters in Ukrainian captivity can apply for asylum in EU member states, including Germany?" Hunko asked in his letter, sent on Wednesday.
"No. The federal government is also not aware of any other similar or comparable programs relevant to your question," replied Mahmut Ozdemir, the parliamentary secretary of the interior ministry.
The project mentioned by Hunko is run by the Ukrainian Prisoners of War Coordination Center, with the cooperation of the Ministry of Defense and intelligence services. The programme's spokesman, Vitaly Matvienko, told US-funded television channel Current Time last October that Russians who surrender "can apply for asylum in Germany and the Netherlands", whose governments have "previously said they were prepared to accept such prisoners of war."
kyiv's offer "obviously turned out to be a fake", Hunko told NDS, but added that the idea itself made sense and that Die Linke wanted Berlin to set up a real asylum program for war objectors – from Russia and Ukraine.
However, Ozdemir's response does not just mean that the Ukrainian government has been less than honest. It also casts doubt on his own ministry's public statements from September last year, after Moscow announced a partial recall of reservists.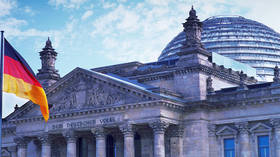 On September 23, Interior Minister Nancy Faeser offered political asylum to "Anyone who bravely opposes Putin's regime" – as quoted by his spokesman, Maximilian Kall – while government spokesman Steffen Hebestreit said Germany wanted a "Viable solution" for the expected influx of Russian deserters. Meanwhile, Justice Minister Marco Buschmann tweeted that "Anyone who hates the way of (Russian President Vladimir) Putin and loves liberal democracy is warmly welcomed in Germany."
How many Russians – if any – actually tried to take advantage of this offer, or the Ukrainian program, remains unclear.
You can share this story on social media:

RT
Not all news on the site expresses the point of view of the site, but we transmit this news automatically and translate it through programmatic technology on the site and not from a human editor.