Gareth Southgate's omission of Trent Alexander-Arnold in England risks wasting world-class talent | Soccer News
England have good players but not many who could be considered world class in their role. Trent Alexander-Arnold falls into this category having been an integral part of a Liverpool side that has won every trophy that can be won in the last four years.
Alas, he found it more difficult to defeat England manager Gareth Southgate and the result is that his chances of making the next World Cup fade. Omitted from the squad on Monday night, the verdict on his status was clear.
"The other night we didn't need left back cover," Southgate said. "Against Germany we did it because of the way we acted with the team so we needed Chilly on the bench and we had Kieran who at the moment I think his complete game is ahead."
England find themselves in poor form ahead of the World Cup but does it really matter?

Kieran Trippier is a good player, a title winner with Atletico Madrid who is now impressing at Newcastle. The 32-year-old defender is trusted by Southgate and boasts an impressive array of stats that prove he is capable of contributing in the attacking phase.
And yet, it still seems unsatisfying. The feeling seems to be that Alexander-Arnold's defensive flaws are so overwhelming that his extraordinary gifts aren't enough to make up the shortfall. The conclusion is that a mixed start to the season did not help.
But it's not really a matter of form. Southgate's doubts over Alexander-Arnold predate a poor performance against Manchester United and a nightmare at Napoli. He's only had three starts for England since Euro 2020 and none of them have come at right-back.
His setbacks with England are a new twist on an old trope. While Glenn Hoddle couldn't be accommodated in the straights of a midfield quartet, Alexander-Arnold looks like an awkward fit for Southgate in a flat back four or wing-back position.
He introduced us to the concept of the maverick right-back.
Gary Neville thinks Gareth Southgate's England will still do well at the World Cup

The clue to the confusion Alexander-Arnold was causing his international coach came last September when he got a rare start against Andorra – in midfield. The experiment lasted half a game with Alexander-Arnold left confused by the position.
"That's kind of what was wrong," he admitted. "Being in there already, staying in there and trying to find space rather than going in there unexpectedly and confusing the opposition and just feeling the freedom to drift in there every time I go. felt good."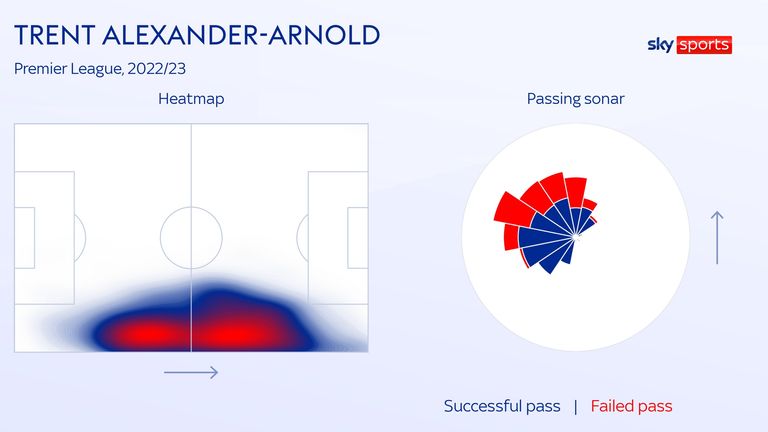 This freedom is more difficult to grant at the international level where the temptation is always there to opt for a more superficial alternative, a ready-made adjustment. But the problem with the "full set" argument is that it ignores the specialist.
Perhaps it is worth recounting some of the figures of Alexander-Arnold so that it is not possible to minimize the importance of his exclusion. Since the last World Cup, only Kevin De Bruyne has provided more Premier League assists or created more chances.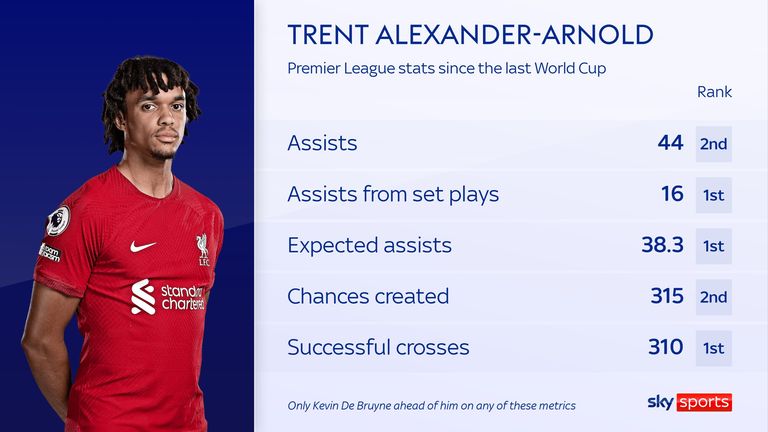 Alexander-Arnold's tally for expected assists is actually higher than De Bruyne's – and everyone else's. He tops the charts for successful crosses and chances created from set plays. Elements that can be considered particularly important in international football.
In this context, bemoaning Alexander-Arnold's failings deserves the same contempt that one might watch someone focusing on Lionel Messi's title ability or a music critic who takes the time to tell you that Jimi Hendrix was not a tuba ace.
It is also reminiscent of the selection meeting for an England cricket tour of yore when one of the chief decision-makers saw fit to give the advice of Graham Thorpe, then the country's chief batsman: "But what does he at the team other than the races?'
Jurgen Klopp recognizes this instinctively.
Rather than trying to mold him into something he's not, he's built a team that makes the most of his strengths, using that very specific skill set for maximum advantage. It helped Alexander-Arnold be the best he could be.
Encouraged to move forward, Jordan Henderson and Fabinho are there to replace him. Nominally, Alexander-Arnold is a defender but that is not his role in the Liverpool team. Simply put, he's on the ground to make things happen, not stop them from happening.
That's why he will flourish again in a Liverpool shirt. It's also why there may be no chance of proving Southgate wrong in England.
Expect Alexander-Arnold to continue to impress with his passing. He will send the crosses from the top of the field on this right flank and he will accumulate the assists. He might even avoid the high-profile defensive errors that have drawn such negative attention.
But he will do it in a role that does not exist with England.
And so a nation gets distracted talking about whether the Brentford striker should be the back-up option. It explores the relative merits of a group of mediocre goalkeepers. Meanwhile, this special footballer may find himself outside watching.
A solution disguised as a problem.



Sky Sports
Not all news on the site expresses the point of view of the site, but we transmit this news automatically and translate it through programmatic technology on the site and not from a human editor.