Florence Pugh Says She 'Emotionally Abused' While Filming Horror Movie 'Midsommar'
Florence Pugh has said she felt like she 'abused' herself while filming the 2019 horror film 'Midsommar' about a woman who is drawn into a bizarre cult during a summer festival in Sweden.
"When I did it, I was so engrossed in her, and I've never had that before with any of my characters," she told the "Off Menu" podcast on Friday. "I had never played someone who was in so much pain before. And I would put myself in really shitty situations that maybe other actors don't need to do, but I would just imagine the worst things."
She said the content got "more bizarre and harder to do" with each day of filming.
"I was putting things in my head that were getting worse and darker and darker. I think in the end I probably, most definitely abused myself to get that performance."
FLORENCE PUGH TELLS CRITICS 'GROWING UP' AFTER COUNTERFEIT FOR SHEER DRESS: 'WHY ARE YOU SO AFRAID OF TITS? »
The 27-year-old said she had to leave three days before the end of filming to begin filming 2019's "Little Women." While on a plane to Boston, she said. said, she felt "tremendous guilt," as if she had left her "Midsommar" character on the lot where they were filming after her character had what she described as a "psychotic break."
"It was so weird. I've never had this before," she added. "Obviously it's probably a psychological thing where I felt immense guilt for what I had put myself through. But I really felt like I left her there in that area to be abused. She can't stand on its own, almost like I created this person and then left her there when I had to go and make another movie."
She said that most of the time when she was acting, she felt like her characters would "be fine" and "know how to handle themselves" after the movie ended. But she felt oddly protective of the character she created in "Midsommar."
"I had obviously created such a sad person, and then I felt guilty for creating that person and leaving her."
CLICK HERE TO SUBSCRIBE TO THE ENTERTAINMENT NEWSLETTER
Pugh praised 'Midsommar' director Ari Aster as a 'particular in the mad genius genre' and a 'stand-up comedian at heart', while acknowledging the difficulty of shooting the horror film .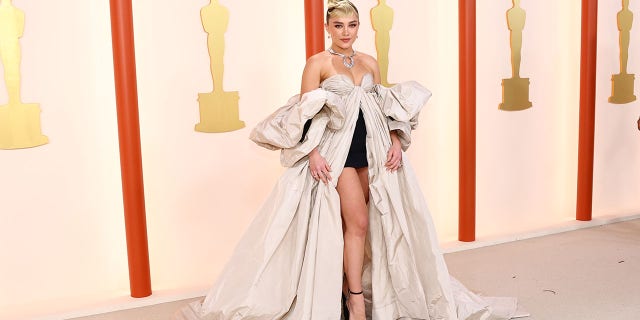 "We were shooting in a very hot field with three different languages, so I wouldn't say it was all nice," she recently told The New York Times. "Besides, it shouldn't be. Why would making a movie like this be enjoyable?"
CLICK HERE TO GET THE FOX NEWS APP
But, she added, when Aster makes you laugh "on one thing, he will try to make you laugh on all the other things. He will keep going, and everyone will cry laughing."

Entertainment
Not all news on the site expresses the point of view of the site, but we transmit this news automatically and translate it through programmatic technology on the site and not from a human editor.