Explore the Early Q4 Earnings Season Dashboard
Note: The following is an excerpt from this week's article. Earnings Trends report. You can access the complete report which contains actual historical and detailed estimates for the current and next periods, please click here>>>
Here are the key points:
For the 96 S&P 500 companies that reported fourth quarter results, total earnings were down -6.0% from the same period last year on revenue up +5.5%, with 71.9% beating EPS estimates and 67.7% beating revenue estimates.
Looking at Q4 2022 as a whole, aggregate S&P 500 earnings are currently expected to decline -7.2% on revenue up +3.9%. Excluding the strong contribution from the energy sector, Q4 earnings for the rest of the index are expected to be down -11.1% on revenue up +3.2%.
For the first quarter of 2023, S&P 500 earnings are currently expected to fall -4.6% on revenues up +2.8%. This is down from -4% on January 6 and -2.9% in mid-December 2022.
Earnings estimates for the full year 2023 also fell. Since their peak in mid-April 2022, the aggregate total for the year has been reduced by -10.6% for the whole index and -12.8% excluding the contribution from the energy sector.
Looking to the calendar year, total earnings for the S&P 500 are expected to increase +4.2% in 2022 and are expected to increase +1.1% in 2023. On a non-energy basis, total index earnings 2022 would be down -2.5% (instead of +4.2%, with Energy).
We are starting to see clear signs of moderating growth on the consumer and business side. This is not a precipitous fall, but it is nonetheless a pronounced deceleration in the growth trend.
We saw this in Microsoft's soft tips (MSFT) with the software giant's December quarter revenue growing at its lowest pace in years. Microsoft's growth driver of late has been its cloud business, where growth has slowed significantly as customers have become cautious in their IT spending plans. These cloud developments offer negative readings for other cloud players, including Amazon (AMZN) and Alphabet (GOOGL).
We already knew that global PC shipments were down more than -25% in the December quarter, and the market expected Microsoft's results to reflect that. In the December quarter, Microsoft's personal computing revenue fell -19% and sales related to its Windows operating system were down -39% from the year-ago level.
None of this comes as a surprise given the macroeconomic developments in the wake of the extraordinary Fed tightening cycle that many in the market see as coming to an end over the next few months. After all, GDP growth estimates for the current and coming quarters have steadily declined, with GDP growth for the year 2023 now barely in positive territory.
We've been pointing out for a while now that estimates for this year have been steadily declining for months now, in anticipation of this macroeconomic development.
The graph below shows the evolution of aggregate revenue estimates for 2023 since the start of 2022.
Image source: Zacks Investment Research
As previously reported, the current aggregate earnings total for the index is nearing an "EPS" index level of $219.09, down from $242.98 in mid-April 2022.
The chart below tracks the values ​​of these "EPS" indices since the start of 2022. Please note that these "EPS" values ​​are imputed approximations and were previously released on the dates shown in the chart below.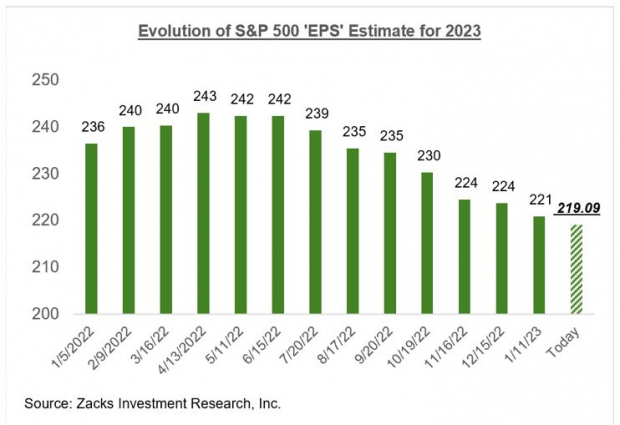 Image source: Zacks Investment Research
The overall portrait of earnings
The chart below gives an overview of earnings on a quarterly basis. The growth rate for the fourth quarter is on a blended basis, where actual reports that have come out are combined with estimates for companies yet to come.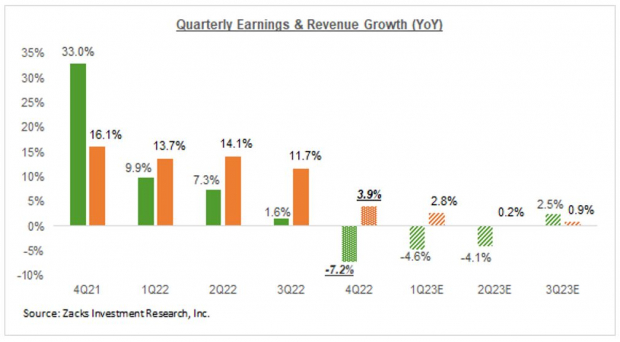 Image source: Zacks Investment Research
The chart below presents the overall earnings picture on a yearly basis, with the growth momentum expected to continue.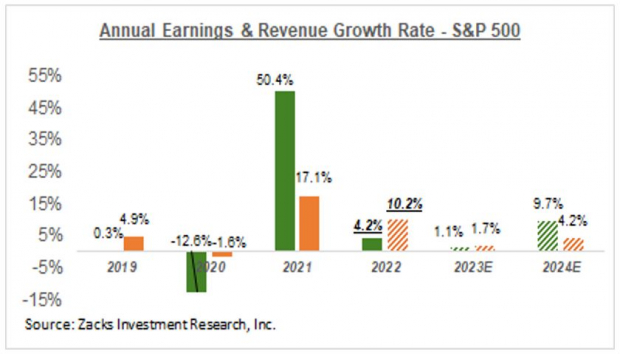 Image source: Zacks Investment Research
As you can see above, earnings next year are only expected to increase by +1.1%. This magnitude of growth can hardly be called out of sync with a stable or even slightly declining economic growth outlook. Keep in mind that the overall GDP growth numbers are in real or inflation-adjusted terms while the S&P 500 earnings discussed here are not.
As mentioned earlier, aggregate earnings estimates for 2023 excluding energy are already down nearly -13% since mid-April. Perhaps we'll see a few more downward adjustments to estimates over the next few weeks, after more companies report their fourth quarter results and provide guidance along the lines of what we've seen with Microsoft. But we have nevertheless already gone some way in bringing the estimates to a fair or appropriate level.
This is especially true if the economic downturn ahead of us turns out to be more of the garden variety than the last two such events. Recency bias forces us to use the last two economic downturns, which were also among the most severe in recent history, as benchmarks. But we have to be careful about this natural trend because the fundamentals of the economy currently remain exceptionally strong.
Zacks names 'only one best choice for doubling up'
From thousands of stocks, 5 Zacks experts have each picked their favorite to skyrocket by +100% or more in the coming months. Of these 5, Research Director Sheraz Mian selects one to have the most explosive advantage of all.
It's a little-known chemical company that's up 65% year-on-year, but still very cheap. With relentless demand, rising earnings estimates for 2022 and $1.5 billion for stock buybacks, retail investors could step in at any time.
This company could rival or surpass other recent Zacks stocks which are expected to double like Boston Beer Company which jumped +143.0% in just over 9 months and NVIDIA which jumped +175.9% in one year .
Free: See our best stock and our 4 finalists >>
Want the latest recommendations from Zacks Investment Research? Today you can download 7 best stocks for the next 30 days. Click to get this free report
Amazon.com, Inc. (AMZN): Free Stock Analysis Report
Microsoft Corporation (MSFT): Free Stock Analysis Report
Alphabet Inc. (GOOGL): Free Stock Analysis Report
To read this article on Zacks.com, click here.
Zacks Investment Research
The views and opinions expressed herein are the views and opinions of the author and do not necessarily reflect those of Nasdaq, Inc.

nasdaq
Not all news on the site expresses the point of view of the site, but we transmit this news automatically and translate it through programmatic technology on the site and not from a human editor.